Jochen and Dirk Räke – two generations of "Made in Germany".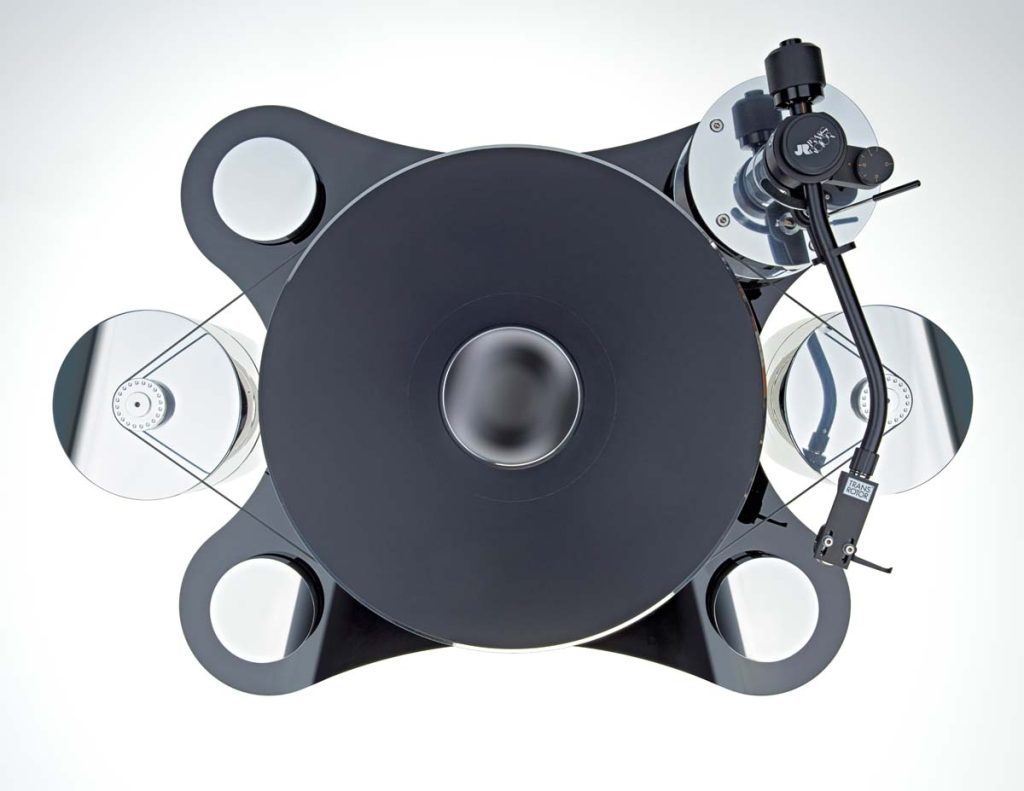 Although they've become a rare breed, it's still possible to find small, family businesses that punch well above their weight on the global market. One of the primary reasons for their continued existence is the tradition and lasting value their workmanship represents to audiophiles everywhere. Among German companies, few characterize the essence of this principle better than Transrotor. The breadth of skills at Transrotor's disposal is evident from the proportion of steps carried out in-house during production of their products. All technical development activities as well as the entire finishing work take place internally. There's not even a hint of cheap outsourcing — all suppliers are located within the immediate area of the Transrotor facility. There are many cases in which "Made in Germany" really stands for "developed in Germany and then put together in a third-world country." This is definitely not the case at Transrotor. With a 15-strong workforce, the company's entire production takes place locally. Regular customers sing the praises of Transrotor's after-sales service. Any queries or minor problems are dealt with swiftly, and frequently by the company boss himself.
From the British Isles to the "Bergisches Land"
Although Transrotor is now run by Dirk Räke, any profile of this turntable producer must start with his father Jochen Räke, the man who founded the company in the 1970s. And it's a rather curious story. At this time, the turntable market in Germany was dominated by domestic and Swiss manufacturers. Although products from the UK had a few devotees, they were generally regarded as too delicate, idiosyncratic and lacking in the precision and attention to detail found in German devices. But because these quintessentially un-German eccentricities were exactly what Jochen Räke found so endearing about British turntables, he worked together with the renowned English developer David Gammon to import such legendary examples as the Transcriptor Hydraulic Reference. Keenly aware, however, that his countrymen preferred precision products, Räke carried out his own modifications to the imported devices before selling them, enriching British individualism with a quantum of German dependability.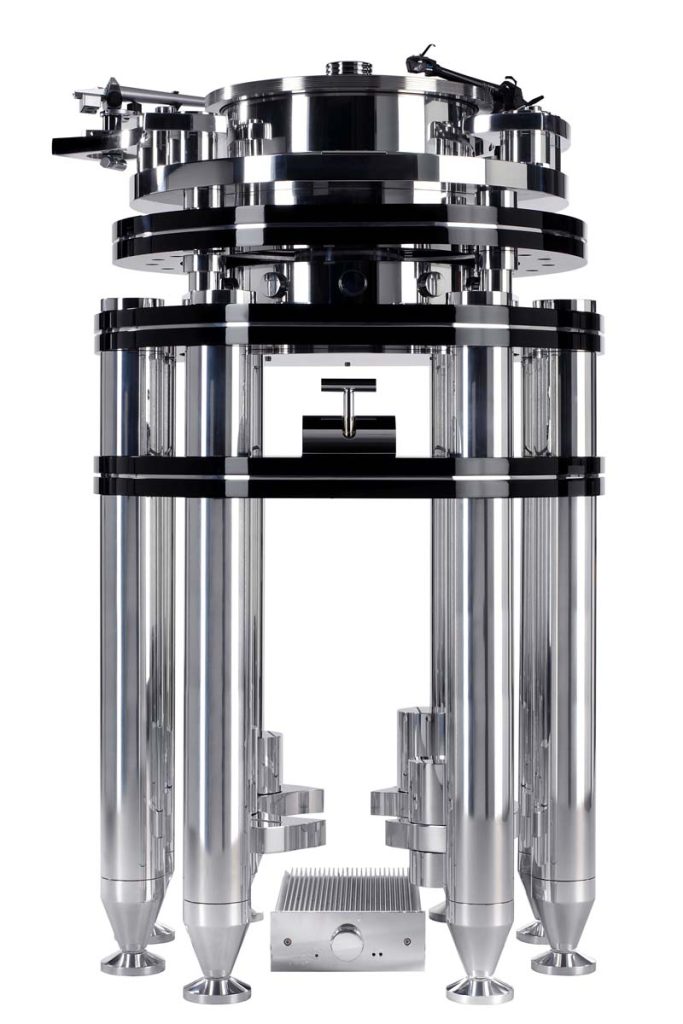 From then on, it was only a short journey from the optimized Transcriptor devices to the Transrotor brand of turntables designed by Räke himself. And even though the company was given a fabricated name, it unmistakably harks back to the Transcriptor tradition. Oldtimers of the hi-fi scene love to relate the story of the company's first appearance at the International Consumer Electronics Fair (IFA) in Berlin in 1971. Receiving the unexpected offer of a stand at that year's IFA event, Räke decided his only option was to make a virtue of necessity. With only around a dozen finished turntables at the company's disposal, he came up with a brilliant idea on how to present them: nine turntables were arranged on a platform draped in black cloth, each illuminated by a single spotlight. This surreal, minimalist presentation struck a real chord with that year's IFA visitors, many of whom were familiar with the Transcriptor from Stanley Kubrick's film masterpiece A Clockwork Orange. This IFA appearance secured Jochen Räke's reputation as a maker of turntables for non-mainstream audiophiles looking for something a little different.
Giving customers what they want
As the company's reputation grew, this desire for something different meant customers frequently came up with ideas for customized versions of products. Having studied mechanical engineering, Räke welcomed these challenges, and often incorporated modifications in subsequent series devices. He created a turntable made completely of glass for the actor Raimund Harmstorf, and the spectacular Gravita drive that was specially commissioned by the chocolate magnate Giovanni Ferrero. Celebrated for its gimbal suspension and self-leveling pendulum, the Gravita still exists today in several development variants. Thanks to such idiosyncratic constructions, Transrotor has also made a name for itself with Asian audiophiles — fans with an obvious love of quirky technology and seemingly bottomless pockets. An example: The Metropolis turntable is made completely of brass and weighs around 300 kg. Also available on request in gold-plated or silver-plated versions, and costing a modest 185,000 euros, several devices were purchased directly from the stand shortly after the HIGH END 2016 had opened its doors. Key to Transrotor's success is Jochen and Dirk Räke's great eye for product design as well as a passion for quality engineering. They also know precisely what the customers in specific markets are looking for. This enables them to cater to a range of tastes — from the aesthetic Bauhaus-influenced German customer to the Russian or German fan who couldn't care less about "form follows function" and is looking for considerably more opulence. Nevertheless, such exceptional turntables, which take at least six weeks to manufacture, are only the icing on the cake for Transrotor. The vast majority of the around 1,000 turntables sold each year are more reasonably priced models, including classics such as Fat Bob S or the ZET 1–3 variants. These turntables are bought by high-end fans who admire sophisticated technology and outstanding design, but don't have a six-figure budget at their disposal. All customers acquire handmade devices assembled from over 150 individual components. Every finished turntable is subject to a 14-hour "break-in" time, after which the bearings are scrutinized for inaccuracies using a stethoscope.
Even though aluminum is currently the preferred material for turntables, acryl and plastics like Delrin are also used. In some older models, slate or wood was also employed as the main manufacturing material. Although the Räkes are not dogmatic in their choice of individual materials, they make no compromises when it comes to processing and combining them — each particular mix has to work. At the end of the day, of course, the sound itself is the decisive factor.
It pays to strive for perfection
As mentioned before, Jochen Räke soon stopped being a pure importer and started manufacturing his own turntables. 1976 saw the unveiling of the legendary Transrotor AC — still unquestionably rooted in the British turntable tradition. But the passion for British hi-fi still lives on at Transrotor: Old Transcriptor turntables are still serviced there and the company is the importer for SME tonearms, used as standard equipment on its top models. The company's own cartridges are based on models made by the British firm Goldring, modified according to Transrotor's specifications. The one exception to this is the current top-of-the-range Tamino, manufactured in collaboration with MY Sonic Lab from Japan. The company obviously prizes the composed and unruffled nature of the cartridges from Goldring and the tonearms from SME, and these are characteristics also demonstrated by Jochen and Dirk Räke themselves. Despite their impressive business success over the last few years, they continue to devote their time to their company in Bergisch Gladbach in a peaceful and unassuming manner. This is why they also have a relaxed attitude to the upcoming Brexit process — their business and personal connections with the UK are too close for any feelings of panic. Patience and perseverance have always paid off for the Räkes, even in turbulent times. During the slump that followed the CD boom of the mid-1980s, their faithful following allowed them to emerge relatively unscathed. Since the late 1990s, there has been rapid growth in all market segments. Customers are now well aware of the production quality they can expect from the Transrotor name. They know they are purchasing a long-lasting product that is more or less plug & play, whatever the price class, and can be expected to give them a lifetime of enjoyable and high-quality listening. Completely in line with the company philosophy: Take as long as you need and pay attention to the details!
---
Volume up or down? A very quick interview with Dirk Räke (left), where we wanted him to respond as fast as possible.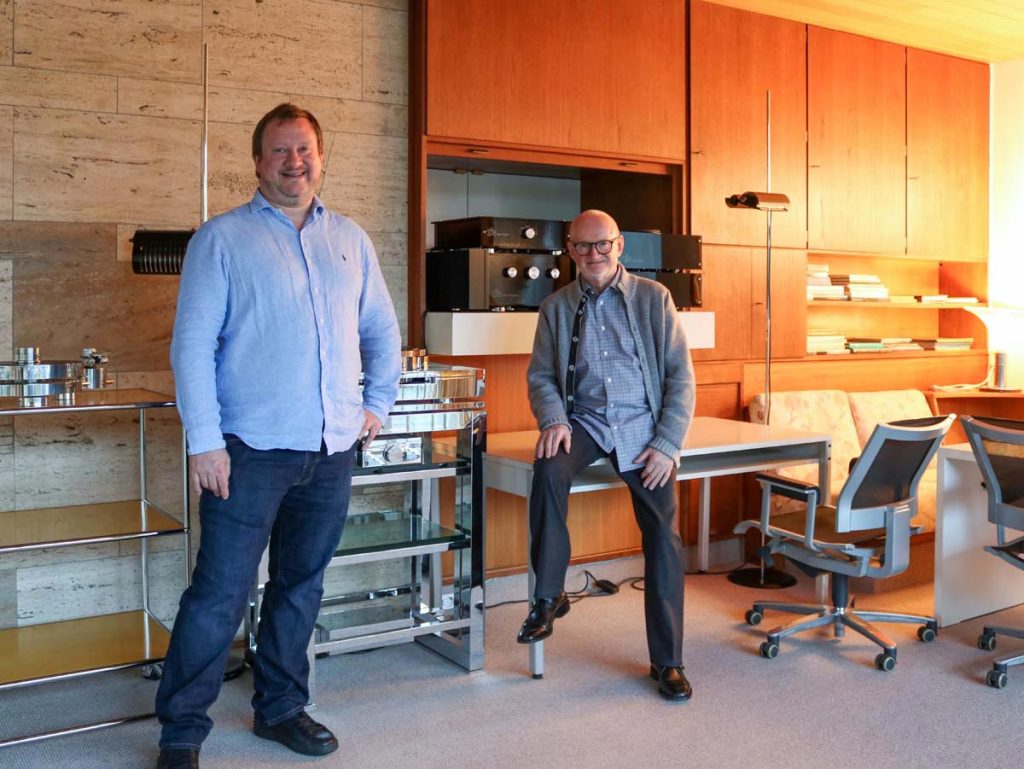 Volume up or down? – Better too low than too loud.
Analog or digital? – Analog.
Tube or transistor? – Both are OK.
Vinyl or download? – Vinyl.
Cross-country run or gym? – Cross-country run.
Trends or tradition? – Tradition as a trend.
Tea or coffee? – Coffee.
Salad or steak? – Steak.
Wine or beer? – Beer.
Mountains or the sea? – The sea.
Book or screen? – Screen.
Jazz club or opera house? – Opera house.
Bach or Beatles? – Bach.
Wagner or Wacken? – Both too similar.
Stand-by or plug out? – Pull the plug.
---
The stated retail price of the reviewed device is valid as of the time of the review and is subject to change.