The small "e" in Valvet A4e not only stands for "external power supply" but also for evolution, extra power, excellence – and extraordinary performance!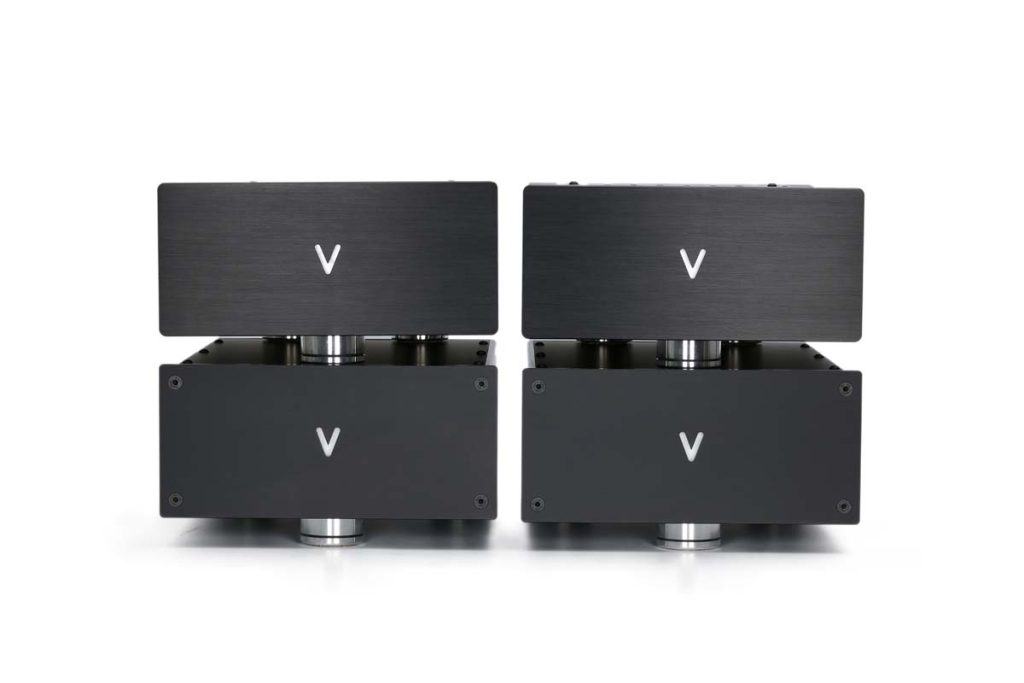 The term 'déjà vu' is not generally seen in a positive light. Many a déjà vu experience can irritate or make you dizzy. But it's quite different in the case of a revenant that entered my listening room shortly before Christmas 2017: the pumped-up successor of the Class-A mono amps A4 from Bargteheide manufacturer Valvet which I was privileged to review two years ago.
Knut Cornils, the developer and owner of the company, has significantly pimped the power amps which had already been highly impressive then. So what's new?
For a start, the power amps are now called Valvet A4e — the small 'e' stands for 'external power supply'. This means that when unpacking the eager listener now has to heave two heavy items per channel out of the box: the power supplies have been outsourced into external cases and now enter the fray with a 500-VA toroidal transformer each. The amps as well as the power supplies are equipped with expensive supports made by bFly-audio and are thus not only stably positioned but also perfectly decoupled from the surface they are sitting on. Compared to their predecessors, the continuous output has been raised from 55 Watts to 65 Watts into 8 Ohms. Speaking of increase: the price has also been raised from 4750 Euros for the A4 to 6900 Euros — and that, according to Valvet, is the introductory price.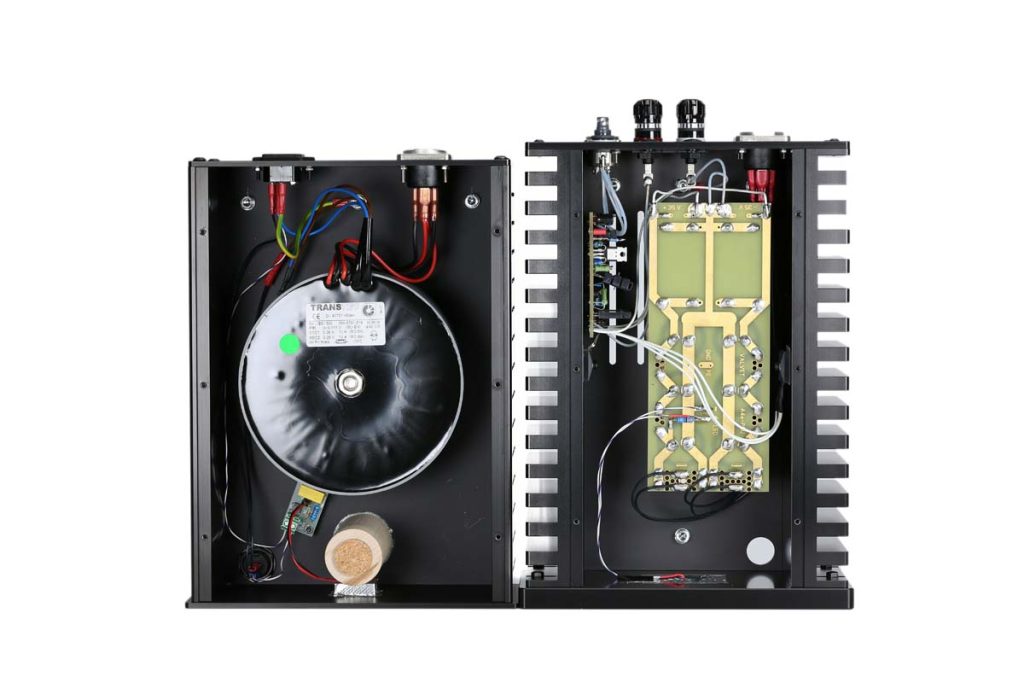 Generally speaking I am rather sceptical when reworked 'Mk2' variants of components or speakers are introduced to the market. Quite often the improvements promised by the brochures turn out to be minimal. It seems as if the some manufacturers want to create the impression of constant development or — honi soit qui mal y pense — make a few extra Euros in the process.
The good news: the Valvet mono-amps are actually better! Better to such an extent that the price difference is entirely justified. This can be seen in three different areas: First, micro-resolution in the upper treble has markedly improved: for example, depending on where and how hard a ride cymbal is hit, the upper harmonics are now much more clearly differentiated. In the case of the delicate radio-ballad 'Sail to the Moon', the listener now feels he or she is sitting where the drummer sits, with the silvery-metallic and golden darkened cymbal sounds clearly audible. Second, there is a marked improvement in locatability. Pin-point spatial orientation of instruments in the "background corners" has increased, but also micro-orientation within the plane. Staying with the example of the drumkit: it now seems actually possible to precisely localise the position of the drum sticks on the cymbals. Astonishing!
Finally, the Valvet mono-power amps have become even faster: their ability to mobilise enormous energy from a moment of absolute stillness – without limits, compression or distortion. This can be nicely observed with the Talk-Talk classic "Chameleon Day". Exactly in the middle of this already quite soft and gentle song there is a moment of stillness — out of which the singer Mark Hollis explodes with immense fervour: "Breathe on me — eclipse my mind!", he mourns. Those who do not get goose bumps at what the Valvet mono amps offer in terms of drive, transparency and clarity at this point should urgently make an appointment to see a doctor. My conclusion: Valvet have managed to significantly improve an already great product. Congratulations!
Accompanying equipment
Digital: C.E.C. CD 5, iPod classic 5 160GB + Pro-Ject Dock-Box S digital, Samsung Notebook with SSD, foobar and Logitech Squeezebox | Analog: Rega Planar 3 + Rega Exact MM | Phono preamps: Pro-Ject Phonobox MM, Pro-Ject Phonobox DS+ | Preamp: Abacus Preamp 14 | Power Amps: Audreal MS-3 (monos) | Integrated Amp: Hegel H90 | Speakers: Audes 116, Harbeth 30.1, Quadral Rondo, Nubert nuPro A-100 | Cables: Goldkabel Profi (interconnects), Oehlbach XXL Series 7 MkII (digital koaxial), Oehlbach XXL Series 80 (digital Toslink), Ortofon SPK 500, Real Cable OFC 400 (speakers)
Mono power amplifiers
Valvet A4e
Power output (8/4 Ω): 65/105 W | Inputs: unbalanced (RCA), balanced (XLR) | Outputs: 1 x speaker | Special features: seperate Power Supply Unit (PSU), bFly-audio supporting feet, WBT and Neutrik connectors | Finishes: Aluminium silver or black anodized, faceplate polished chrome (extra charge) | Dimensions Amp (W/D/H): 23/33/11 cm | Dimensions PSU (W/D/H): 23/31/11 cm | Weight Amp: approx. 9 kg | Weight PSU: 10 kg | Warranty period: 3 years | Price (pair): € 6900
Valvet
Fliederbogen 8a
22941 Bargteheide
Germany
Phone +49 4532 267651
The stated retail price of the reviewed device is valid as of the time of the review and is subject to change.