The Auralic Altair G1.1 is a true heavyweight among streamers and USB DACs – and that also refers to its sound quality.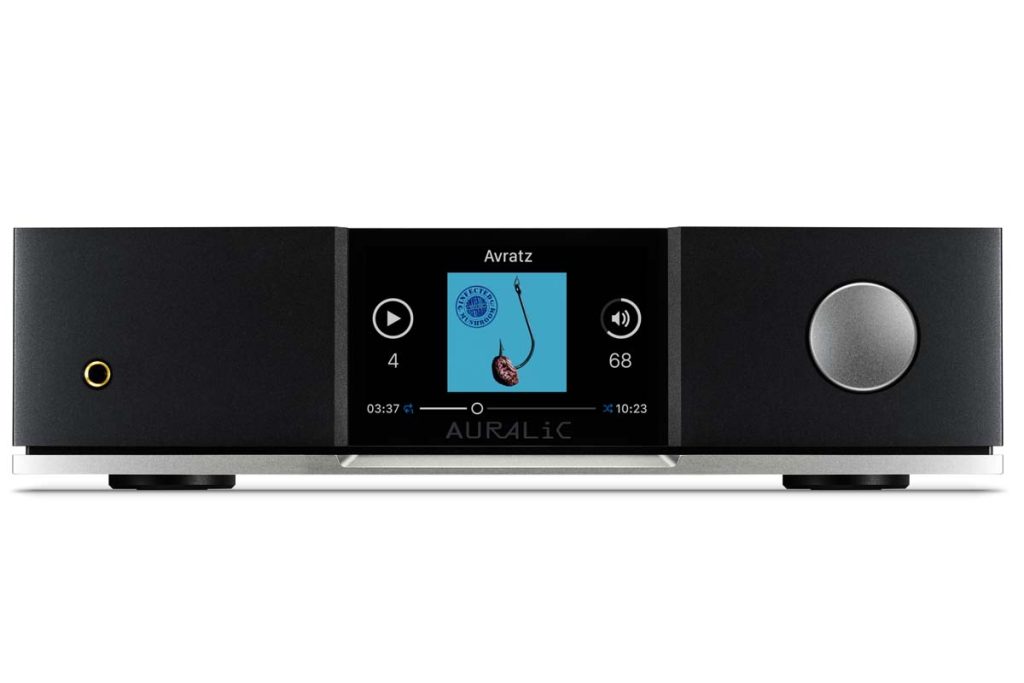 Chinese company Auralic is already an old hand in the digital audio business. It was founded in 2009 by Xuanqian Wang, a trained sound engineer and electrical engineer with additional expertise on the concert grand piano, and Yuan Wang, a sociologist and marketing expert. From the very beginning, the founding couple's goal was to develop the best possible products for audiophile streaming. The two self-confessed music enthusiasts saw the future of the music experience in streaming – and in view of the mercifully weakening CD and the small vinyl straw fire, streaming via the well-known streaming services or the home network seems to be the big thing of our days. In any case, the Auralic heads and their competence team have been focused on in-house developments from the very beginning.
The first products – a DAC and a headphone amplifier – already received a lot of praise, and the company hit the big time when Auralic's streaming platform was ready for the market. This is not just a more or less opulently equipped app/software, but actually a single-board computer developed in-house by the company, which bears the name "Tesla". And no, there is no connection to the electric car company.
Rather, the name is a tribute to the ingenious inventor Nikola Tesla, who was decades ahead of his time. In any case, the Tesla, now significantly more powerful than the first-generation model, forms the core of all streaming products from Auralic. We should mention the streaming bridge Auralic Aries G2.1 and its smaller sibling G1.1, the streaming DACs Vega G2.1 and G1.1, and the two Altair G2.1 and G1.1, also categorized as streaming DACs, the latter of which we loaded for review today. Altair is pronounced "Alt-ha-ir" and is the name of the twelfth brightest star of the constellation Eagle; on starry nights it can be seen even without a telescope. The Altair G1.1 aims to be a comparably bright light in the audiophile's audio network. For this, the creators of the device, which is offered at just under 3000 Euros, have also made some constructive efforts.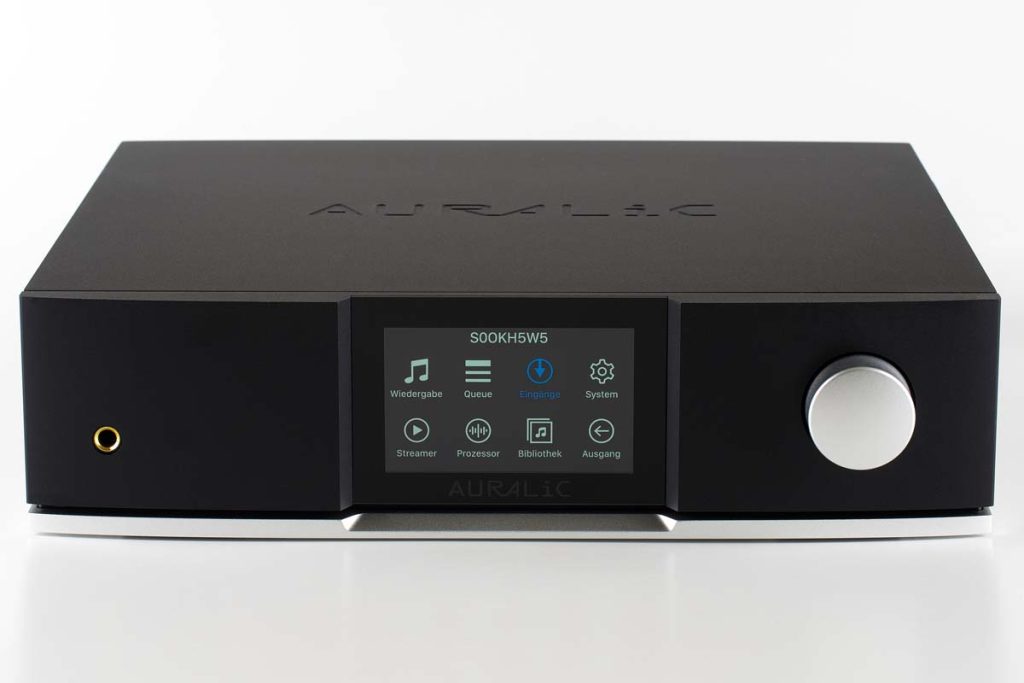 Proprietary technologies
The Auralic Altair G1.1 is advertised as a multi-purpose device, which of course also has wireless streaming via WiFi, Bluetooth and now Apple AirPlay. But that's not all, the device can also be used as a high-quality USB DAC and even as a NAS/music server or standalone player – as long as it is expanded by an internal permanent storage – which also costs extra – via an optional hard drive installation kit, which costs around 120 Euros, or connected to a storage medium via the HDD jack. If the Altair G1.1 has a permanent memory, it can also be used as a CD ripper. This requires nothing more than a commercially available, preferably high-quality USB CD drive, perhaps from TEAC, and the ripping is done after just a few steps – much more on the operation later.
The heart of the device is, as mentioned, the Tesla 2 hardware platform, which can be maintained, repaired if necessary, or improved by Auralic at any time – the huge advantage when a manufacturer relies on proprietary technology. Otherwise, Auralic keeps a low profile and does not reveal anything about Tesla. For good reason, because ill-intentioned copyists are lurking all over the world. What is certain, however, is that the self-developed DAC inside entrusts the well-reputed ESS Sabre ES9038Q2M with the digital-to-analog conversion. But that's not all – far from it, in fact. In order not to give the jitter the slightest chance to degrade the sound, the built-in master clock is clocked with 72 femtoseconds, which means: This converter works practically jitter-free. By the way, the internal clock cannot be bypassed. Even if a reclocker like the Mutec M3C sends digital signals to the Altair G1.1 via AES/EBU, S/PDIF or Toslink – the corresponding digital inputs are available – the streamer generates its own clock. However, this is absolutely fine in its case.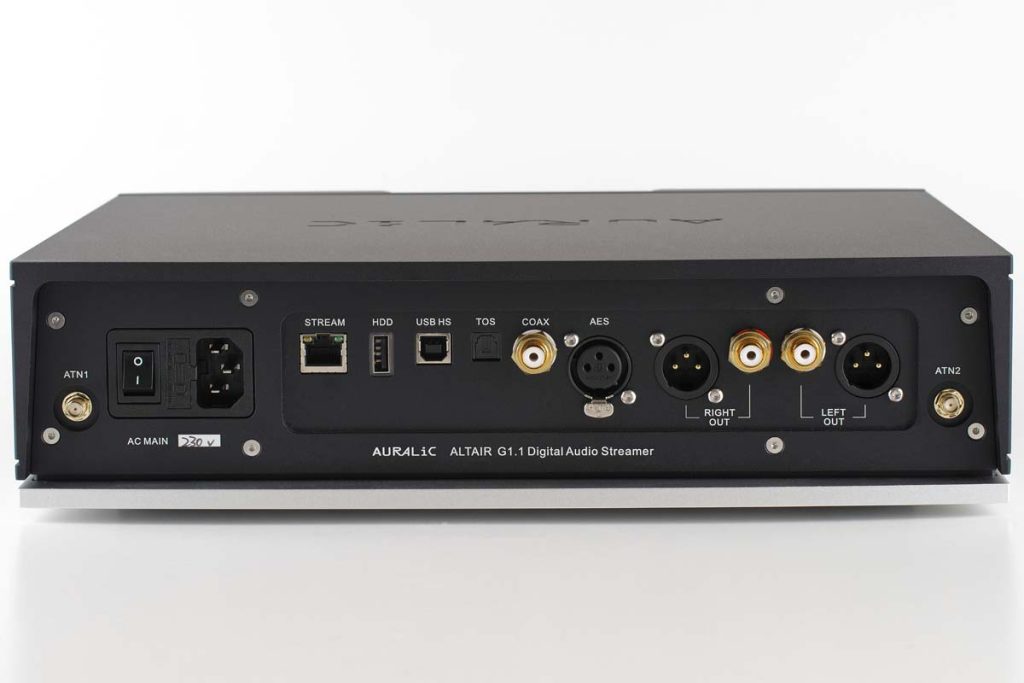 A key feature of the Tesla platform is its "ActiveUSB" technology, which goes far beyond simple asynchronous control of USB data. Rather, it bypasses USB power, instead using a linear pure power supply of its own making, which all audiophiles must welcome with open arms and ears. After all, computers are filthy beasts that can pollute the audio signal via their USB interfaces. In the case of the Altair G1.1: No chance for the electro-dirt – the reason being that the powerful power supply also reduces the DC noise considerably, according to the manufacturer by up to 90 decibels. In addition, the power supply's own noise is so drastically minimized, thanks to a specially developed transformer and special, extraordinarily short-stretch cabling, that it is no longer audible even to people with bat ears. It's clear that this serves music reproduction in the best possible way.
Noise, the third: When we stream, we are dealing with open network connections, and retrieving the data inevitably generates noise that we want to block out as much as possible. A clever solution is a generously dimensioned buffer. The Tesla G2 platform has a full 1 gigabyte of RAM, so the frequency of open circuits is significantly reduced during streaming. The music automatically sounds better, so that especially uncompressed, ideally HiRes material can be enjoyed in its full glory.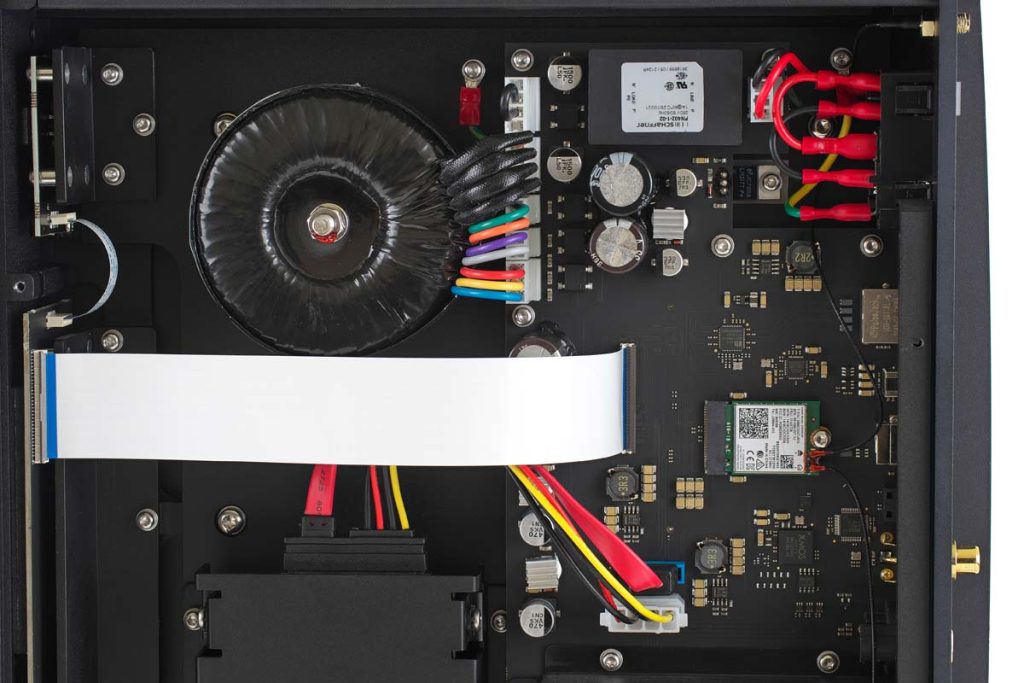 Clean as clean can be
Appropriately, lossless streaming platforms like Tidal, Qobuz and HighResAudio – my personal favorite – are implemented ex works, plus, because there seems to be no getting around it, Spotify, and Amazon Music with its massive database is also included. The Auralic Altair G1.1 can be operated completely from the device itself. The four-inch display with a very high resolution of 300 dpi provides exhaustive information about all setting steps in a variety of languages, including impeccable German, if desired. The easy-to-grip rotary/push encoder to the right of the screen acts as a rudder, and operation is virtually self-explanatory. There is an iOS application called "Auralic Lightning DS" that offers a lot of ease of use and quick settings. But: The app, which is based on an open source project by Linn, is not necessary to have fun with the Altair G1.1. Its initial setup is very quick if it can access the network via cable, and requires a few more minutes to set up if it is connected wirelessly. As a USB DAC, it is quickly ready for use on the Mac, PC users need the free Windows driver, which is available for download from the German distributor Audiodomain.
In terms of resolution, a maximum of 384 kilohertz at 32-bit floating-point word width is possible for PCM and DSD512 – native or DoP – when the streamer operates as a USB DAC or receives corresponding audio material via the HDD input. The digital inputs receive audio files with 192 kilohertz/24 bit maximum resolution. There are four filter modes: "Precise", "Dynamic" and "Balance" as well as "Smooth", which – nomen est omen – applies and works the smoothest, which is why it sounds the most musical to my ears. Oh yes, it's time to heave the device, which weighs quite a bit at around seven kilograms, onto its appropriately solid stand, establish connections with existing devices and prick up both ears to get on the Chinese's sound track.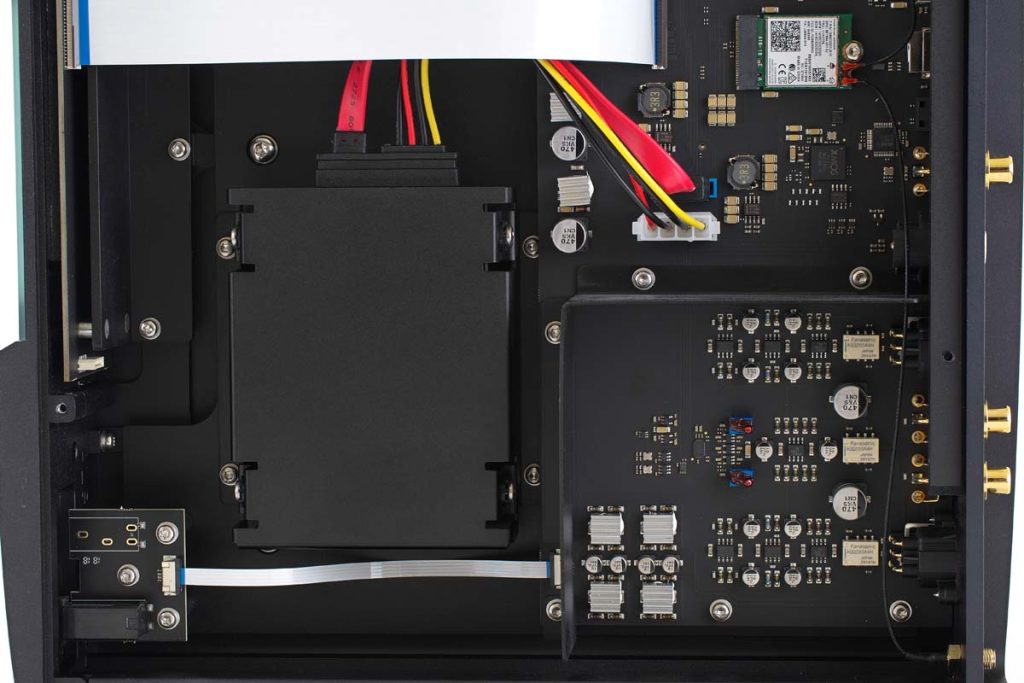 A stress test for DACs and speakers is the track "I Don't Trust Myself" from John Mayer's album Continuum: If the master's voice can't be heard exactly in the middle and Dino Palladino's Fender bass doesn't creak as it should, something is wrong. Basta. But the Auralic Altair G1.1 doesn't show any weakness at all, and the fine, if a bit too loudly mastered song sounds out, as it must, from my Geithains, which are connected directly to the streamer. Next, I simply stream the Yes album via the HighResAudio portal in the final version polished by Steven Wilson in 24-bit/96 kHz resolution and listen: The Altair G1.1 is completely committed to detail, but at the same time plays extremely powerful. Its vibration-resistant solid-state construction seems to have a sonic equivalent, and indeed the British prog legend rarely sounds so sonically powerful in my listening room. I want to verify this and choose from Daniil Trifonov's Destination Rachmaninov – Arirval the First Piano Concerto, which sounds in truly opulent force. The "Smooth" filter provides an ear-pleasing sound bath without the playback precision suffering. The headphone amplifier of the Altair G1.1 also sounds above average, although it doesn't come close to my high-end HPAs. But please, that's pure luxury nagging. The bottom line for the Chinese streamer is: It is made for every femtosecond of pure listening pleasure.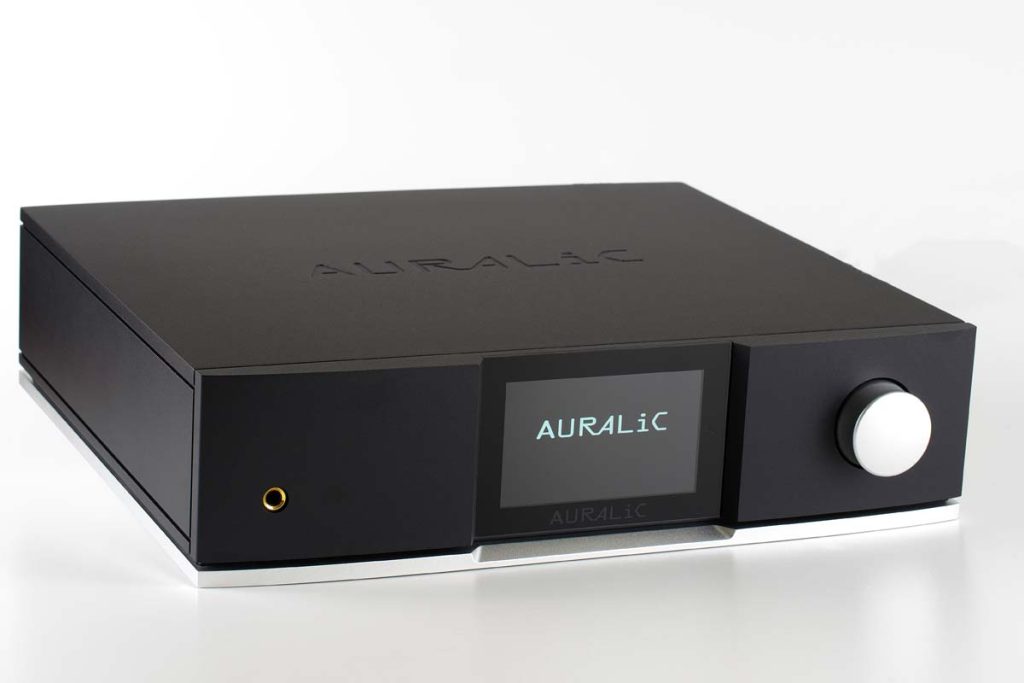 Accompanying Equipment
USB interface and D/A-converter: Mutec MC-3+USB, Mytek Digital Stereo192-DSD DAC, Violectric V800, AudioQuest DragonFly Cobalt | Headphone amplifiers and headphones: Violectric V280 and V200, AKG K702 Studio, Beyerdynamic Aventho Wireless | Computer: Apple MacBook Pro 16 and MacBook Pro M1 15 | Musik server: Audiodata MusikServer II | Software player: Audirvana/jRiver | Active loudspeakers: Geithain RL 906 | Cables: Vovox, AudioQuest, Klotz
Network player/USB DAC
Auralic Altair G1.1
Concept: Network streamer and DAC | Hardware: Hardware platform Tesla 2 with 1 GB RAM, 4″/300-dpi-Display | Analog outputs: 1 x headphone, 2 x XLR, 2 x RCA | Inputs: 1 x AES/EBU, 1 x digital S/PDIF, 1 x digital Toslink, 1 x USB DAC, 1 x HDD (USB Host for external media) | Network: Ethernet, WiFi, Bluetooth | DAC-Chip: ESS Sabre ES9038Q2M, up to 32 bit/768 kHz | Formats: All common ones, including DSD512, MQA decoded via proprietary process | Maximum resolution: 32 bit/384 kHz (USB DAC), 24 bit/192 kHz AES/EBU and S/PDIF, DSD512 (via USB input) | Special features: In-house developed Tesla platform, internal 72 fs master clock, can be configured for a web interface with Auralic Lightning DS | Finishes: Aluminum silver/black | Scope of delivery: learnable remote, mains cord, USB cable, quick start guide, iOS-App | Dimensions(W/H/D): 34/8/13 cm | Weight: 6,8 kg | Warranty period: 2 years | Price: around 3000 €
audioNEXT GmbH
Isenbergstraße 20
45130 Essen
Phone +49 201 5073950
info@audionext.de
The stated retail price of the reviewed device is valid as of the time of the review and is subject to change.