A Turntable For Creatures Of Comfort
What I'm about to do here isn't exactly what you're supposed to do. You see, the whole thing is designed to be done quite differently: Simply set up, switch on, sit back, and enjoy. But analog equipment brings out my playful side. And for that reason, I ask for your forgiveness upfront. Meet the Clearaudio Performance DC.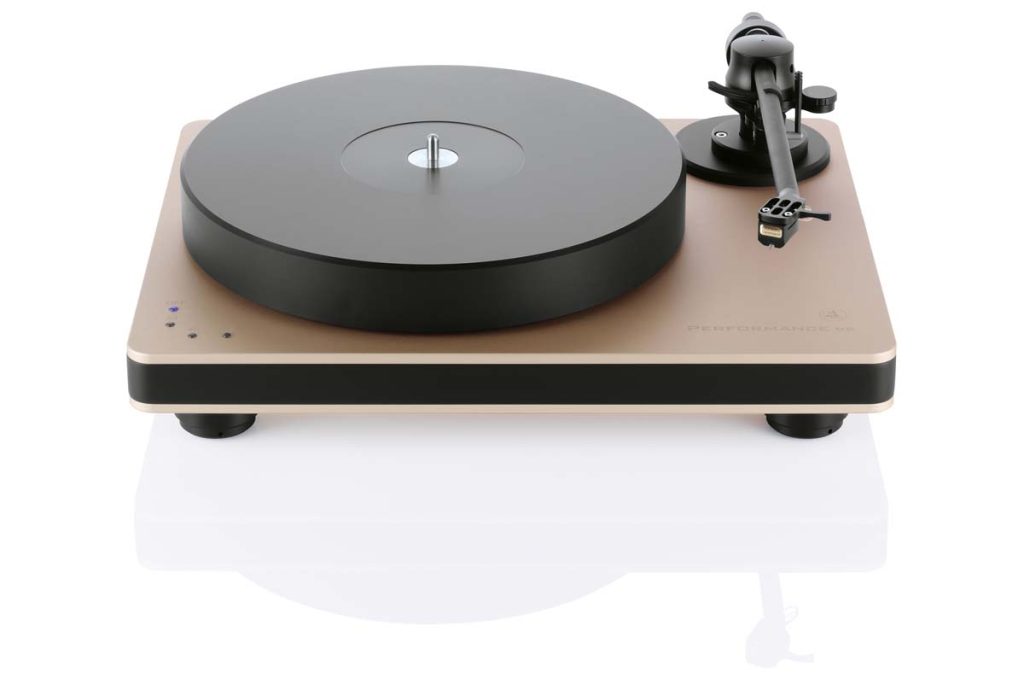 CD players have made us lazy. And soft. And sometimes even a little bit dull-minded. That's because these machines and their successors, which have completely done away with physical music media, simply don't challenge us anymore. It's pretty much a case of set up on a flat, level surface, connect the power and signal cables, and there you go! There's no comparison with the care and attention, know-how, fine motor skills, and dexterity demanded by a proper turntable. Well, in most cases, that is. After all, there are some gems of precision engineering out there made for reading black (vinyl) disks that are actually plug-and-play versions.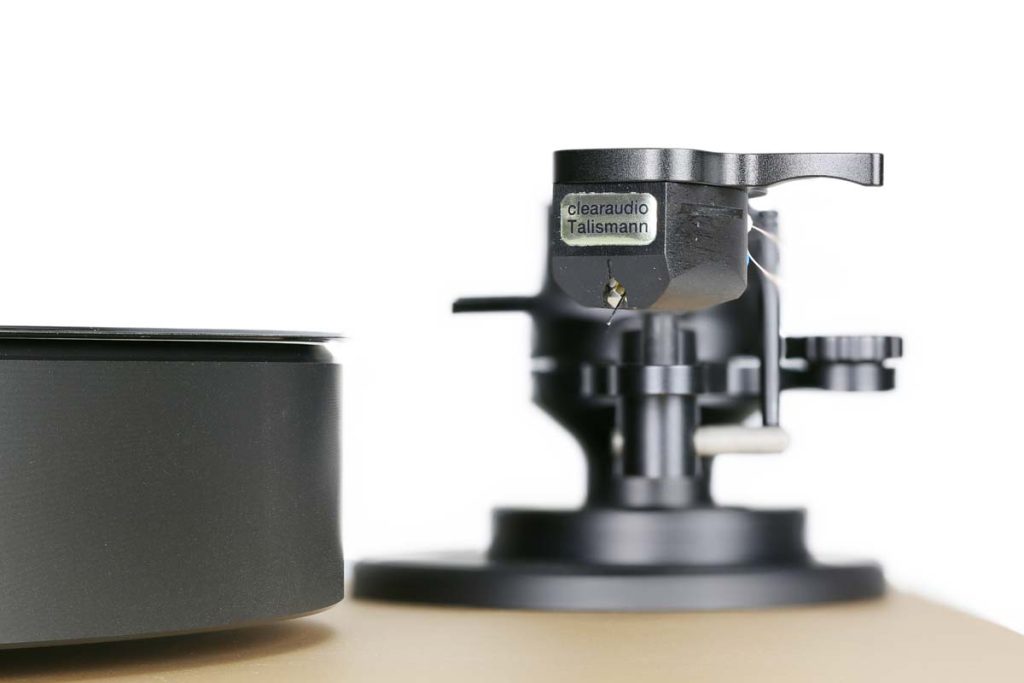 A particularly attractive model is the Performance DC from long-established Erlangen-based manufacturer Clearaudio. Not only is it delivered to the customer as a preadjusted complete package that includes tonearm and cartridge, it also looks like a totally normal turntable and not some scaled­down oil-drilling rig or a boomerang being used for an unintended purpose. It features a simple, rectangular body with a sandwich design that allows for a larger number of color options and combinations. Enthroned atop this sits the platter, admittedly much thicker than those of standard turntables. A little garland of four blue-lit buttons for the settings "78," "45," "33," and "Off" lets you easily select the desired speed — this, incidentally, comes as standard for Clearaudio models from more expensive lines; manually transferring the drive belt is not something they want to ask their premium-product customers to deal with.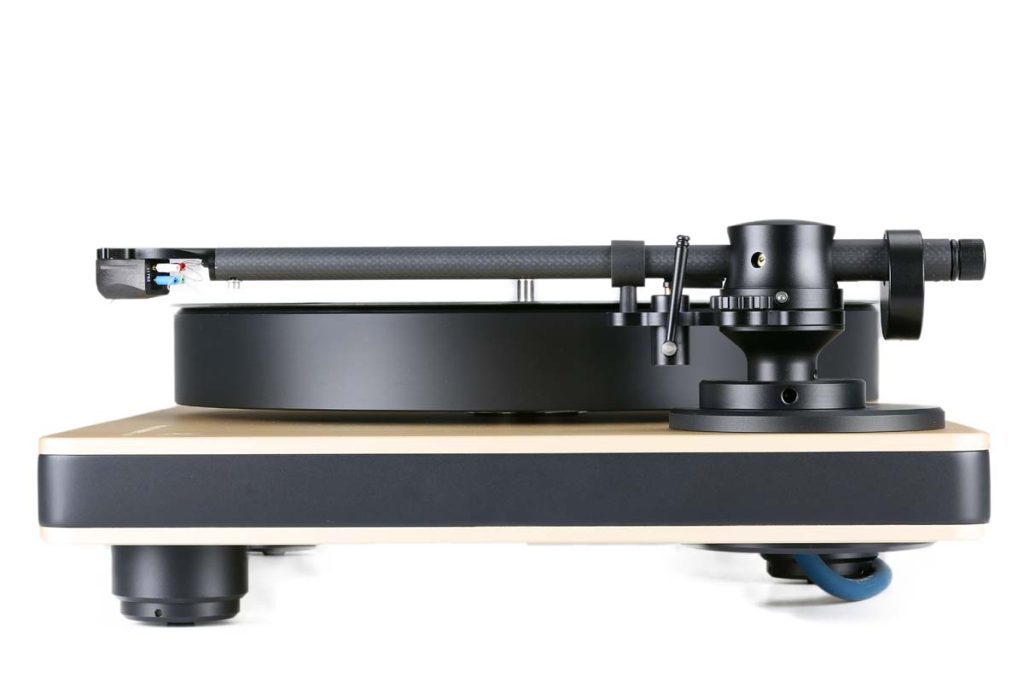 You can choose your tonearm when placing your order. The Performance DC comes as standard with the Clarify tonearm (and Virtuoso V2 MM cartridge), however the factory fitted our test device with the formidable new Tracer tonearm, which my colleague Boris Fust certified in FIDELITY No. 36 as a tonearm displaying exceptional tonal authority — and he has a point, it should be noted at this juncture. Since the Performance turntable is, for all intents and purposes, a smart downsized version of the Erlangen-based company's larger Innovation line and I'm in the fortunate position of having access to various Clearaudio tonearms, I innocently asked during the editorial meeting if I might "play around a bit" with the Performance DC. Though I think "tinker with" or "screw and unscrew" would have been more fitting words. Although by offering various packages, the manufacturer itself is suggesting the Performance DC–Tracer combination doesn't have to spell the end of the story.
Even those of you who'd prefer to order the performance DC as a ready­to-go finished product might still like to read on at this point as the results of my series of tests will no doubt contain some useful advice on what to purchase.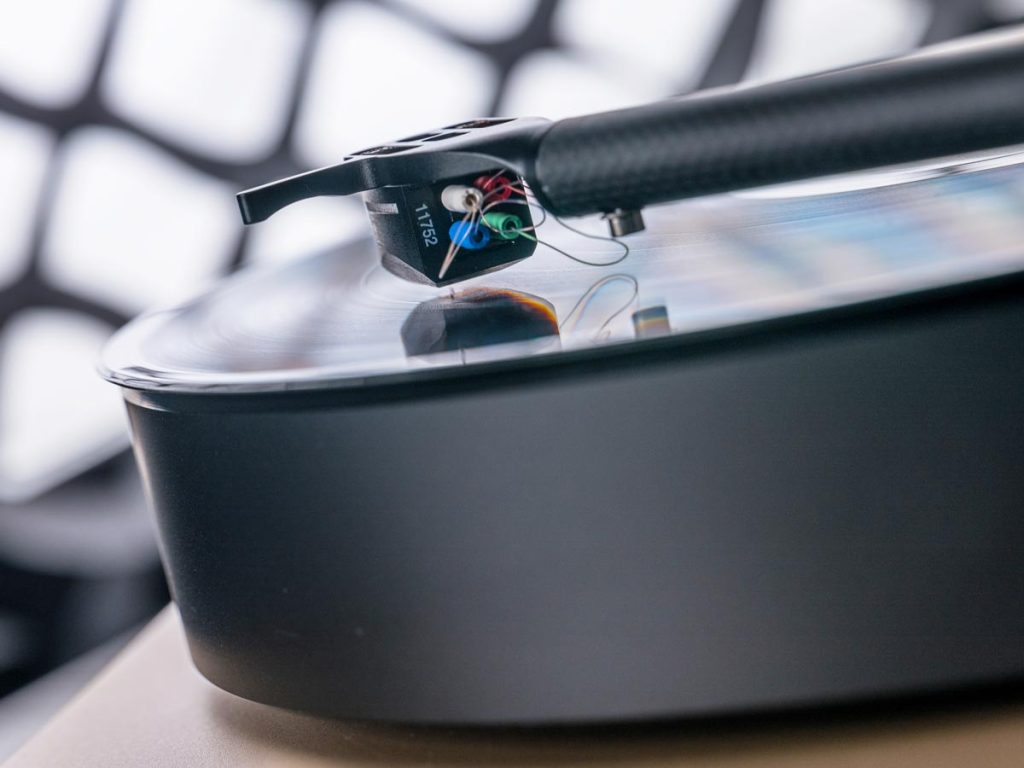 Luckily, Clearaudio tonearm fixtures are rock solid and, above all, standardized. They can be changed pretty swiftly with average dexterity with a screwdriver, a set of precision engineer's tools, and a steady pair of hands. Round one: Performance DC with the "little" TT5 tangential tonearm, which, together with the Concerto V2 MC cartridge, is responsible at my place for reading the grooves of vinyls on the Innovation Basic and performs its jobs quite brilliantly. Since the Performance DC is, in many respects, like a very moderately pared-down Innovation (from the aforementioned platter right through to the optimally synchronized maximized drive and the patented magnetic bearing), the differences compared with the turntable's big brother in terms of sound quality are also, I'm pleased to say, very limited.
Whenever I'm testing for spatial precision, cleanliness in the bass range, and sheer low-frequency pressure, I always turn, time and time again, to the MFSL pressings of albums by the jazz singer and fusion expert Madeleine Peyroux — LP reissues that, from experience, sound better than the original issues thanks to some meticulous remastering. With the Performance DC, the voice of this chanteuse, whose evolution has been so fascinating to watch over the years, retains its immediacy, its compelling presence, and its lascivious smokiness. The "room" feels, if anything, just a few centimeters narrower and a tiny bit shallower than with the Innovation Basic–TT5 combination.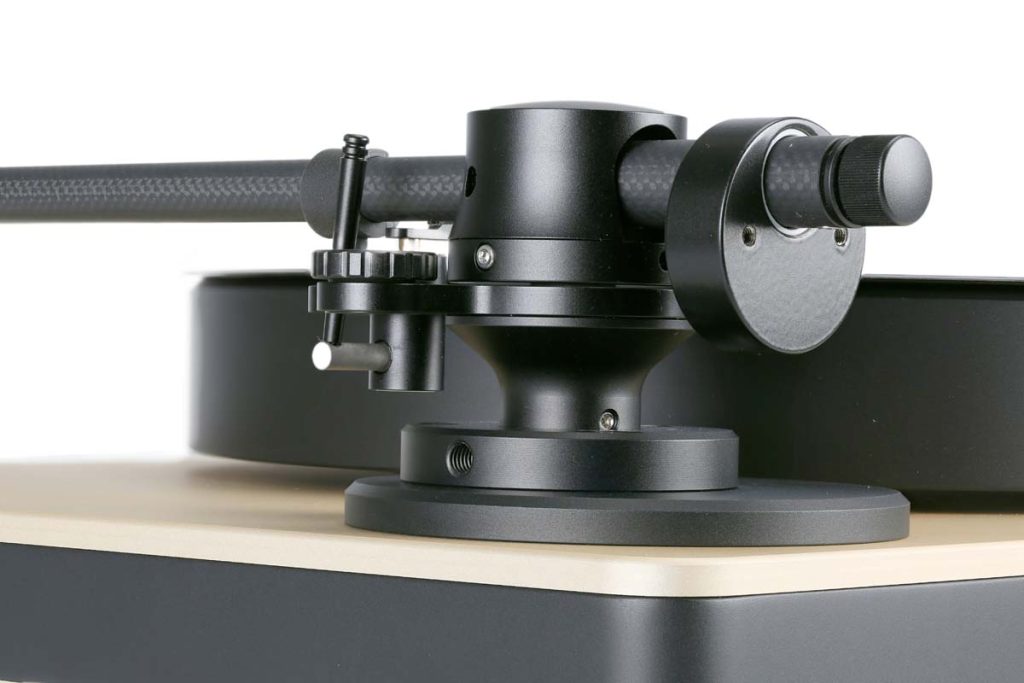 This tendency continues when I try a major symphony. Just recently, a reissue found its way onto my desk that I'm also loving to listen to on repeat: the recording of violin concertos composed by Wolfgang Amadeus Mozart and Max Bruch featuring the legendary Hungarian violinist Tibor Varga (1921–2003), which the virtuoso with the unmistakably impressive violin sound recorded long ago with his own chamber orchestra — in the process also staging some great moments in vinyl history. The reissue published with Philharmonia (PA 451 V2N002) is a delight, featuring a largely impeccable pressing and a tremendously light and airy sound profile that is pleasingly brilliant in the mid-range but never piercing or over-emphasized in the treble. Varga's instrument, a Guarneri del Gésu from 1733, has body and substance and the relationship with the orchestra sounds perfectly balanced. From a tonal perspective, this issue published in France most definitely remains on the safe side. In short, it constitutes a fine audio-test LP, with which even a turntable-tonearm combination can be optimally examined with a stylus.
The Performance DC with the TT5 completes this required task so well that I simply can't find fault with it and can let myself just relax into the music. I find myself wondering where the charismatic violinists akin to Varga can be found these days.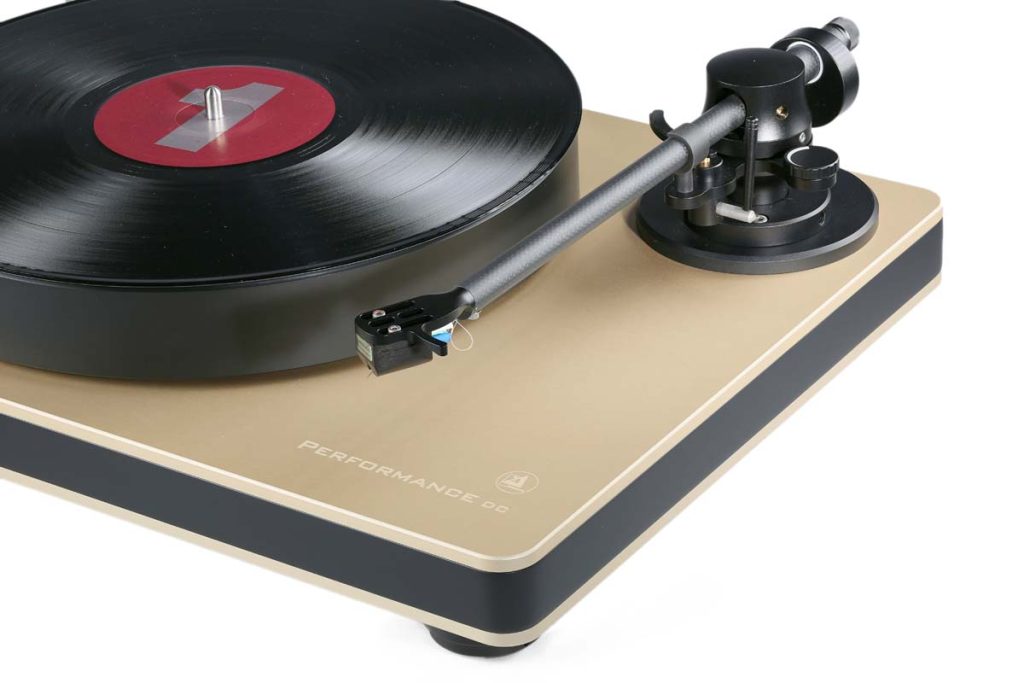 Resting on the rack in front of me in the listening room is an LP encased in a suspiciously jet-black cover that a colleague must have left behind. How exciting! Should I take it as an invitation or perhaps as a tip for something to try out? Or was it intentionally "forgotten"? The five-man rock band Souls Revival recorded a selection of their explosive, high-octane, guitar-driven songs, which hit you right in the belly and knock you off your feet, "straight2tape," as the series with the same name from Swiss label 2inchrecords is titled. Anyone who has ever suspected that Swiss hard rock not only stems from the Saint Gotthard Massif has all the confirmation they're looking for here: What singer Giovanni Pontillo, guitarists Stefan Schroff and Sandro Pellegrini, bassist Tevfik Kuyas, and drummer Marc Friedrich have recorded here using a Trident 80b mixing console and a Studer tape recorder from 1971 asserts a very authoritative sound that's just as transparent as it's powerful. And the Performance DC doesn't experience the slightest problem with it. The classy Clearaudio pulls through like a powerful sports car with a massive V12 engine.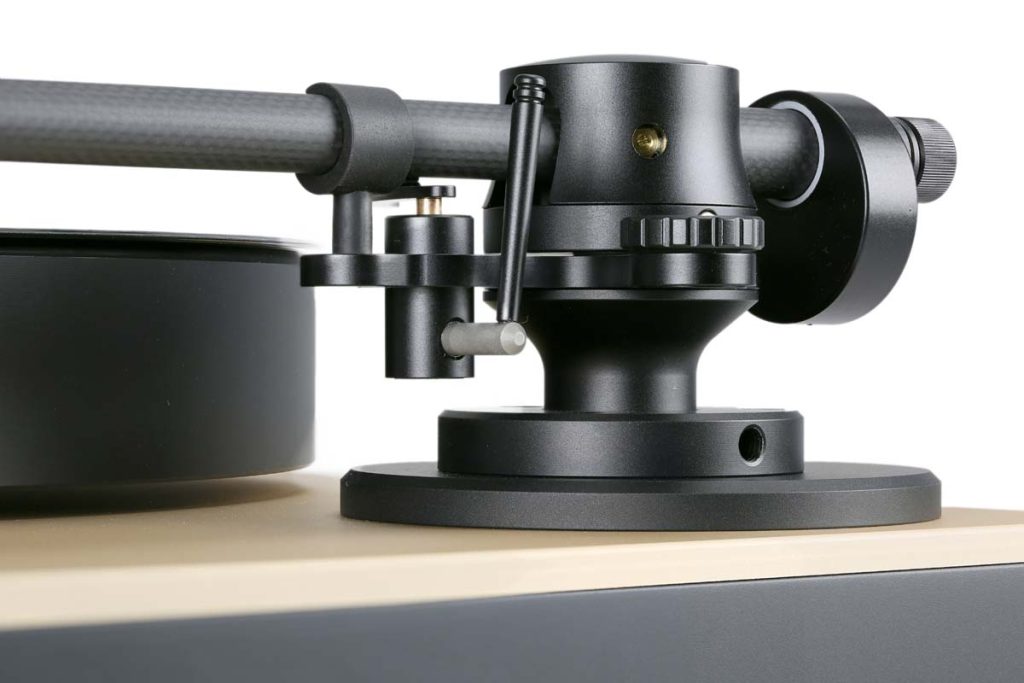 Now I want to figure something out and spend a few hours dismembering my Innovation Compact to which I've attached two Magnify tonearms for comparison-test purposes. The model housing a carefully adjusted Clearaudio Da Vinci makes its way over to the Performance DC — and the sun comes up: The extent to which this combo further improves resolution and homogeneity is astonishing. Missing in the background though is a little bit of that blackness that comes from the teller weight in the large Innovation models. The Da Vinci's attention to detail and pouncing dynamics harmonize wonderfully with the nimble approach of the Performance DC.
After Souls Revival had turned my ear canals inside out and rinsed them, I opt for a gentler alternative: Régine Crespin singing Nuits d'Été (Summer Nights) by Hector Berlioz, accompanied by the Orchestre de la Suisse Romande. A sun-drenched song cycle underpinned by strong emotions that became an enthralling self-reflection and vocal tour de force with Crespin, an exceptional artist. A soprano range that soars to almost stratospheric heights yet remains effortlessly floating freely above everything. And Crespin's delivery sounds significantly more weightless than Hildegard Behrens' much more recent performance of Sommernächte (Summer Nights) also released on Decca — subtle differences the Clearaudio Performance DC accurately depicts, along with the Magnify and Da Vinci.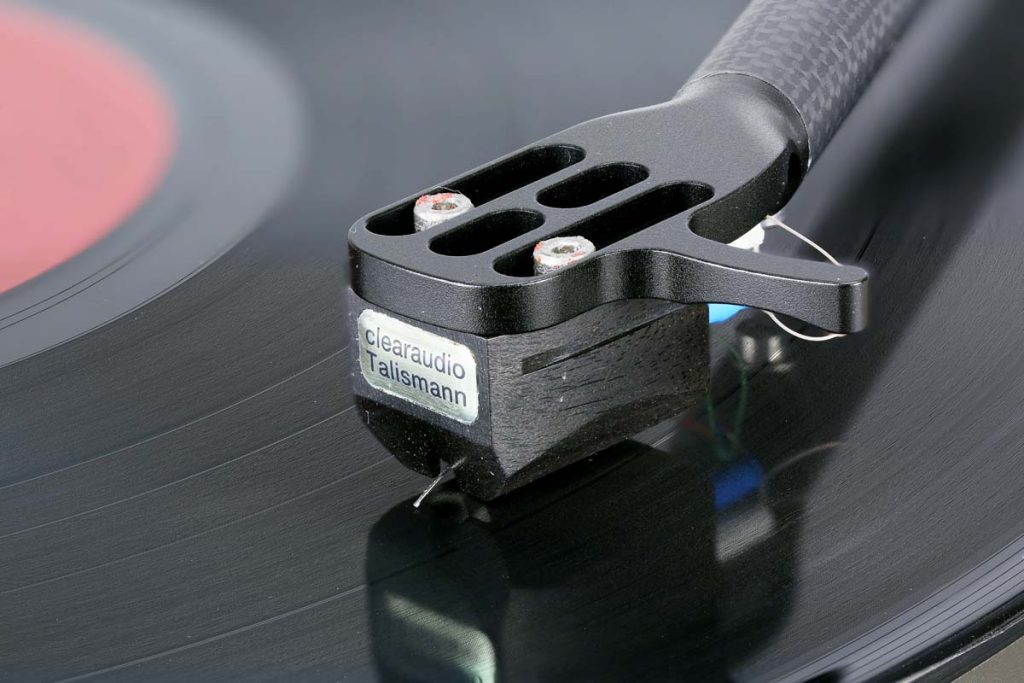 Yes, you're quite right: It is a bit odd to combine a mid-range turntable with a tonearm and a cartridge that cost significantly more than the base itself. The fact the experiment worked, though, says something about the quality of the rock-solid construction and proves Clearaudio sets high standards, even for their "smaller" products. You can get your hands on a complete Performance package with preadjusted components for under €3,500 and therefore can more or less put the topic of turntables, including in high-quality systems to rest. It's no coincidence that the Clearaudio Performance DC's visuals, especially in the super-chic rose­gold finish, are every bit in the same league as those champagne-colored heavyweights thought of as "high end" purely because of their glossy housing. From a sound-quality perspective, it also doesn't need to take a backseat behind top-class components either. And with better tonearms and cartridges it has the potential "to grow" and to accommodate its owner's increasing requirements. What more could you want?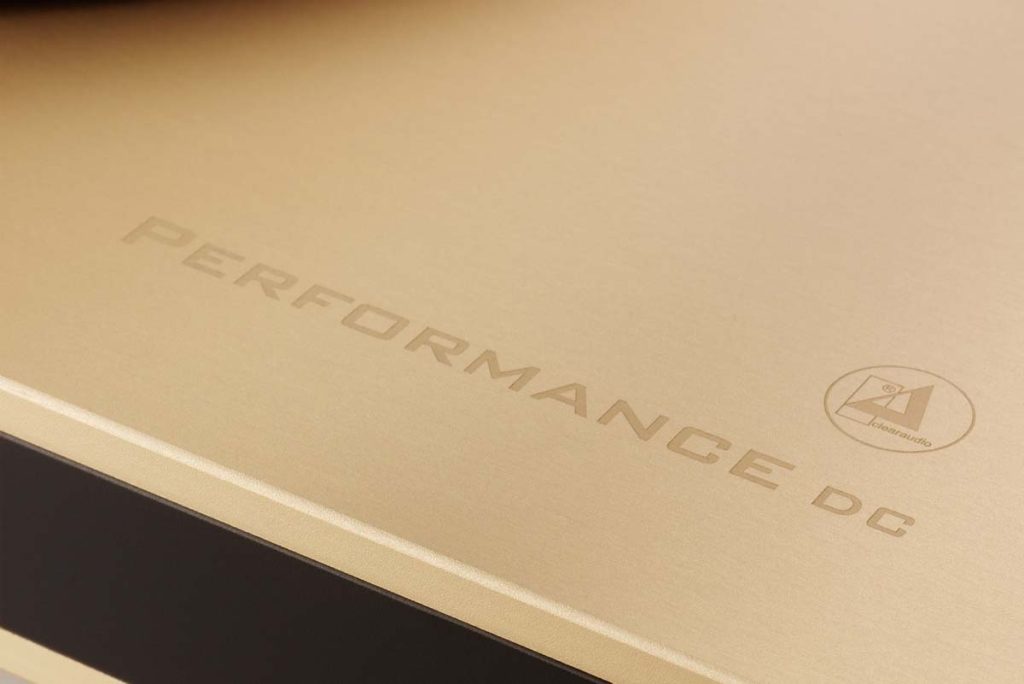 Accompanying equipment
Preamplifier: Mark Levinson No. 38s, Musical Fidelity M1 CLIC, Pass XP-12 | Power amplifiers: Audio Note P2SE, Mark Levinson No. 27, Musical Fidelity M1 PWR, Pass XA25 | Integrated amplifier: Hegel H360, Marantz PM-10, and HD-AMP1, NAD M32, Vincent SV-238 MK | Loudspeakers: Audio Note "E" Spe HE; Bowers & Wilkins 800 D3; Burmester B18; Dynaudio Special Forty, Infinity Kappa 7.2 Mk II; KEF LS50, R900, and Reference 3; Martin Logan Expression ESL 13A, Phonar Veritas 10p, Wilson Audio Yvette | Cables: Audio Note, AudioQuest, HMS, in-akustik, Vovox | Accessories: Harmonix, Subbase Audio
Turntable
Clearaudio Performance DC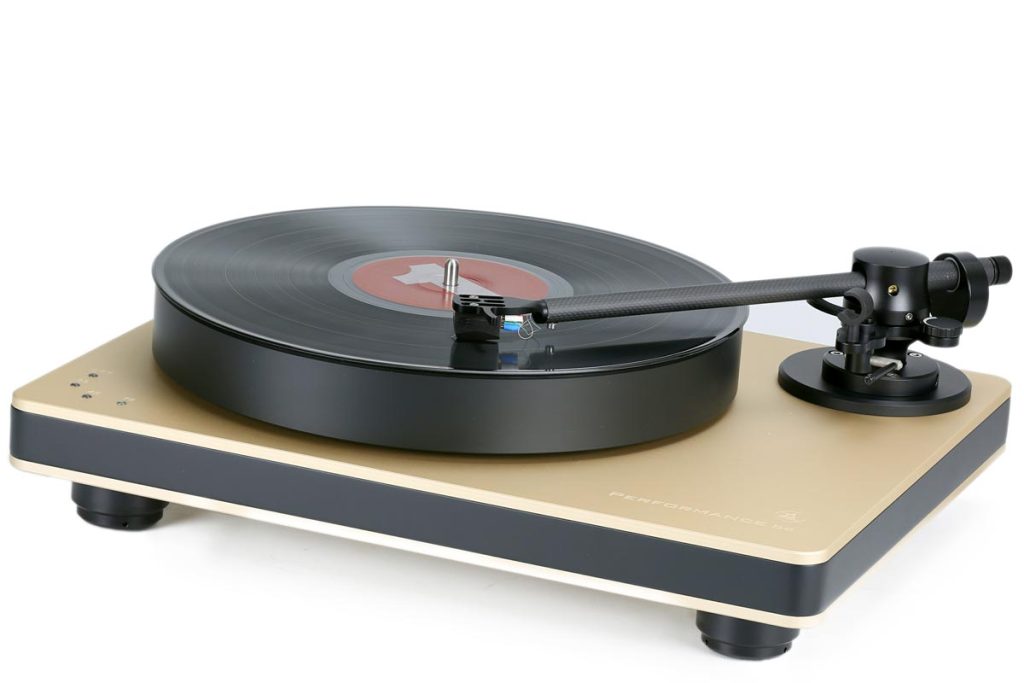 Functional principle: belt-driven nonsuspended turntable | Speeds: 33, 45, and 78 rpm | Special features: plug-and-play package in multiple variations, electronically controlled synchronization, platter with magnetic bearing | Finishes: aluminum platter and base plate in black, silver, or rose gold, chassis in silver, black, or wood (rose gold: dark red wood) | Dimensions of turntable without tonearm (W/H/D): 42/33/12.5 cm | Weight: 11 kg | Warranty period: two years | Package price for Performance DC turntable with Clarify tonearm and Virtuoso V2 MM cartridge: from €3,400
The stated retail price of the reviewed device is valid as of the time of the review and is subject to change.