Jazz is like a dense forest where it's easy to overlook something important. Hans Jürgen Schaal points out a few highlights of jazz history we may have missed.
He came from a family of jazz musicians and grew up in the jazz capital, New York. Already in his high school days, trombonist Grachan Moncur III (1937-2022) had jammed with saxophonist Jackie McLean – this was that precocious Miles Davis protégé who blew into his alto sax with such energy as if he wanted to make it glow. In the summer of 1962, the young drummer Tony Williams brought these two together again. And now suddenly everything snapped into place: McLean was about to start a new band – and Moncur had spent two months studying the music of Thelonious Monk and had begun writing his own pieces. In addition, said Tony Williams and a young vibraphone player named Bobby Hutcherson were waiting in the wings – Moncur had already played with both of them. The new band was essentially ready to go. "We were given a free hand at Blue Note," McLean recounted.
In April and September 1963, the McLean-Moncur band made two albums under McLean's name – but Grachan Moncur III had already written five of the eight tracks. And what tracks they were: bulky, boppy modal numbers like "Riff Raff" or mysterious, floating moods like in "Ghost Town" – those marked a completely new tone. Add to that Moncur's darkly powerful trombone, Hutcherson's crystalline pointing vibraphone, and Tony Williams' brilliant rhythm work, and this band sounded very special. As was good custom at Blue Note, the brilliant supporting players were offered the chance to record their own leader records. Moncur was the first among them – and then simply continued on with the same band. For additional color, the label suggested the terrific trumpeter Lee Morgan, who was preparing his comeback. Moncur gladly accepted the suggestion – and Evolution became the record of his life.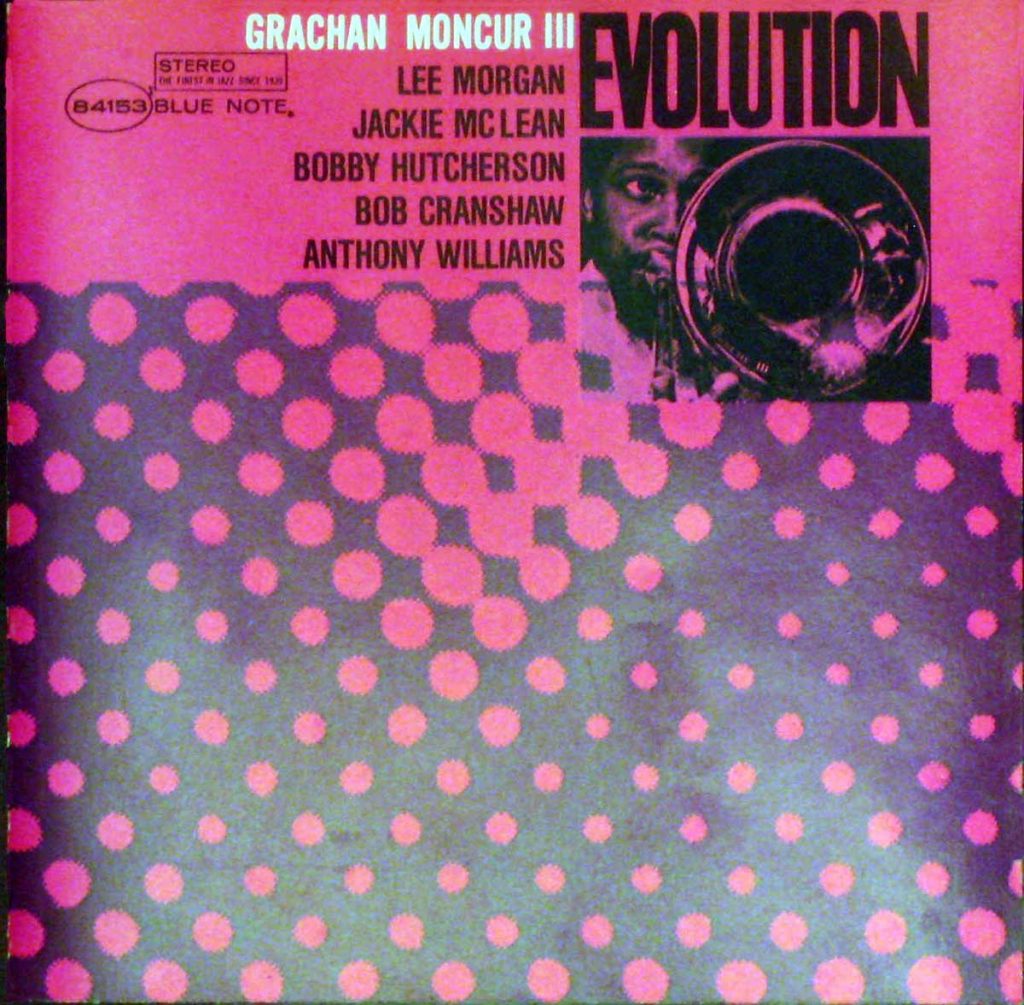 He wrote four new pieces for it – one more individual and unusual than the next one. "Air Raid", alternating between funeral march and uptempo swing. "Evolution", quasi rubato over standing sounds. "The Coaster", a jaunty modal piece with 40-bar chorus – it was later also lyricized. Finally, "Monk In Wonderland", a sophisticated Monk homage over changing time signatures. "Out of my Monk studies came my whole career as a composer," Moncur later said. "I wrote these pieces at the time with the aid of a melodica, because I didn't have a piano."
His music bridged the gap between old hardbop and new free jazz – "something freer, but linked to structured forms," is how McLean described it. He said, "In the past, most jazz compositions consisted of a melody, usually in four-four time signatures, and the solos more or less followed the same stereotypical expectation. Today, compositions are increasingly concerned with form, rhythm changes, and meter breaks. We live in an age of speed and variety." Moncur himself said, "I called the album 'Evolution' because I envisioned my music evolving out of the mainstream." This album was one step ahead of the present.
The stated retail price of the reviewed device is valid as of the time of the review and is subject to change.