In Perfect Harmony
When HMS launched the new Armonia series of cables, high-end music aficionados sat up and listened – and for good reason.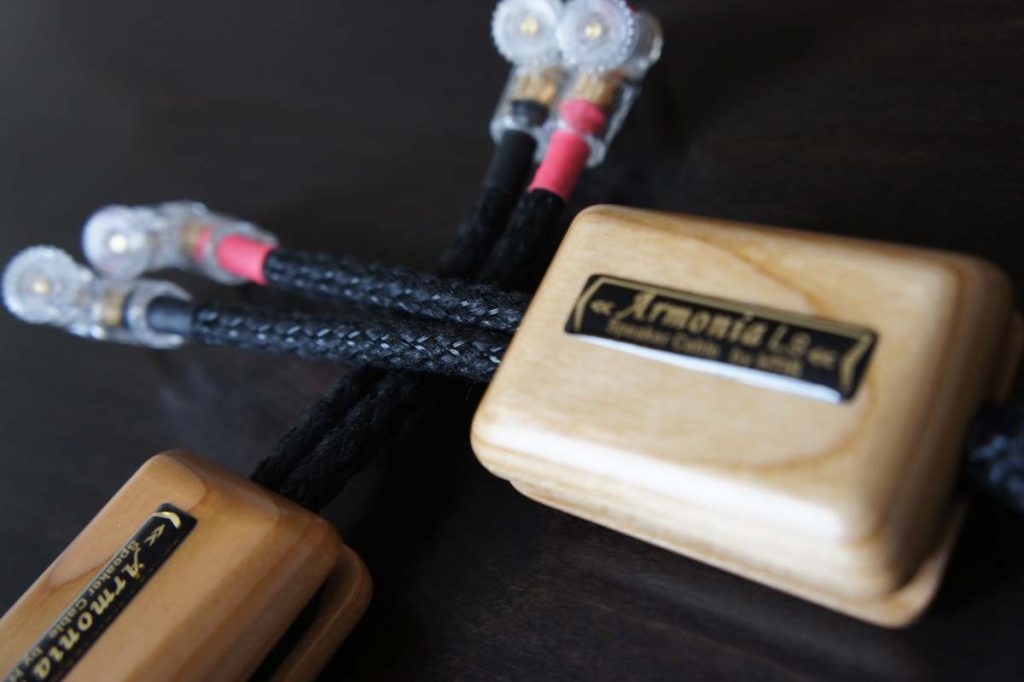 And now there's a brand-new, middle-of-the-range cable series which, according to HMS head Hans M. Strassner, benefits from the technology found in the Gran Finale Jubilee line and all for a much more affordable price. Anyone who knows Hans M. Strassner, knows that exaggeration and showy behavior are as alien to him as it would be to Boston Red Sox fans who would objectively praise a strong performance by the New York Yankees (and vice versa).
The new HMS line Armonia consists of small signal cables and loudspeaker connectors (single and bi-wiring versions). The fully redeveloped RCA connector has a parallel-balanced design consisting of two bundles of three HF braid wire OFCuLs on a central hollow core with a new antimicrophonic screen and a highly efficient double shielding made of oxygen-free silver. The cable is therefore immune to both sound vibrations and interference from electromagnetic fields.
One of the series' stand-out features is the virtually complete ferrite coating that quickly blocks any high-frequency interference. As with the loudspeaker cables, the outer sheath of the signal cables consists of a nylon fabric mixed with carbon that suppresses virtually all electrostatic influences. Starting at 1.5 meters in length, the loudspeaker cables are made to order and available in 50-centimeter increments. They also come supplied with 4-millimeter NextGen angled banana plugs or 6/8-millimeter WBT cable lugs, depending on the customer's desired connection option.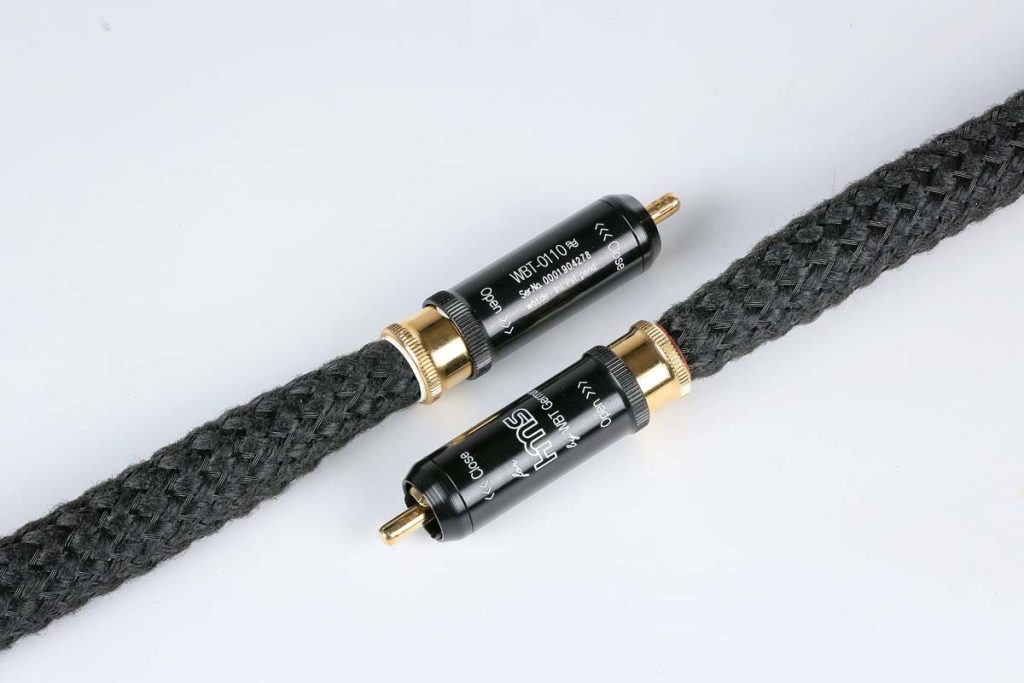 The RCA connectors come supplied with the famously good low metal content WBT Next-Gen plugs; the fully balanced XLR assembly comes in the form of XLR plugs and/or connectors from Neutrik (three pin and gold plated). Here as well, you only have to buy the length you actually need: For less than one meter, you have two options: 50 centimeters and 75 centimeters. Anything longer can be had in 50-centimeter increments.
The promised technology transfer from the Gran Finale Jubilee series is audibly noticeable right away in practically all device set­ups. This also holds true regardless of what is involved in terms of sources, transistors versus tube amplifiers, and quiet versus loud loudspeakers. The cables' signature properties include seemingly limitless dynamics and playback that's completely free from external interference. As a result, interference from sources like, say, your neighbor's washing machine, are a thing of the past… The wonderful recording of Mozart's opera Idomeneo with the historical music conductor René Jacobs, the RIAS Chamber Choir, the Freiburg Baroque Orchestra, and famous soloists (Harmonia Mundi) from 2009 immediately showcases one of the Armonia series' exceptional capabilities. The outstanding soprano Sunhae Im sings the part of the Trojan princess Ilia, and although you would normally think it would be difficult to reproduce the rich tones of this soprano's voice, the HMS connectors demonstrate that they are more than capable of recreating in the room the immense energy and stupendous charisma with very refined differentiation and very clear articulation, all without creating any glassy hardness. The playback is also free from any superficial effects, which shows a clear contrast to cables that "tease" listeners with warped, unilaterally emphasized frequency responses but after a short time become annoying because their playback isn't exactly au fait with the truth. In comparison, however, listening to music with the Armonia line from HMS is a completely different experience: The music reaches the listener with no airs and graces, just pure authenticity and an intoxicating level of intensity.
In Isabelle Faust's 2001 recording of Gabriel Fauré's violin sonata in A major, Opus 13, with Florent Boffard on the piano (Harmonia Mundi), the Armonia cables demonstrate just how much charm can be found in noble restraint. Chamber music is also reproduced with great authenticity. If cables transmit the signals with imperfections here, even if they are only tiny imperfections, or if they incorrectly emphasize individual frequency ranges, the melancholic and intimate dialogue between the two instruments can quickly turn into a musical conflict. The Armonia cables rely on balance and expressive implementation of the emotional depths of the as-yet uncontentious piece.
A slight detour into the timeless, fantastic live recording EnRoute (Verve) of the John Scofield Trio with Steve Swallow on bass and Bill Stewart on drums along with, of course, John Scofield on his semiacoustic guitar from 2004: Right from the opening track "WEE," the Armonias demonstrate how the solo improvisations melt and blend with the underlying driving grooves to form an orgiastic tapestry of sound. The ensemble's sound, which sometimes seems almost physical in its changing configurations is, in spite of the fullness and density of the musical figuration, always nicely outlined and reproduced transparently without the homogeneity of the musical performance ever being threatened.
In conclusion: Both in terms of the LF and the loudspeaker cables, the new HMS Armonia series is by far the most reasonably priced among the world's best connectors. You just can't get any more sound for less money right now.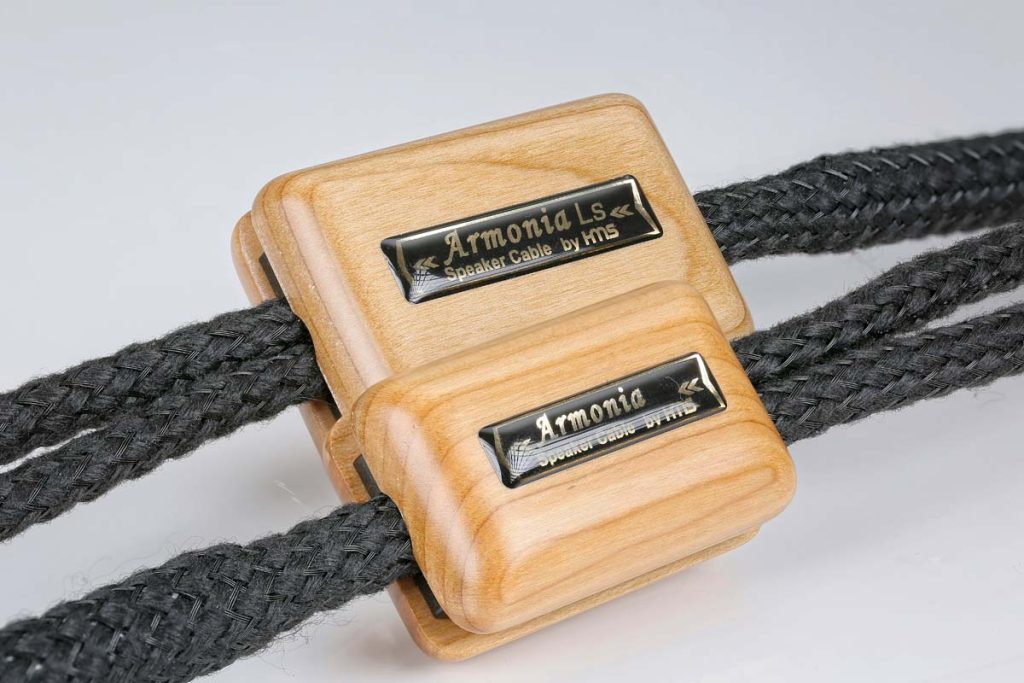 LF and loudspeaker cables
HMS Armonia
Assembly: LF cable with Neutrik XLR or WBT RCA plugs, LS cable in single or bi-wiring version with angled banana plugs or cable lugs from WBT | Finish: Black braided fabric | Warranty period: five years upon registration | Examples of prices for LF cable (2 x 0.5/0.75/1 m): €775/€818/€860 (each additional 50 cm: an extra €85 | Example of price for LS cable (2 x 1.5 m): €1,190 (each additional 50 cm: an extra €190), surcharge for bi-wiring €160
HMS Elektronik
Hans M. Strassner GmbH
Am Arenzberg 42
51381 Leverkusen
Germany
Phone +49 2171 734006
The stated retail price of the reviewed device is valid as of the time of the review and is subject to change.