iFi Audio have expanded their Neo series and also reimagined streaming itself with the brand new Neo Stream.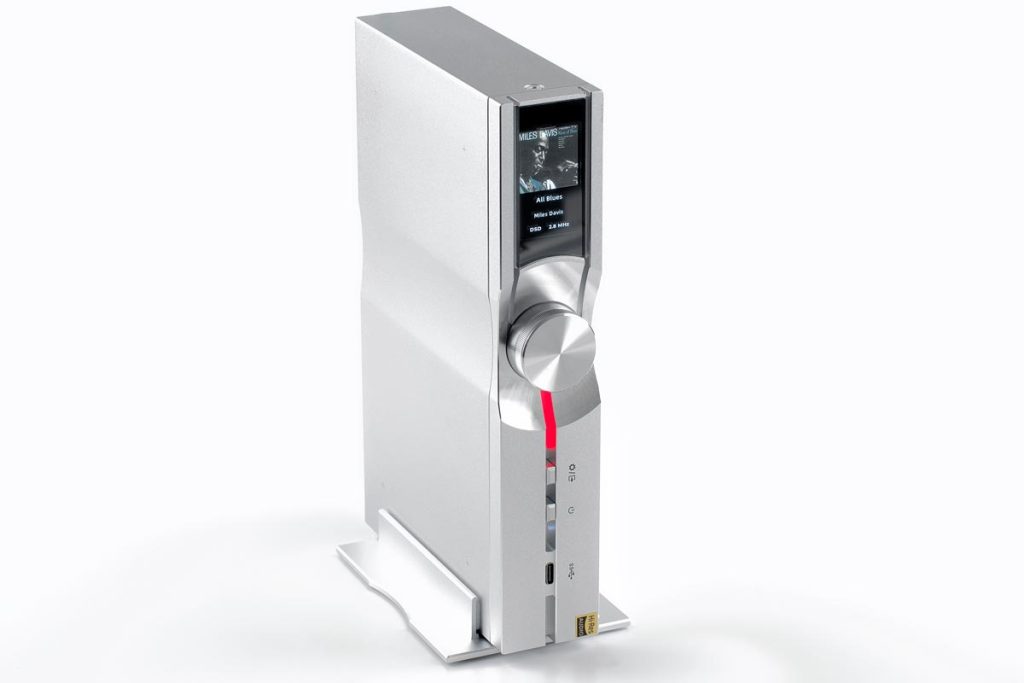 iFi Audio has been around for just ten years, and it didn't take more than that one decade to convince digital-savvy hi-fi lovers of its smart products. iFi stands for "intelligent fidelity," which means well-thought-out solutions for sound obsessives that don't even have to be too expensive. Mobile enthusiasts enjoy the pocket-sized converters and headphone amplifiers, while high-flyers love the upscale Pro Series. The still young Neo series ranks in the midfield within the portfolio, whereby in terms of sound quality and functionality, even demanding users should get their money's worth. The Neo debutant was the versatile iFi Audio Neo iDSD converter, which was joined in the fall of 2022 by the Neo Stream, a network streamer with integrated DAC. The newcomer to the lineup, which faces in-ear testing today, costs around 1300 euros and, despite similarities to its sibling, represents a fundamentally new development. In fact, the British claim with a proud chest that they have rethought audiophile streaming and created an unparalleled network player with the Neo Stream.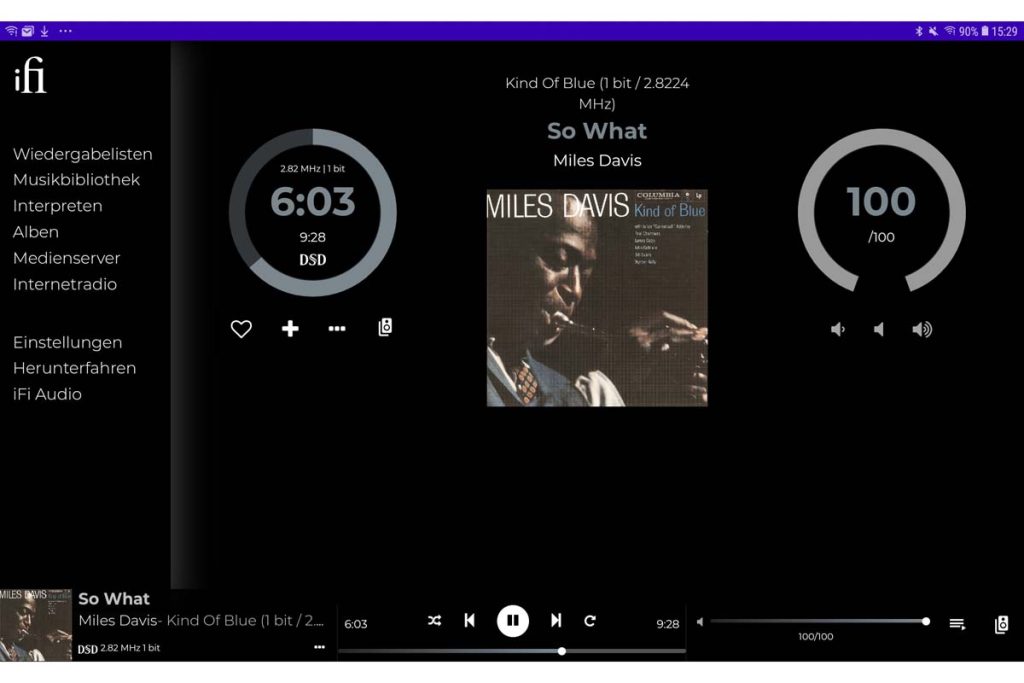 A Lot On Offer
The Neo Stream is supposed to be understood as an "Ultra-HiRes" streamer, and indeed the networker, conceived in England and assembled in China from top components (TDK, Panasonic, Texas Instruments, etc.), supports PCM up to 32 bit/768 kHz, all DSD formats as well as DXD. In addition, there is an MQA decoder. As expected, it streams via LAN or gets the files from connected storage devices – it has a USB 3 port and a USB C port for this. WiFi is also available, of course. However, this requires a stable 5 GHz signal – which makes those who have it happy.
The Neo Stream is a device that likes to be networked and does not think much of British selfishness. Streaming via Spotify, YouTube Audio and Tidal is easily possible ex-works, the British device is also Roon ready, and of course it streams files from the NAS as well as from connected storage devices. Any DLNA/UPnP-compatible app, such as the Audirvana and BubbleUPnP that I prefer, is capable of controlling the streamer. So there is no need for a special control software. However, iFi offers it and there are good reasons for using this app – more on that later.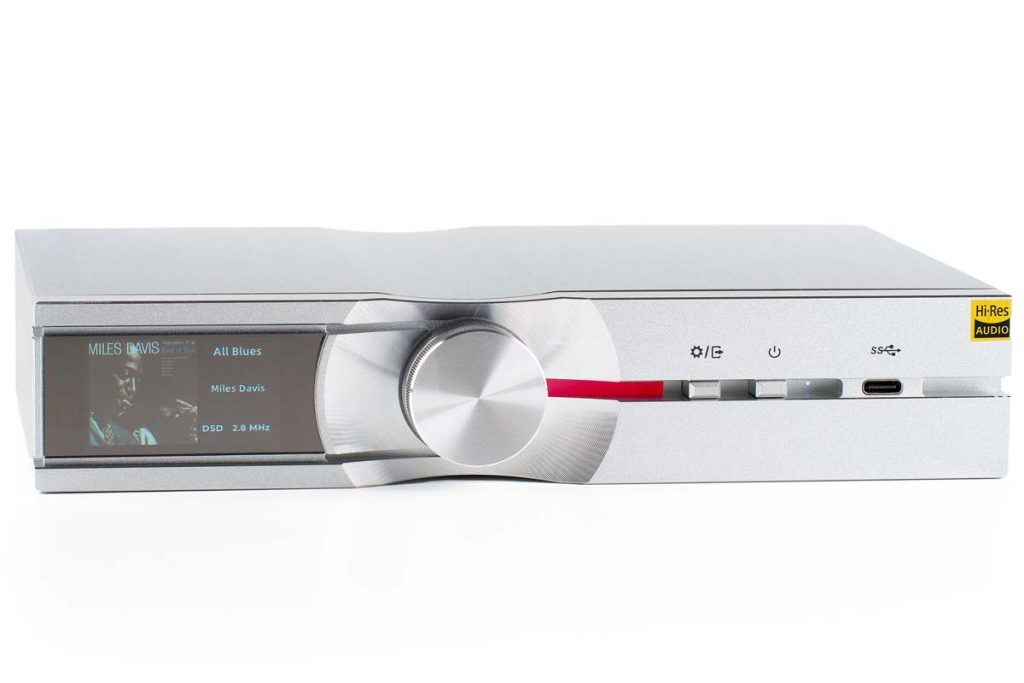 In order to fully control the Neo Stream, the initial setup is done completely on the device. In addition, elementary settings such as selecting the outputs or one of the four digital filters can be made via a function button and the large encoder. The small but very sharp OLED screen and the well-structured menu noticeably facilitate the setting work. The short introduction, which makes do with many pictures and very few words, summarizes all relevant setting scenarios, and everything would be wonderful if the test device did not prove to be a capricious little person at the beginning: The Neo Stream refuses to connect to the home network on the first day – neither wired nor wireless. Perhaps the brave Briton is fighting against a nasty electric lizard that prevents him from accessing my network? Fortunately, everything is fine the other day and the Neo Stream is suddenly a LAN and WLAN member without any further intervention.
Straight As A Die And Lightning-Quick
Speaking of network access: In addition to the usual connections via the existing RJ45 and M12 ports, the Neo Stream has an exclusive feature, the so-called "optical LAN". A small transmitter and two cables are included in the scope of delivery. One is a network cable that connects the transmitter to the router. The second cable, an optical fiber cable, is used to connect the transmitter to the Neo Stream. The has its own optical input for this special cable, Toslink or ADAT cables do not fit. Why this extraordinary connection? Well, the transmitter processes the signal from the router, so that the transmission of digital audio files up to 10 Gbps bit-precise, so really in full resolution over the network – galvanic isolation included!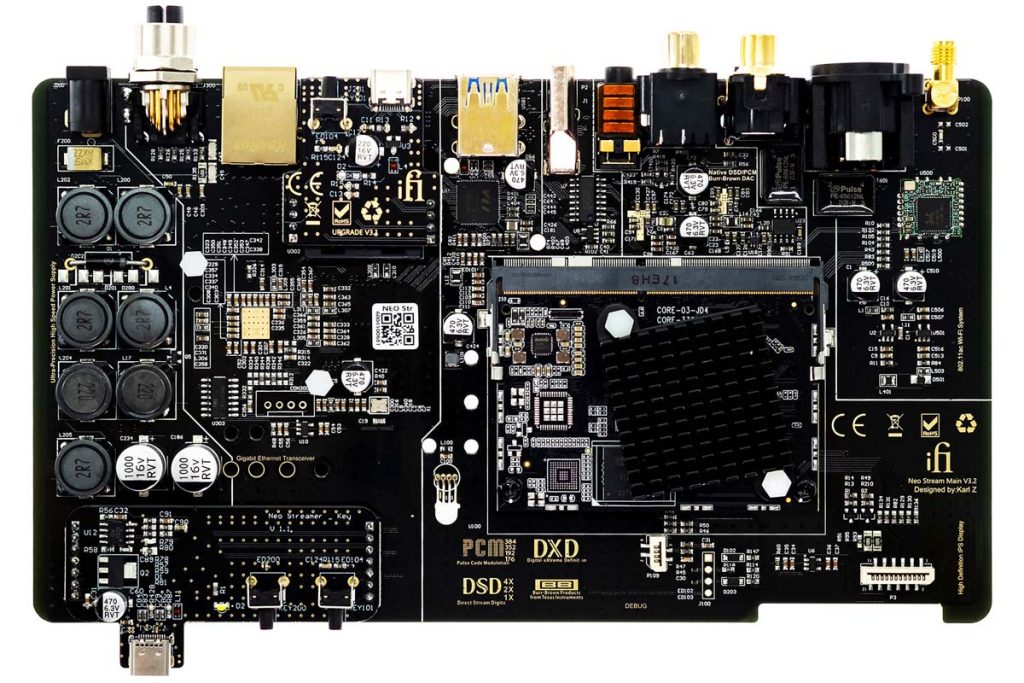 If you don't want to do without your usual, dearly beloved USB DAC, you can connect it to the rear USB port "ANC for Audio". The manufacturer goes to some lengths to keep electro-dirt away from the audio files. The elaborately filtered USB port for external converters is one of them. An XMOS chip with 16 cores and especially large working memory, which naturally supports the current USB data rates, ensures especially fast and loss-free processing of the signals received and output via USB. The XMOS firmware comes from iFi itself.
In Compliance With The iFi Purity Commandment
The XMOS chip works – how could it be otherwise – with the converter module, whose heart is a chipset from Burr-Brown/Texas Instruments. It is designed with four channels, so that PCM and DSD take their own signal paths, which makes the native conversion of all DSD formats possible. The conversion to PCM, which is rightly frowned upon by DSD purists, does not take place.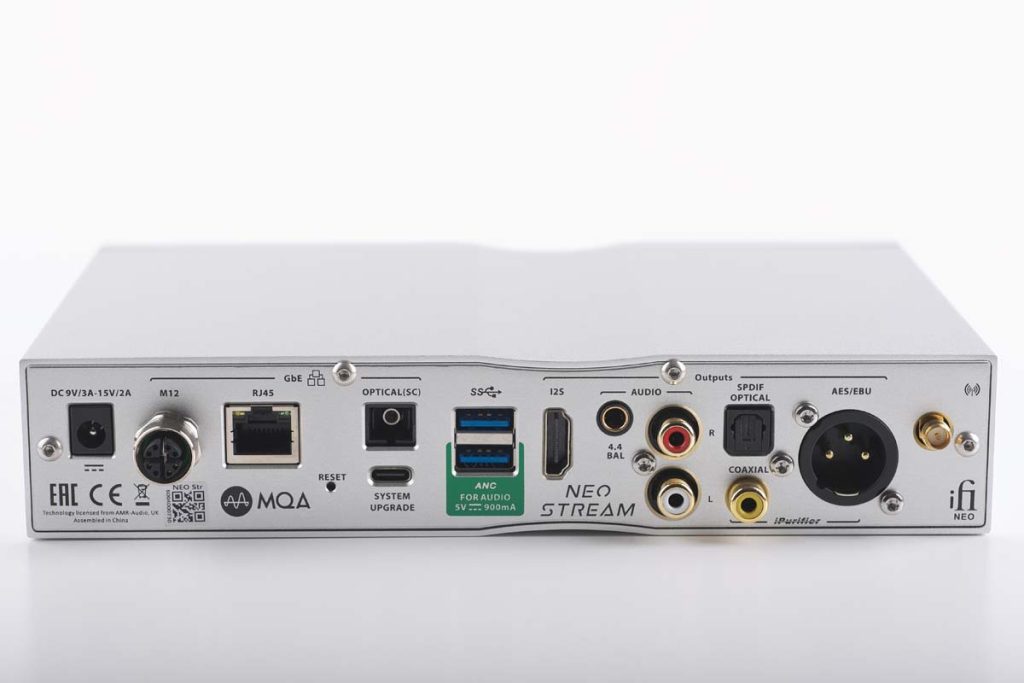 On the output side, the Neo Stream offers professional standards: AES/EBU as well as S/PDIF and Toslink are on offer for digital outputs – in Pro format, mind you, which supports sampling rates of up to 192 kilohertz. For complete bliss, balanced XLR outputs would have been fine in addition to the balanced 4.4-millimeter line output and the two unbalanced RCA outputs, but there probably wouldn't have been room for them. iFi's own "Purifier" technology once again ensures clean data streams at the digital outputs. The Global Master Timing Femto-Clock, which eliminates any clock jitter, also serves this purpose in a broader sense and ensures optimal digital signals.
Time To Listen More Beautifully
If you want to stream files from the NAS or even connected SSD with the Neo Stream, you should download "iFi Stream" to your mobile device as a control center. This guarantees the best success: The app is clearly designed and also polyglot, so it is also German-language. Those who want to enjoy DSD natively should also deactivate the integrated software mixer – which is not for purity fanatics anyway.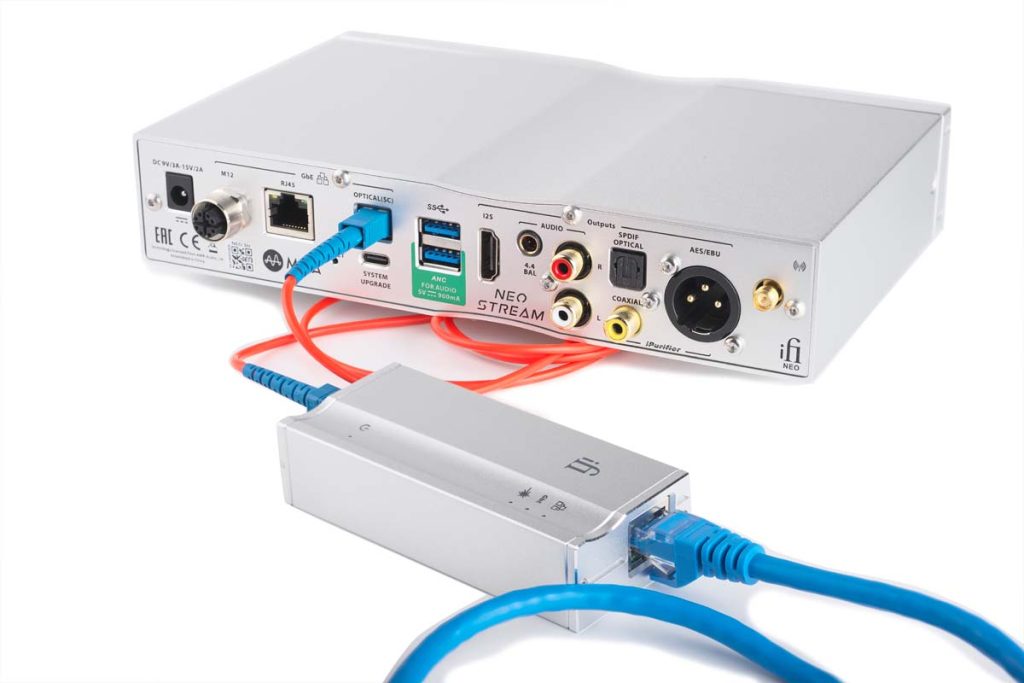 Those who want to adjust the sound to their taste can choose between four filters – "STD/Standard", "BP/Bit Perfect", "MIN/Minimum Phase" and "GTO/Gibbs Transient Optimized". GTO means upsampling to 352.8/384 kilohertz with minimal filtering, sounds remarkably good – and can make the Neo Stream, or more precisely its quad-core ARM Cortex processor, sweat quite a bit. During the listening test, while playing music in 24-bit/96 kHz resolution, the streamer crashed twice and had to be rudely disconnected from the mains and rebooted. STD and MIN also sound very good, because they have a certain analog impression. However, this is a matter of taste.
Listening to music is a matter of pure pleasure. If it only serves as a bridge to the favorite converter, the iFi Neo Stream does everything as it is to be expected from a contemporary streamer, namely perfectly. It passes on clean files. By the way, then it is worth activating the BP filter and leaving the sound shaping to the downstream converter. If the integrated converter is trusted, the Briton flatters the ears with a musical sound that – especially with the MIN filter – is reminiscent of analog ear gold. This suits the DSD versions of Oscar Peterson's grandiose solo piano album My Favorite Instrument or Miles Davis' masterpiece Kind Of Blue very well. In the case of the Peterson album, even the spinning reels of the Telefunken tape machines appear before the inner listener's eye. The fact that the creaking of the piano bench has been captured alongside the ultra-virtuosic piano playing sets the right mood for a very long listening session – I have to listen to "Body And Soul" and "Little Girl Blue" twice in a row each. The taps are then due to Miles Davis and the otherworldly "Blue In Green". After that, it's clear that the Neo Stream may not revolutionize streaming, but it certainly makes it a very enjoyable experience.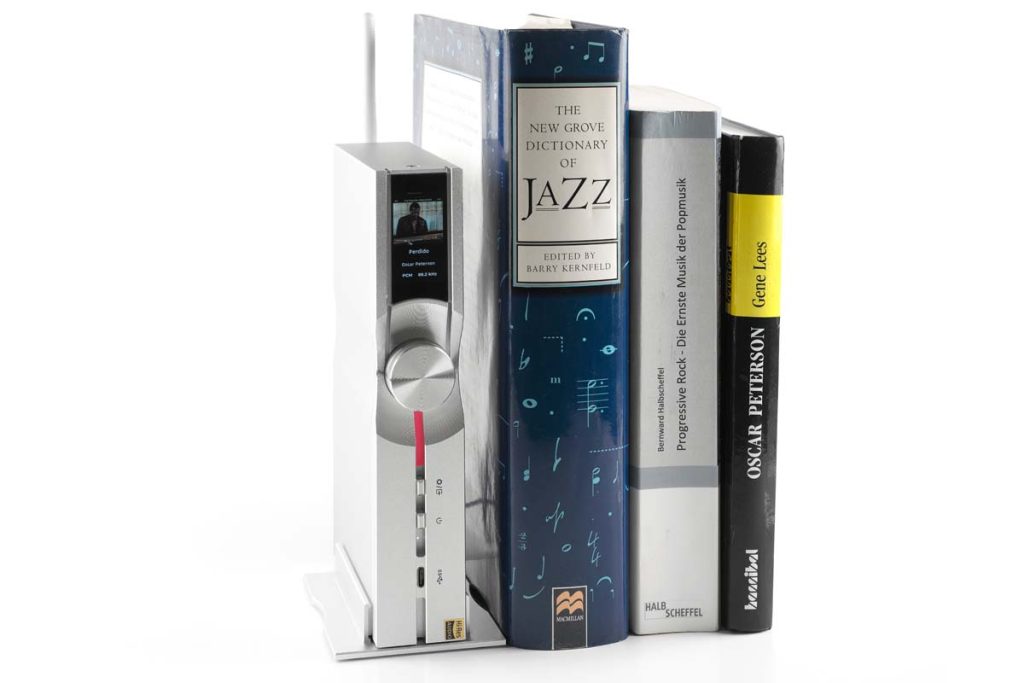 Accompanying Equipment
USB interface and D/A converter: Mutec MC-3+USB, Mytek Digital Stereo192-DSD DAC, Violectric V800, AudioQuest DragonFly Cobalt | Computers: Apple MacBook Pro 16 and MacBook Pro M1 15 | Music server: Audiodata MusicServer II | Software player: Audirvana/jRiver | Active loudspeakers: Geithain RL 906, IK Multimedia iLoud Precision 6, Nubert nuPro A-200 | Cables: Vovox, AudioQuest, Klotz | Mains filter: Dynavox X4100
Network Player/DAC
iFi Audio Neo Stream
Concept: Network streamer with DAC | Operating system/processor: Linux-based, ARM Cortex Quad Core | Inputs: 1 x USB DAC, 1 x USB, 1 x USB C for storage media, 1 x USB C for software updates | Network: Ethernet, WiFi, optical LAN | Outputs analog: 1 x balanced 4.4 mm, 1 x unbalanced RCA | Outputs digital: 1 x AES/EBU, 1 x S/PDIF, 1 x Toslink, I2S | Converter chip set: Burr-Brown, four-channel, up to 32 bit/768 kHz | Formats: all common, including DSD512 native, MQA decoder integrated | Maximum resolution: 32 bit/768 kHz (USB DAC), 24 bit/192 kHZ AES/EBU and S/PDIF, DSD512 native (no PCM conversion) | Operation: on the device and with any control/streaming app or the in-house iFi Stream | Features: open for all platforms (regular software updates announced), HiRes streaming also possible via WLAN, can be operated lying and standing | Scope of delivery: external power supply, RCA cable, transmitter including cable for optical LAN, WiFi antenna, stand, quick start guide | Dimensions (W/H/D): 21/4/15 cm | Weight: 1 kg | Warranty period: 2 years | Price: around 1300 €
WOD Audio
Westendstrasse 1a
61130 Nidderau
Phone +496187 900077
info@wodaudio.de
The stated retail price of the reviewed device is valid as of the time of the review and is subject to change.