The Marantz CD 60 proves that CD players are far from extinct and can still deliver outstanding sound.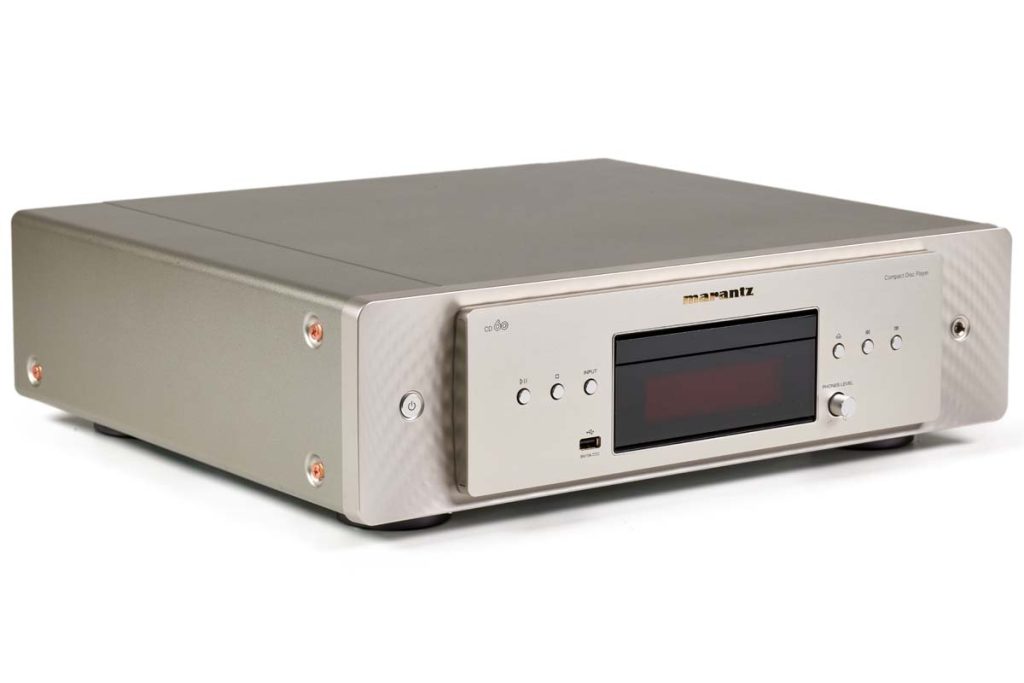 Should we even still report on CD players in a high-end magazine? And on a device that can be had for less than a thousand euros at that? Haven't we long since had this image in our heads: The serious audiophile nerd deals with streamers and DACs, philosophizes about sampling rates, tries to track down the last bit of jitter with ever more sophisticated clock constructions and, as the crowning glory of it all, also needs a special switch bred for music playback and the corresponding "musical" LAN cable to go with it. And then Marantz just goes ahead and comes up with the CD 60 – exactly one of those rectangular boxes – and negates all the beautiful and elaborate digital toys! Isn't that abysmally "back to the 90ies"?
Sure, from the technical standpoint of digital possibilities, a product like the CD 60 may be an anachronism, but anyone who owns a five-digit number of CDs, who listens to exotic music that hasn't yet ventured onto streaming platforms, who simply wants to listen to their music in as uncomplicated as possible a manner without headaches, and who knows above all that the bliss of perfect music reproduction lies in the beginning with the recording process and not at the end with the playback chain, will hopefully maneuver the CD 60 into the home rack with a broad smile.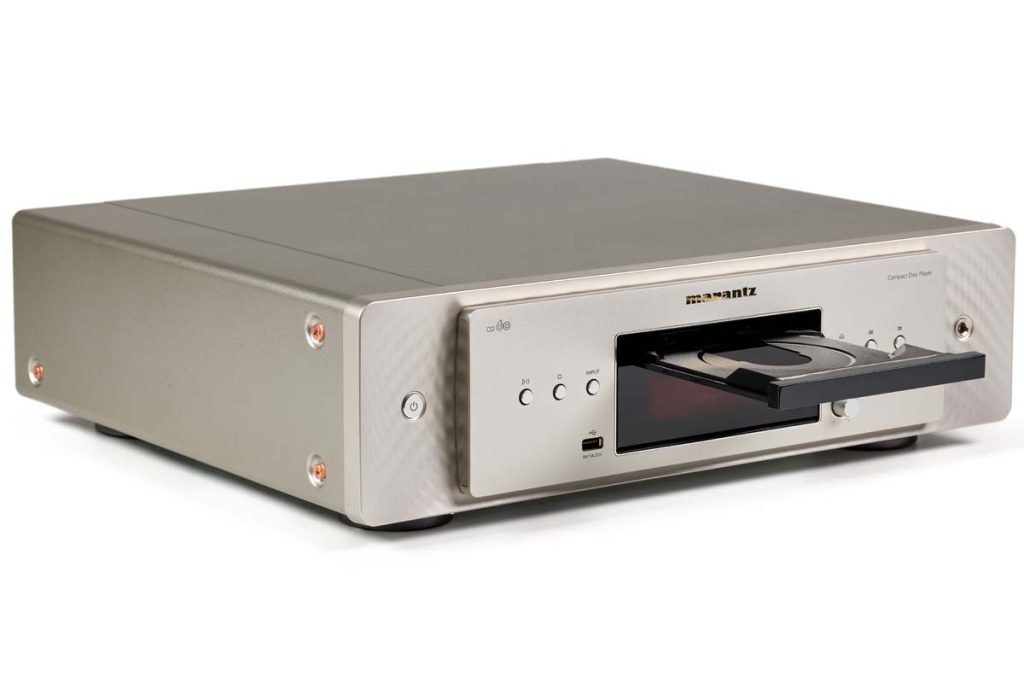 Patented technology
Reading in the CD happens quite quickly, opening and closing the drawer takes a bit of time, but, on a positive note, this is easy on the mechanics. Marantz generally gets a big thumbs up from me here for conservatively sticking to the classic drawer operation rather than resorting to a stylish-modern slot-in drive – often enough already have I seen these turn out to be veritable "CD-eaters". Otherwise, the CD 60 presents itself with a coherent feel and convincing build quality. Just like in all amplifiers and CD players from Marantz, the patented "Hyper Dynamic Amplifier Modules" (HDAM) operate in the CD 60. This is an in-house board design that uses discrete circuitry instead of standard ICs. The modules consist of components mounted in discrete SMD technology with short, mirrored L/R signal paths. The advantage here is that the components in question are said to outperform conventional IC operational amplifiers in terms of slew rate and noise level reduction. Over the years, Marantz has designed different types of modules, so with the CD 60 we find the current stage of module development.
A feast for headphones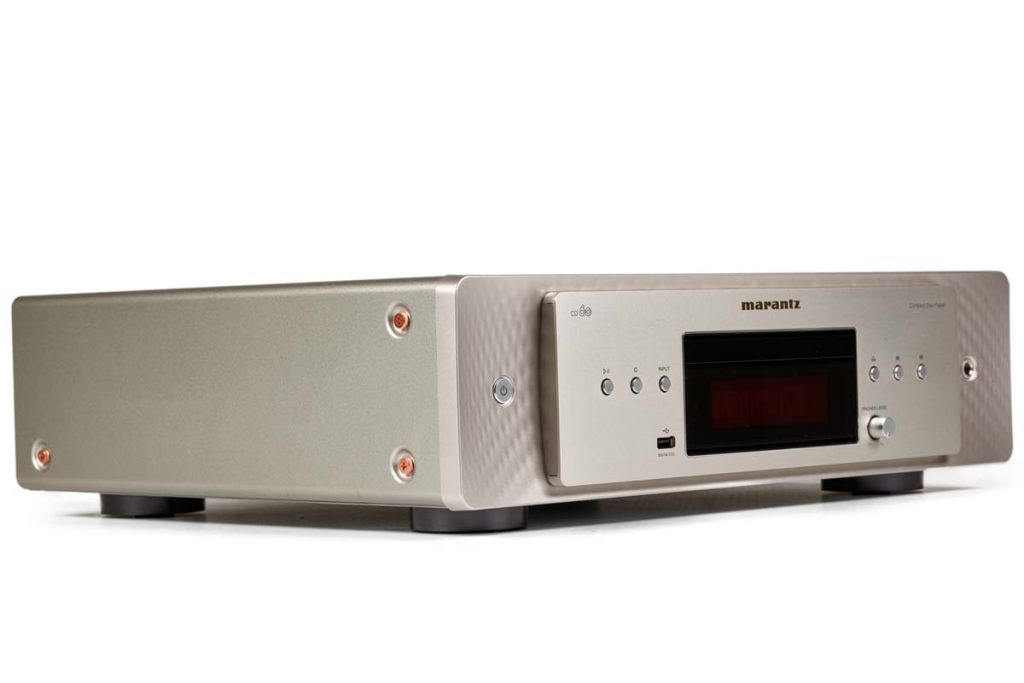 The fact that Marantz keeps the price of the CD 60 within an unusually palatable range is also due to the fact that the manufacturer intentionally didn't go all out with some of the exterior features. Thus, Marantz has only concentrated on CD playback and deliberately dispensed with SACD. However, we don't have to do without a headphone input! It has long been a tradition at Marantz to equip the CD players with a proper headphone amplifier, which of course uses the in-house HDAM modules. This is also the case with the CD 60, which presents more than just a passable sound result. Sure, despite the selectable output power of the CD 60, a full-blown headphone amplifier will produce a larger dynamic range and a more coherent three-dimensionality, especially with difficult to drive cans, but with my Focal Celeste coming in at 35 ohms, I'm extremely pleased sonically, even with my DT-1770 Pro studio headphones from Beyerdynamic, performance was rock solid despite its 250 ohms.
With an easy swing, Harry Belafonte's "Cottonfield Blues" sounds just as smooth as Bernstein's orchestral suite of West Side Story in the interpretational and tonal reference recording with Michael Tilson Thomas at the desk. Those who only occasionally reach for headphones will find a really reliable playing partner here. Oh, and let's not forget that the CD 60 also has a USB port at the front, which allows for playback of files up to 24/192 and DSD512; a feature that's perfectly pleasing in terms of sound without compromises but is a bit clunky in operation. But anyone who seriously wants to play files won't do this via a substitute function on the CD player anyway. And for bat's ears there are two selectable digital filters. Isn't that a rich feature set!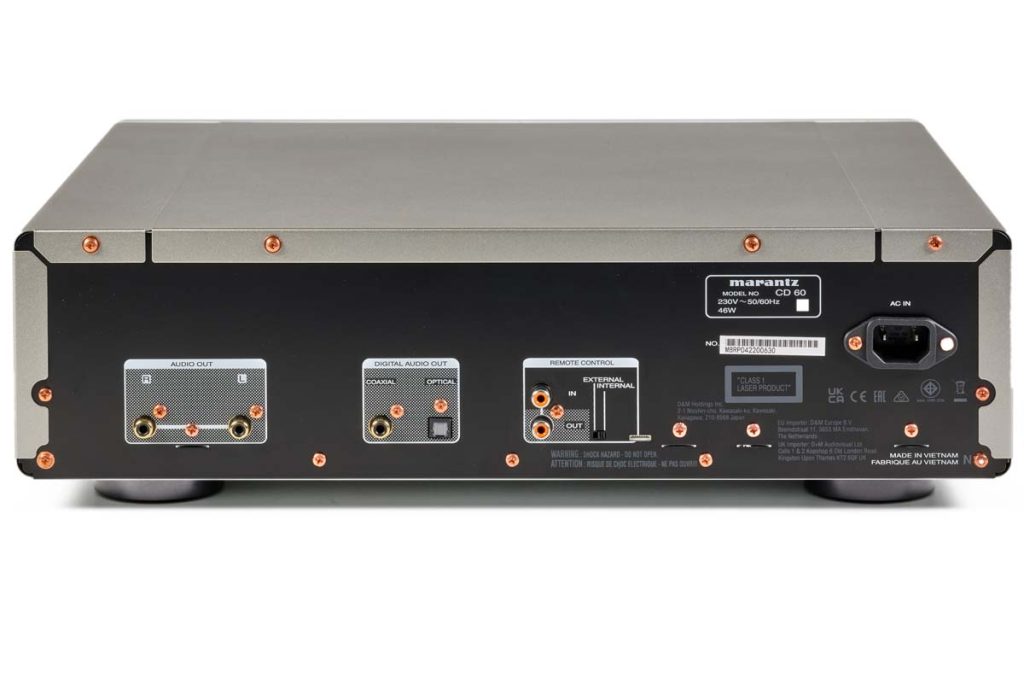 Only the music matters
When it comes to loudspeaker tests, we are familiar with the phrase that they supposedly sometimes disappear completely behind the music. This image inevitably comes to mind after listening to the first tracks of Belle & Sebastian's new album. The question which device is playing doesn't even come to mind. Nor what the sampling rate is, whether filters are employed, which chips are used, what clock times in what way, whether jitter artifacts are present or what else might be discussed among audiophiles in digital music playback. What's the point anyway? The music is simply there, everything fits together, the entire playback is characterized by the greatest naturalness. Space, timing, timbre, dynamics, resolution – nothing happens at the expense of any other aspect of reproduction. Now one could possibly argue that the CD 60 is a boring contemporary without qualities, since no aspect stands out, no specific characteristic can be named. This line of thinking is based on the notion that high-end always needs a special distinguishing feature in order to prove independence and individuality. In the case of the latest Marantz offspring, on the other hand, it would be better to speak of a contemporary with all the qualities, but one that has no need to show them off individually, but rather confidently finds the perfect balance of all its qualities.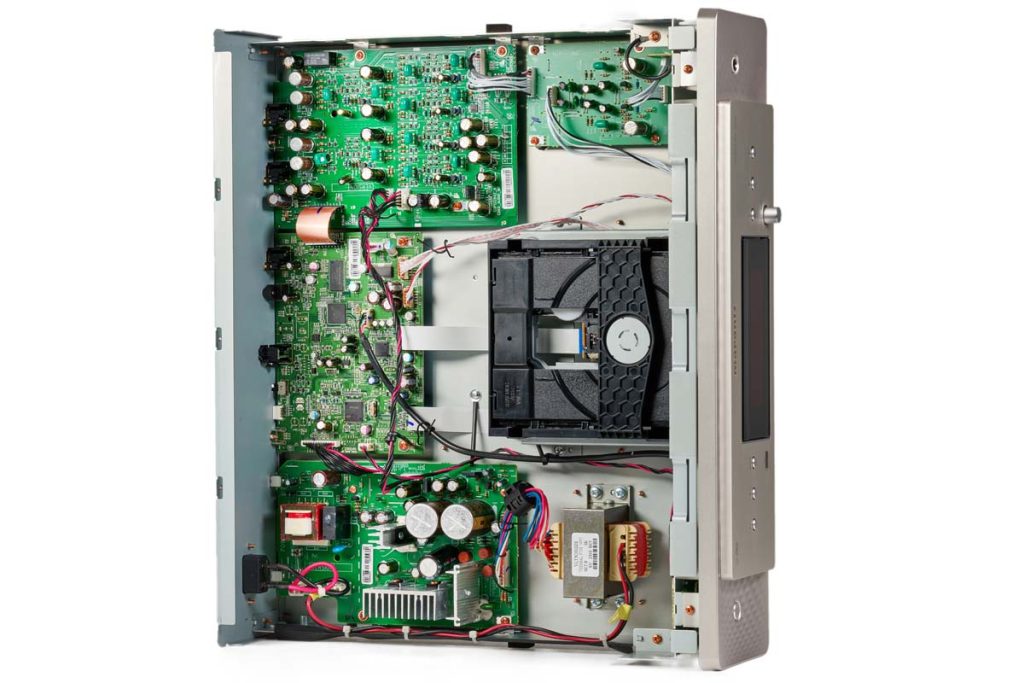 To illustrate this, let's listen a bit to Mussorgsky's Pictures at an Exhibition in Vladimir Ashkenazy's unusual and widely unknown orchestration. It lacks the shimmering and ostensibly virtuosic quality of the famous Ravel version. Ashkenazy's orchestration is more earthy in timbre, more tomboyish in rhythm, and thus probably captures Mussorgsky's unruly elements better than Ravel's fin-de-siècle perfume. The CD 60 knows how to present the unusual and truly unheard-of timbres of the chord instrumentation with a coherent color palette, the rumbling basses in the pictures "Gnomus" and "Bydlo" show that the Marantz, with all its tonal balance, has no problems cavorting in very low frequency basements. And when the strings do flicker and buzz, as in Ravel, the player impresses with a high-frequency presence as clear as a bell. However, none of the aforementioned reproduction qualities ever cheat their way to the pole position in the course of the recording – they only appear when they are called up by the recording. That's how it should be.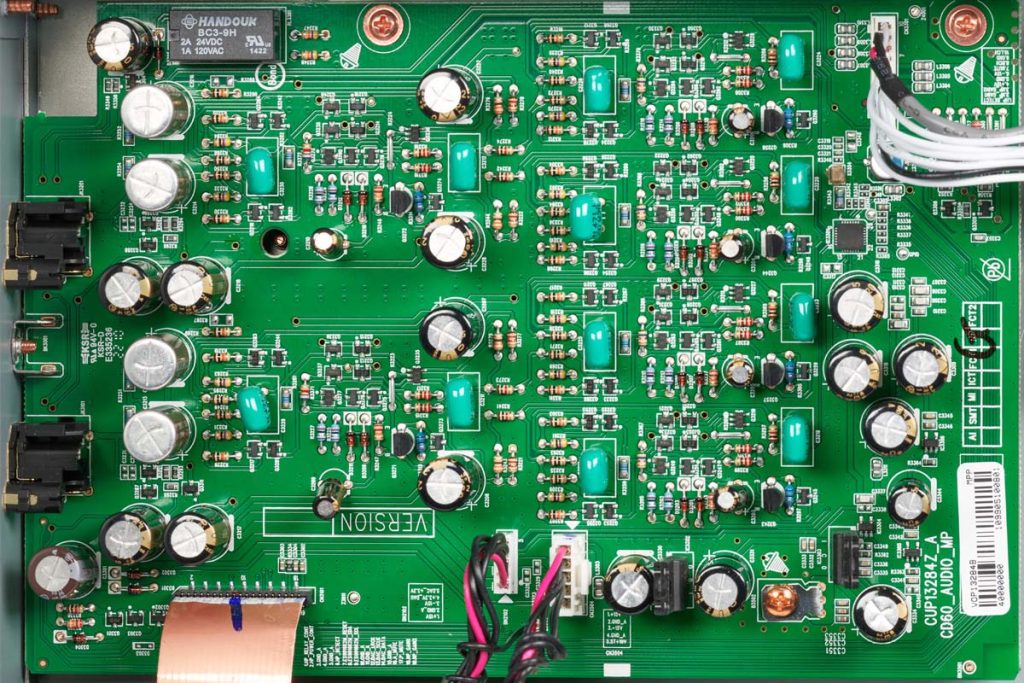 Independent quality
The CD 60 is more than just a supplementary device for the manufacturer's current hi-fi series – true to the motto "one size fits all", it visually matches the 40 and 30 series families. It is a completely independent classic CD player, which also gets along splendidly with amplifiers from other manufacturers and, in its uncomplicated and tonally balanced way, can surely represent the renaissance of a supposedly extinct category of devices. And thus we conclude: The CD and with it the CD player are still alive. And that's a good thing!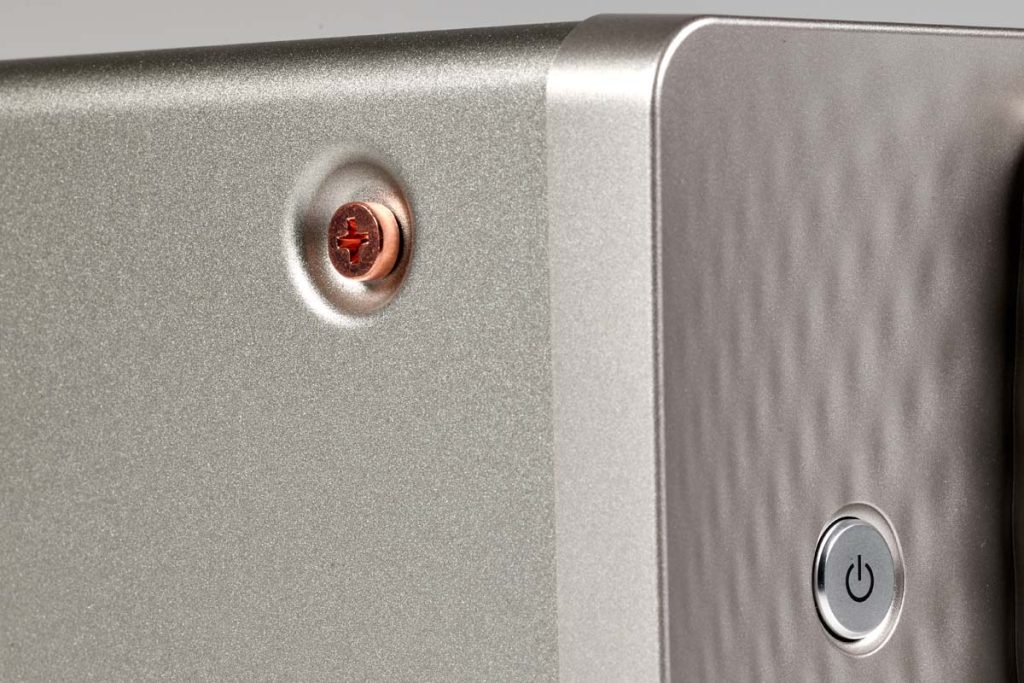 Accompanying Equipment
Turntables: Thorens TD 126 MK III, Technics SL-1210 MK2 | Tonearm: Koshin GST 801 | Cartridges: Sumiko Blackbird, Ortofon Concord Century | Phono preamplifier: Innovative Audio Ultimate 2b, Thel Phono M | CD player: Naim CD 5i | Streamer: Naim CD5XS | Integrated amplifier: Naim SuperNait | Loudspeaker: Gamut Phi 7 | Headphones: Beyerdynamic DT 1770 Pro | Accessories: Wireworld, Sommer, Creaktiv
CD player
Marantz CD 60
Concept: classic CD player | Analog output: 1 x RCA | Digital output: S/PDIF (optical/coaxial) | Digital input: USB A | Headphone jack: 1 x 6.3 mm | Playable media/formats: CD, CD-R/RW, MP3, WMA | Frequency response (-3 dB): 2 Hz to 50 kHz (DSD via USB), 2 Hz to > 20 kHz (CD audio) | Power consumption standby: 0.3 W | Dimensions (W/H/D): 44/13/40 cm | Weight: 7.5 kg | Warranty period: 2 years (5 years after registration) | Price: around 850 €
Marantz Germany
D&M Germany GmbH
An der Kleinbahn 18
41334 Nettetal
info@marantz.de
The stated retail price of the reviewed device is valid as of the time of the review and is subject to change.