McIntosh is proud to announce the MR89 AM/FM Tuner.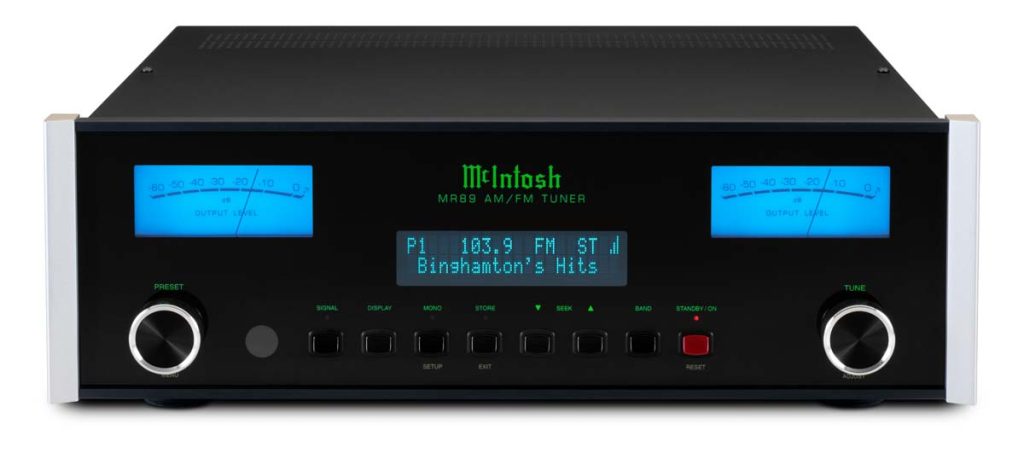 The high-end audio company worked diligently on a multitude of advancements to maximize radio listening. Areas of interest included sensitivity, signal to noise ratio, harmonic distortion, channel selectivity, as well as stereo separation.
The MR89's advanced signal quality monitor can display detailed signal, multipath, as well as noise levels of the incoming radio signals. This helps fine-tune optimal placement of the AM or FM antenna (The MR89 comes standard with a RAA2 AM antenna). Additionally, the unit comes with a pair of balanced and unbalanced analog outputs and digital coax and optical outputs to connect the MR89 to any home audio system. The tuner features exclusive McIntosh radio frequency (RF) circuitry that can receive both strong FM signals from nearby stations, avoiding overload or distortion that can plague lesser tuners, while it is also able to tune in weaker FM signals with little to no noise.
McIntosh MR89 Features
Upgraded Stereo Blending and introduction of a "High Blend" option
Softmute feature to reduce audio output of lower quality station input
Highcut function to reduce high frequency and audio content
FM Radio Broadcast Data System (RBDS) support to display station and music information
Adjustable Seek function
Ability to store 20+ preset stations for both AM/FM

A pair of 60dB output meters show the signal level delivered from the analog outputs of each channel. The meters on the MR89 accurately portray the Left and Right channel audio output generated from the received station. Depending on the program received, the meters are a good indication of the MR89's quality stereo separation. AM and FM frequency reception for the MR89 varies by country (please find detailed frequency listing on the McIntosh website).
The MR89's black glass front panel, meters, knobs, and brushed aluminum end caps as well as the stainless-steel chassis polished to a luxurious mirror finish evoke the timeless McIntosh aesthetic. The MR89 matches perfectly with a variety of amplifiers, turntables, CD players, home theater processors, room correction devices, speakers, and other source components to make a complete home audio system.
Pricing and Availability
Orders for the MR89 can now be placed with Authorized McIntosh dealers. Shipping is expected to begin in June 2022 to the United States and Canada, and to the rest of the world shortly thereafter. Suggested retail price (excluding VAT, shipping and any customs duties related to current standards of individual countries): $5,500 USD.
The stated retail price of the reviewed device is valid as of the time of the review and is subject to change.