Many of us associate invisible sound systems with tiny sound cubes or sneaking compromises that only work with relaxed lounge techno. But it doesn't have to be that way anymore. Karl-Heinz Theis and his company LoftSonic prove that audiophile-level installations are not only possible, but astonishing…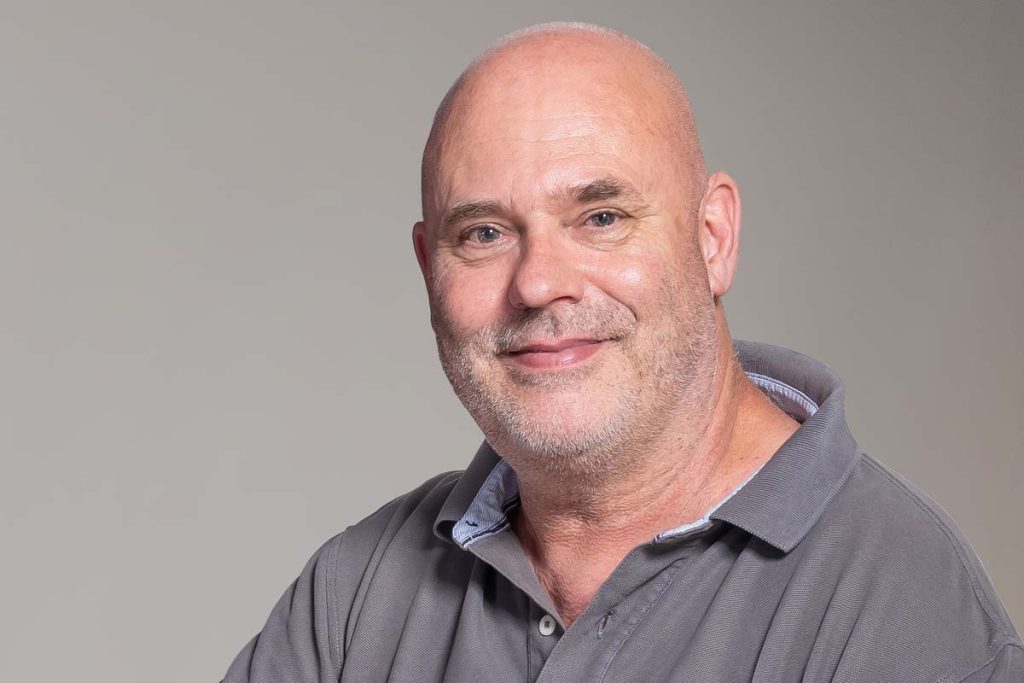 Let's talk about quandaries. You know, tricky situations where not much can go wrong, yet it's nearly impossible to get anything right. Karl-Heinz Theis is in this dilemma with his company LoftSonic. His products are versatile and potent, they are sublime at reproducing music and with power on-tap that silences any counter-arguments. Yet if he does everything right, they will go largely unnoticed. This, in a way, is the whole point, because when his products work just as intended, they are completely invisible. But first things first: Before we dive deeper into the exciting world of LoftSonic, allow me to introduce you to the variables.
So-called "Custom Installing" has traditionally—and quite unjustly—had a hard time in this country. The term covers multimedia concepts firmly anchored in buildings and that literally merge with the environment. This applies to communication systems, security technology and building control systems, as well as complex video and sound concepts tailor-made to perform their tasks discreetly and inconspicuously. These solutions are well-established in the drywalls of hotels, conference halls and exhibition centers. Inconveniently, however, we prefer houses made of brick and concrete. That's fine for hurricanes and the like, but proves a hindrance when installing an in-wall speaker and six miles of wiring. In addition, there's the "head problem". As robust and durable as our homes should be, we want flexibility for our entertainment systems. A permanently installed system cannot be replaced "just like that" with a better or more up-to-date concept.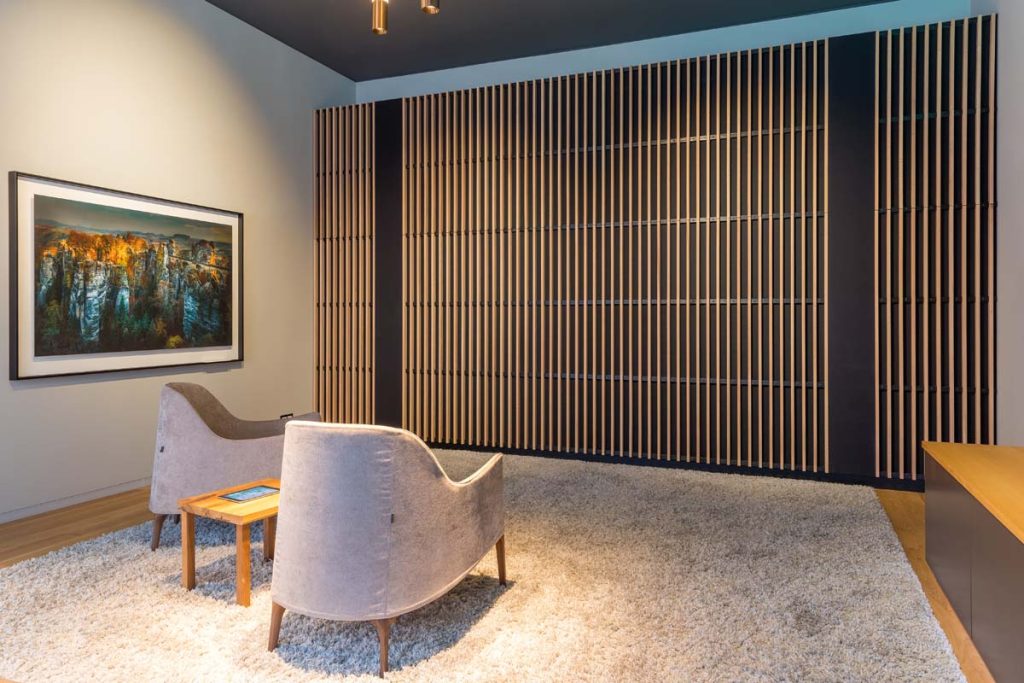 And now for the "pros": The industry has found solutions for both arguments. Instead of punching holes, flat walls are forward-spaced during installation, providing room for the necessary components. The operation is reversible and takes up very little real estate. Furthermore, it can look amazing, since imagination can run wild with shape, design and lighting. Progressive standardization and modular concepts allow for system interchangeability. Meanwhile, everything conforms electronically to the 19-inch format (approx. 47.5 cm), which also offers sufficient width for HiFi. Preferably, the installer utilizes professional equipment, but if you insist on a specific streamer from Lumin, Linn or Cambridge Audio, these also fit into the hidden server cabinet.
Karl-Heinz Theis is an old hand in this profession. He has been tinkering with sound concepts for 30 years. Initially, he was at home in stage acoustics, developing and building customized systems for applications that went all the way up to large-scale PA systems. Things took a "custom" turn when he received an unexpected call from ELAC in the late nineties. The Kiel-based company had learned he knew how to process carbon and needed his know-how for a planned (but ultimately never realized) follow-up generation of their "Imago" imaging loudspeakers.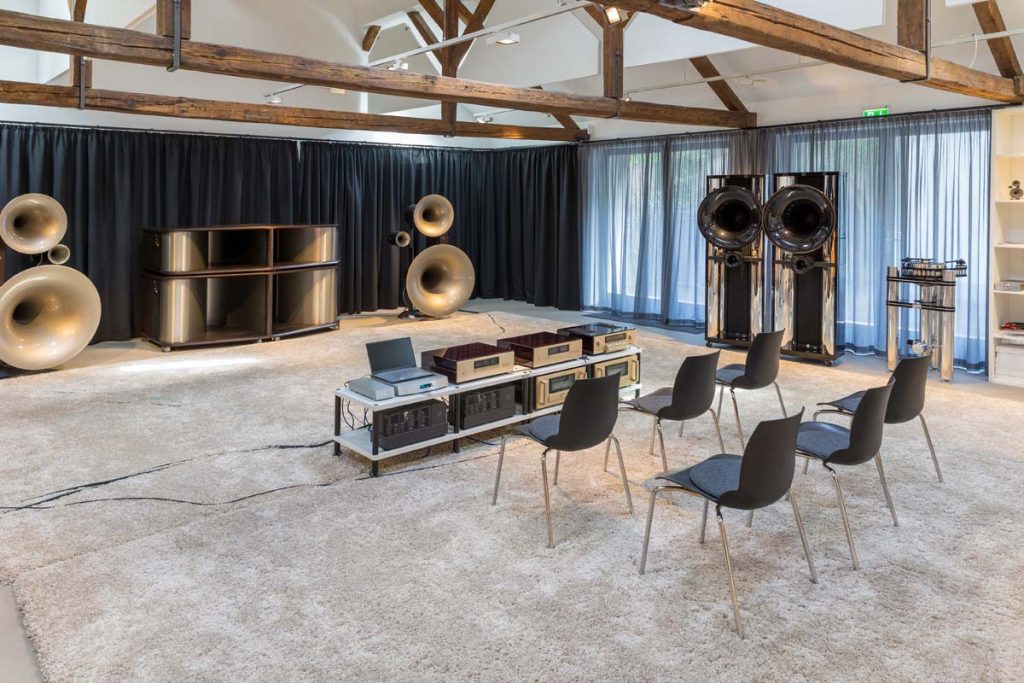 The consulting role not only piqued his interest in the new field, but also revealed to him that invisible home sound systems—then as now—are full of compromises and shortcomings. The installed systems must comply with both the wishes of their owners and the spatial conditions. To make this work, speakers are often covered with camouflaging materials, such as thick putty or building panels, which audibly muffles the sound. Constructive tricks and DSP-supported equalizers try to preserve the naturalness of the hidden speakers, but even the better concepts only barely achieve a reasonably genuine HiFi level with a differentiated stage and tonal balance. Furthermore, the aggressive frequency response shaping reduces system performance. This is, of course, completely unacceptable for a PA developer who only takes decibel figures seriously when they waltz into triple digit territory without ever breaking a sweat. And so Karl-Heinz Theis began work on his own solutions. His goal was not only to match the sound quality of conventional systems, but also to create "uncompromising systems without limits" whose sound and imaging make the listener forget that technology, electronics and loudspeakers are involved at all.
Fast-forward 20 years. At the beginning of the year, an e-mail appeared in which Theis sent us his best regards and a recommendation from acoustics professional Anselm Görtz. He invited us to a test listening session in his Cologne showroom. As chance would have it, a suitable opportunity was found just a few days later—we reported on it. After just minutes in the arms of LoftSonic, I realized this concept was unlike anything I had heard before.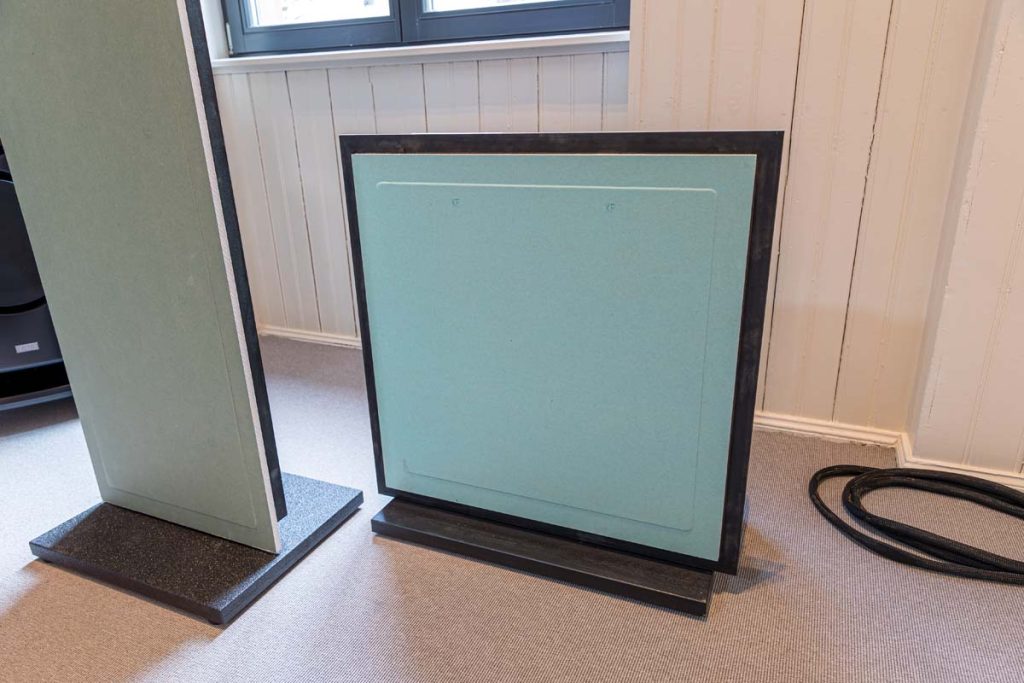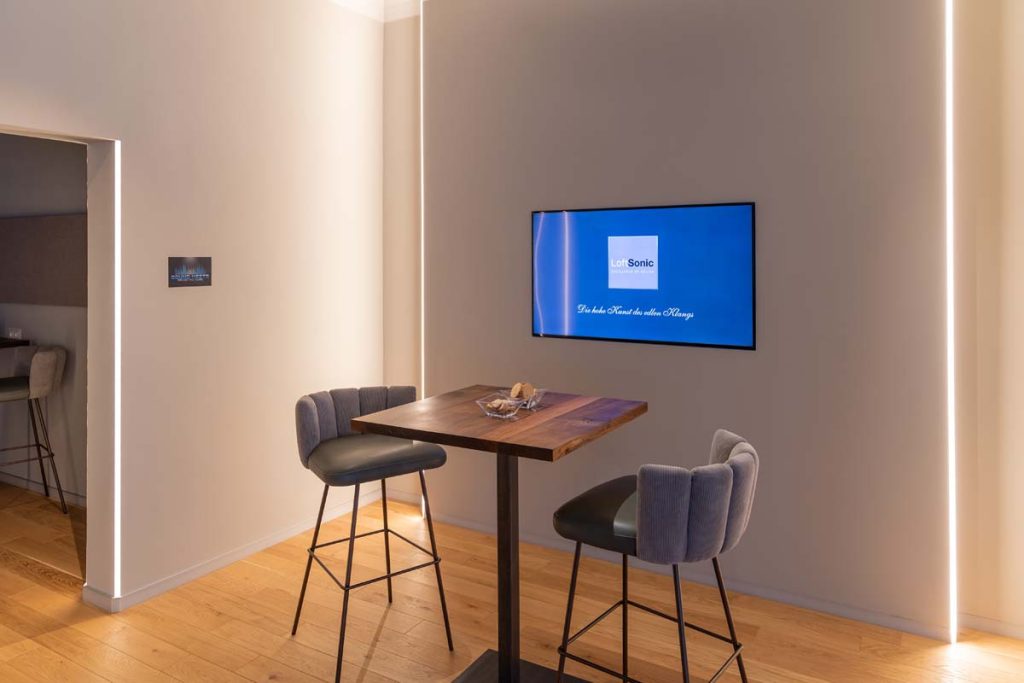 In fact, the Mainz-based company's installation concept is not any "one" solution, rather a suite of products and services from planning to realization that Theis uses to support its dealers during implementation. Depending on whether a customer requires an excellent hidden system, or the discreetly packaged acoustic equivalent of a bulldozer, he reaches for customized ingredients. In particular, his preferred loudspeaker system consists of variously sized flat diaphragms with two to three special features.
Most important of all is the tricky installation. Theis developed a process that mills the covering materials to just 0.8 millimeters thick. His speakers are then glued to the wafer-thin surfaces from behind, stabilizing them. This process transforms noble veneers, plaster or marble slabs into mere lamination, behind which his wall speakers are installed. In turn, the sound influence can be easily eliminated via DSP equalizer. The previously mentioned damping is no longer relevant, and you can feel it, too. Place your hand on one of the camouflaged LoftSonic speaker panels, and your fingers will dance to the music. The invisible drivers are capable of remarkable excursion.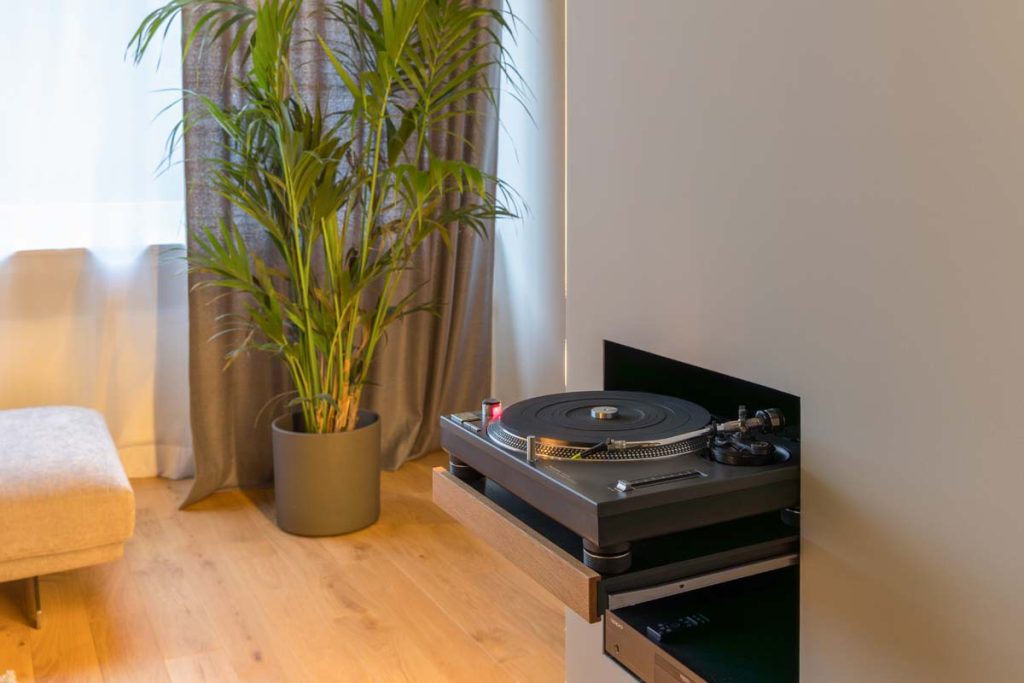 But it is not just their nearly "open design" that provides the LoftSonic flat panels with such plasticity and differentiation. Theis developed a sophisticated drive system particularly adapted for this shape and type of loudspeaker, as the proud creator explains to me. When asked what exactly the secret sauce is, he remains silent like a gentleman. And for good reason: The patent for the homemade drive is still pending, and the amplifier modules and DSP inserts are, while optimized, ultimately third-party components and not unattainable secret ingredients for competitors.
In the Cologne showroom, LoftSonic operates several systems based on these flat diaphragms. One of the systems in the lobby combines two broadband drivers each for the left and right channel, with four square flat woofers arranged laterally under a screen. The system sounds distinctly natural and uncluttered, and the music appears in the room as if by magic. Although one clearly perceives a stage image with sharply delineated instruments, it is practically impossible to make out the specific speaker positions. In the neighboring room, two sets of three membranes provide the sound for a typical TV situation. The electronics of both systems are hidden in a large server cabinet, concealed behind a picture with a pull-out drawer and swivel system.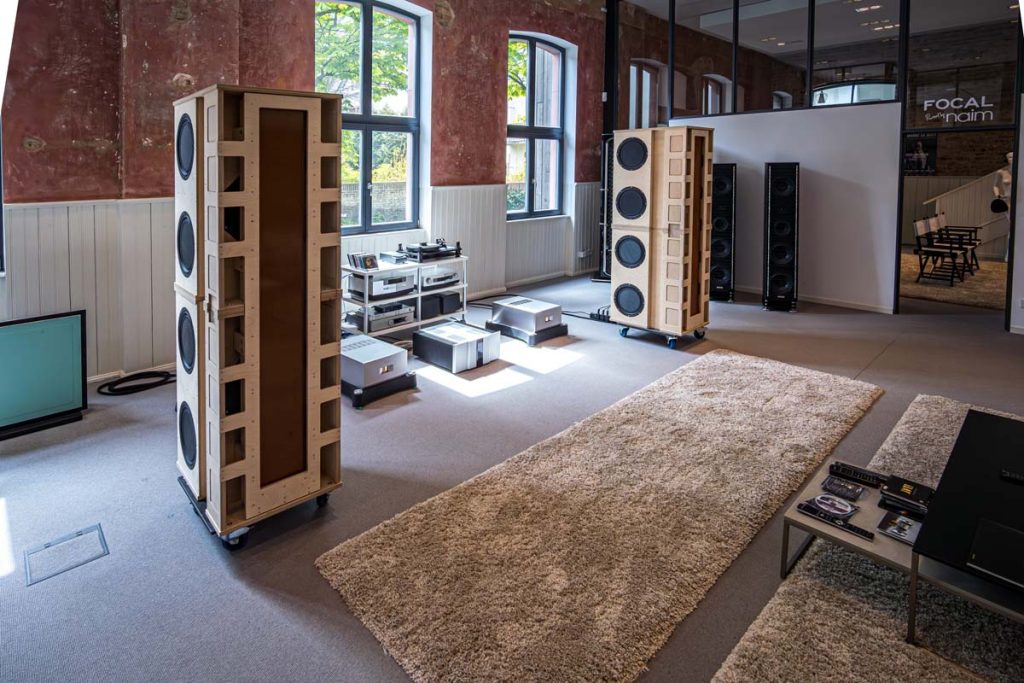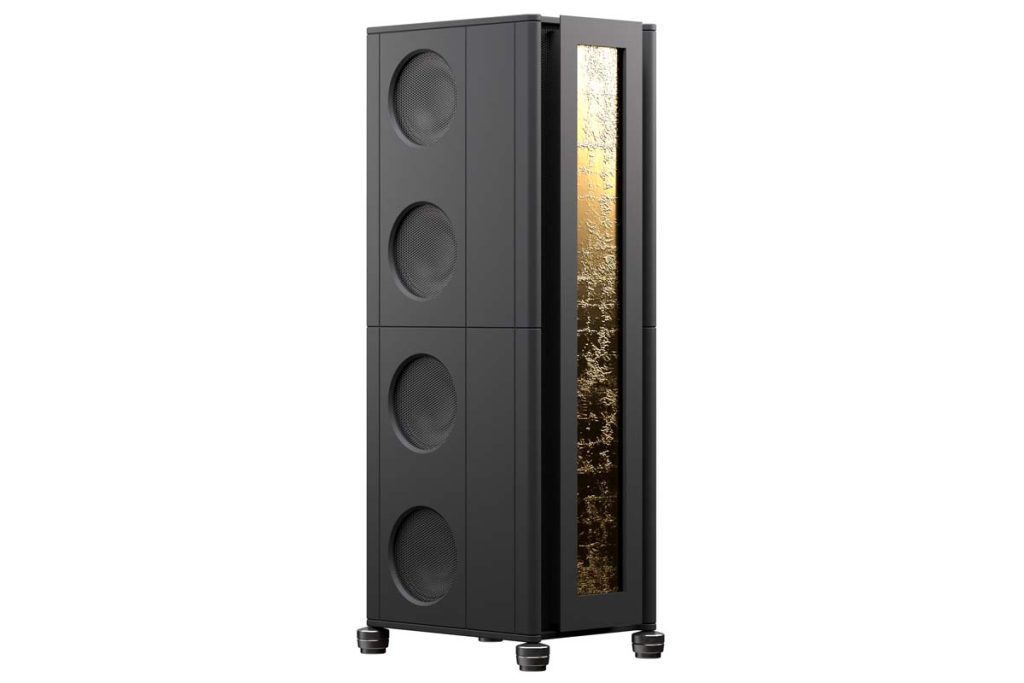 Left of the stylish TV set, I notice a peculiar installation that I initially consider to be an acoustic treatment. In fact, the vertical panels stylistically conceal Theis' interpretation of a steam hammer. The front wall camouflages towering stereo transducers, each with two slim, long, and flat diaphragms for the midrange/tweeter. Behind are conventional woofers. The towers are driven by Class D power plants rated at over seven kilowatts. A few minutes with Fleetwood Mac, sophisticated classical music (Beethoven's "Seventh") and Faithless ("Insomnia") adjust my personal list of "systems you won't forget" to include a new prince. This system's power has an unparalleled aplomb, with an attack and punch that can make you forget to breath. It draws events into the room so vividly and sharply, like a double bass or voices, that many a high-end speaker would pale in comparison. And as I remark during the subsequent discussion of my impressions: It still works excellently even at more modest levels.
However, one small problem remained after my visit in Cologne. Although Karl-Heinz Theis explained the details of his concepts, discussing the flexibility of his planning work and outlining the finesse of the loudspeakers in colorful words, the products do not really become tangible for me. After a bit of back and forth and a quick calendar check, we decided to meet for a second appointment in the north of Frankfurt. In the Eckenheim district, Ernst Schmid, managing director of the nationally known Hifi-Profis, is currently busy setting up a high-end studio. Completely independent of his previous businesses, this new studio is intended to realize his idea of a luxurious HiFi experience—a concept intended to inspire imitation, he explains. He is transforming the old theater into a high-end experience space with individual listening appointments, events, wine tastings and workshops. And, as luck would have it, there are two concept studies of LoftSonic's über-system in the screening room of the already completed basement.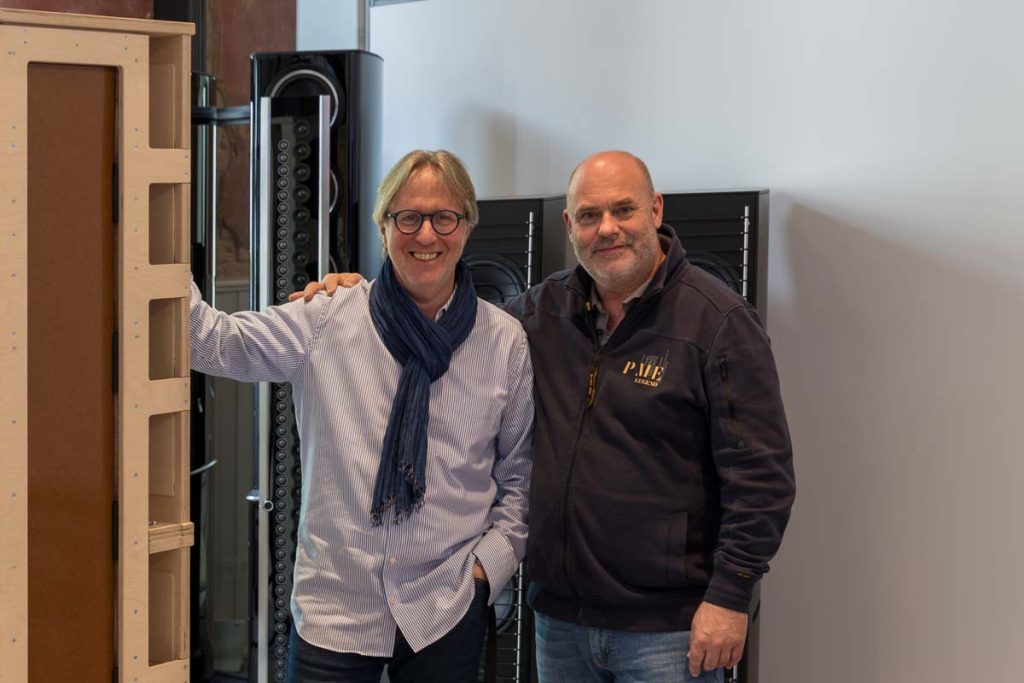 This was just the visual I needed: instantly I recognize the details of the design, the elongated flat diaphragms for mids and highs, as well as the hidden woofers mounted behind the flat diaphragms. On the sides of each tower are a total of eight radiators, and on the back are three potent amplifier modules providing each speaker with several kilowatts of power. Karl-Heinz Theis explains his sculptures to me and is visibly concerned that I misunderstand the boxes as products. They are merely two studies manifested in MDF and plywood that laid the groundwork for the large installation in Cologne. Since the Cologne system—like every LoftSonic design—has been adapted to its environment, it is designed differently in many details and has more power. For example, instead of the continuous flat panel, it relies on two smaller ones per channel for better control.
In fact, Theis had originally planned to turn the Frankfurt box into a stand-alone concept—also quite impressive. On the computer, he showed me a simulation(see Fig.) with the finished speaker including a fine gold coating on the flat diaphragm. However, the concept led too far away from the original LoftSonic idea, so he discarded the idea.
When we listen to the two "studies" a little later, I instantly recognize the sound signature.  The large system in Cologne—the Monoliths—has an uncompromisingly gripping and stable bass. The stage opens wide and fans out wonderfully into the depths. Nevertheless, in the large, open loft of the high-end studio, the system has an entirely different sonic aesthetic: airier, more open and clearly wider than the more compact and nearly "monitor-like" tuned system in the comparatively small demonstration room in Cologne. Karl-Heinz Theis demonstrated yet another facet of his planning and setup work. He wanted a gentle loudness touch for quieter levels, which his DSP does not offer out of the box. He then listened to the loudness functions of various amplifiers and preamps, and fell in love with the excellent tuning of RME's ADI 2Pro audio interface. He transferred its loudness function into his DSP system and put it on a preset button of the corresponding remote control. And indeed, if you adjust the volume quite low, the correction gives the bass slightly more boost and the treble a wonderfully velvety transparency. The adjustment to special "sonic preferences" is an integral part of the installation procedure.
Finally, Ernst Schmid details how the cooperation with LoftSonic came about. On the upper floor of the theater, there's a large room that he wants to equip as a "White Room": A large room with white walls on which only paintings and light installations are to be seen. Nothing should distract from the sound impressions, and the music of a 13-channel system should appear "as if from nowhere", to simply blow the visitors away. Parallel to this multi-channel spectacle, he is also planning a purely two-channel demonstration. And for the implementation of both systems, only Karl-Heinz Theis and LoftSonic came to mind…
LoftSonic
Am Hemel 2a
55124 Mainz
Germany
Phone +49 6131 6030721
info@LoftSonic.de
Appointments in the Cologne showroom can be made via mail or telephone.
The stated retail price of the reviewed device is valid as of the time of the review and is subject to change.