Album Copycats
Five years after Thriller shot to the top of the charts, the next Michael Jackson album couldn't end up anything less than a huge hit. When Bad came out in the summer of 1987, Jacko was at the peak of his popularity. He was the King of Pop, bar none. Only Prince was able to come anywhere near him in the royal pecking order of pop. The album's release was also accompanied by mile-high expectations – a smash album with advanced billing. And the expectations were met. Virtually every song on the album became a hit, with not a single dud in the lot. Even serious people took note of the album, although it was really filled with simple pop dance music. But it was dance music you liked to hear, music with a fresh blend of R&B, funk, soul, rock and jazz. Jazz legend Quincy Jones presided in the producer's chair once again, which meant plenty of wind-instrument solos and the use of the likes of Jimmy Smith, Eric Gale and Paulinho da Costa as backup musicians. Stevie Wonder, guitarist Steve Stevens and keyboarder Steve Porcaro put in appearances, too.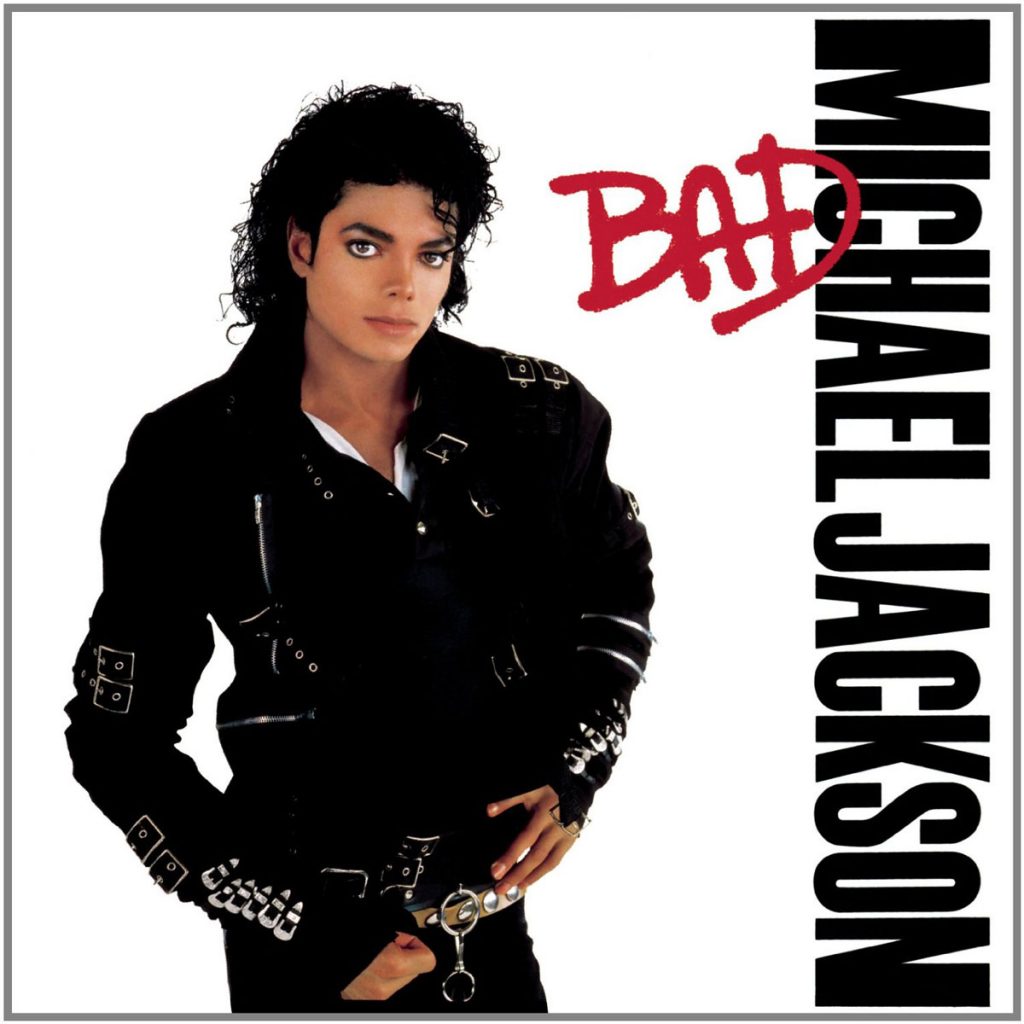 The album cover showed that Bad was in tune with the times. The days of the kitschy, soft-focus look of Thriller were gone. No white Las Vegas­look suit. No romantic pose. No flourish of romantic lettering. No soft nose. And no chocolate complexion. This time, we saw Jacko's new pale face protruding from a black street jacket studded all over with metallic buckles and zippers. This is a guy trying to be some sort of half-rapper, half-rocker, the tough guy with the hair-trigger temper who is just itching to take a swing at you with his balled-up right hand. He is pretending to be the "bad guy" of the Bad album. People who remember the gangsta rap of 1987 get the message quite clearly. Two months before Jackson's album hit stores, another bad guy showed up in town: Bad: Bigger And Deffer by L.L. Cool J. On this album cover, the hip-hopper is also . decked out in a black jacket. But he's standing on the hood of a car while leaning against a fence in front of a school and peering down at the camera. Maybe, just maybe, Jackson's Bad had become—in terms of the pose and title – both homage and parody.
The monumental success enjoyed by Jackson irked many. Even at the time, the notion of Jackson as a "bad guy" brought smiles to people's faces. Just how absurd can you get? The title song "Bad" inspired a few parodies of its own. One of the first came from "Weird Al" Yankovic: His song "Fat" is a virtual musical replay of the original, but with very funny lyrics about fat people. Yankovic, an American satirist, is rarely politically correct. He also turned Jackson's hit "Beat It" into his very own version of "Eat It": Obesity is a topic near and dear to Yankovic's heart. He later even cooked up a compilation of all of his songs that had something to do with eating. But his humor does not stop here. He decided to name his album Even Worse, and not "Fat," a sign that he doesn't take himself so seriously, too. Yankovic's album cover is more homage than satire. The back of the cover and the record sleeve ever so carefully mimic the work executed on the original cover. The whole thing is calculated. The mere thought of "Weird Al," with his glasses and his mini-mustache, coming off as some sort of "bad guy" is even more absurd than Jackson playing the role.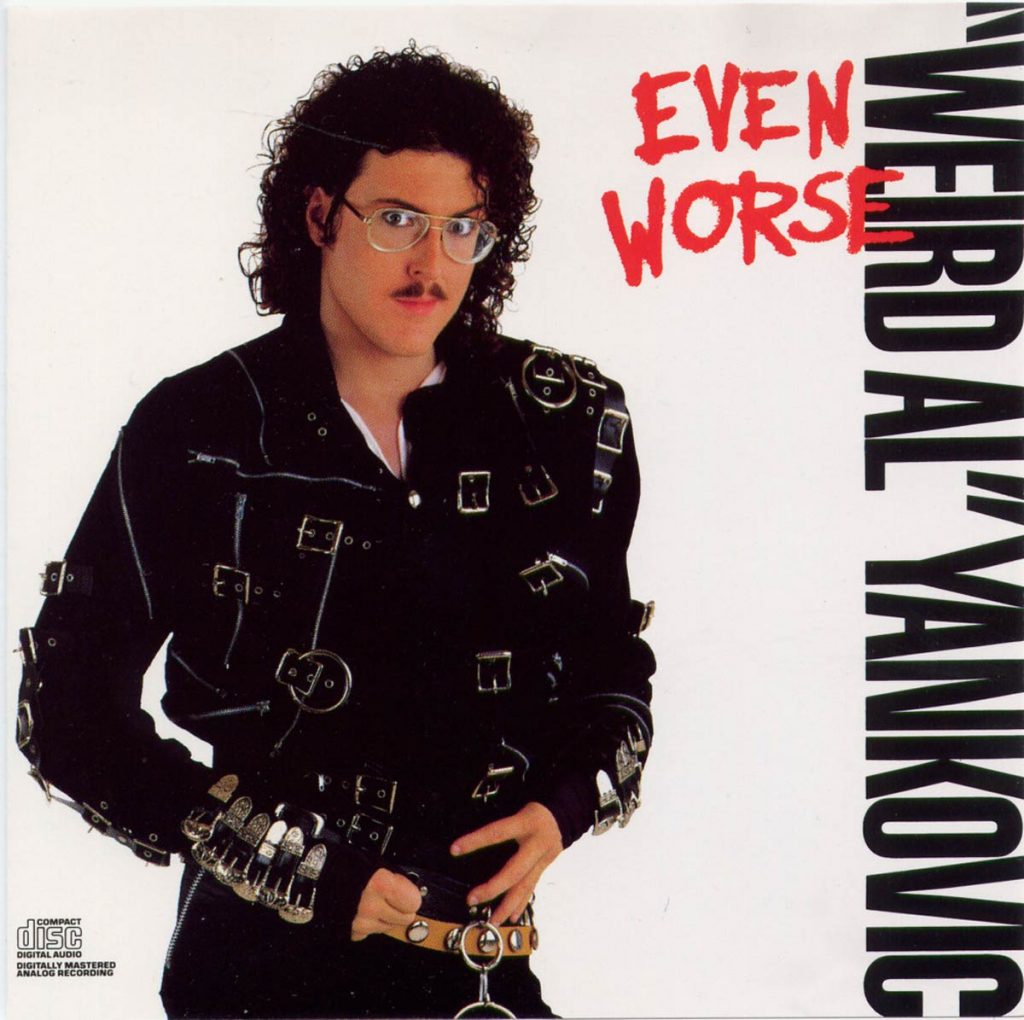 Through it all, however, Yankovic never tries to make fun of Jackson's music or lyrics. What gets his juices flowing is using well-known songs and styles as a means to transport his own audacious satirical texts. The surprise effect of this combination is his secret. On Even Worse, Yankovic takes aim at some hits from the 1960s that were enjoying a revival in the 1980s, including "Got My Mind Set On You," "I Think We're Alone Now" and "Mony Mony." He copies different artists' styles in other, self-composed songs. But the point is his pointed texts: With the lyrics' exceptional humor, Yankovic mocks the clichés that characterize the United States. "Alimony" tells the story of a divorced man who loses the last shirt on his back. "Melanie" is the perverse love song of a stalker. "Good Old Days" makes fun of the nostalgic past. "Twister" is a rap song about a popular children's and party game. "Velvet Elvis" takes on those who love Elvis Presley. By the way, Jackson expressly gave his approval of the parody of his album cover and his song "Bad." He even provided Yankovic with some technical assistance for the music video for "Fat." When Even Worse went gold, "Weird Al" knew exactly who deserved the award and gave it to Michael Jackson. Yankovic couldn't believe that Jackson was willing to help him out. "The only reason why he didn't stop me was that he has a sense of humor."
The stated retail price of the reviewed device is valid as of the time of the review and is subject to change.