Sometimes you don't realize that something was ever missing … until you find it.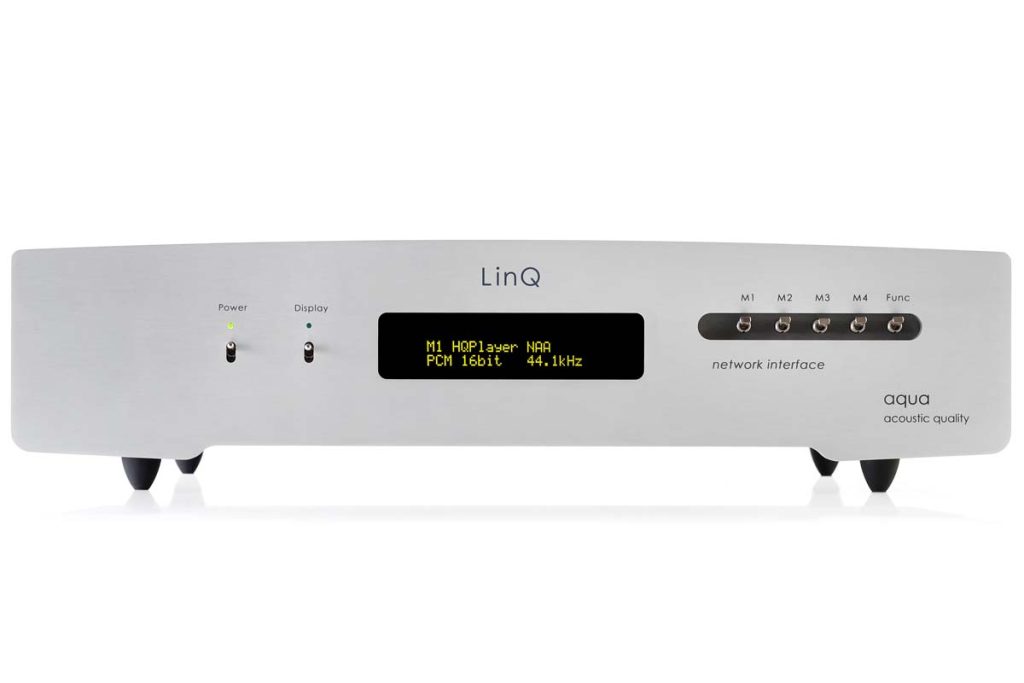 Milan-based small-scale electronics manufacturer Acoustic Quality, aka Aqua, has leapt from ambitious newcomer to world-class heavyweight in the digital-to-analog conversion niche staggeringly quickly. How did they pull it off? The answer, in my opinion: stubbornness. As increasingly highly complex and powerful all-rounder devices were pulling the rug out from under classic converter chips' feet, the Italians went all in on the simplest technology of digital-to-analog conversion: the non-over­sampling R2R resistor network. And their success has proved them right, as the ladder DAC wave, which they're at least partially responsible for, shows no signs of slowing.
But the Aquamen also swim against the current in other areas. The new digital high-end scene are reluctant to accept that rapid technological progress is claiming victims, and you simply cannot seriously expect manufacturers to support a portable digital player or multimedia server over seven years down the line. However, in Milan they design every device to be modu­lar from day one. They not only promise to fur­ther develop upgrades, but they actually keep their promises. I should know, as my very own DAC — going by the melodic name "La Voce" and featuring the abbreviation "S3" due to the converter board having already undergone several updates to produce a third version — is also an Aqua device.
No equivalent exists to the non-oversampling ladder DAC in the world of streamers. Howev­er, the developers of Aqua's "LinQ" streamer have pushed modular design to the next level and implemented it more consistently than in any device in this category that I've ever seen.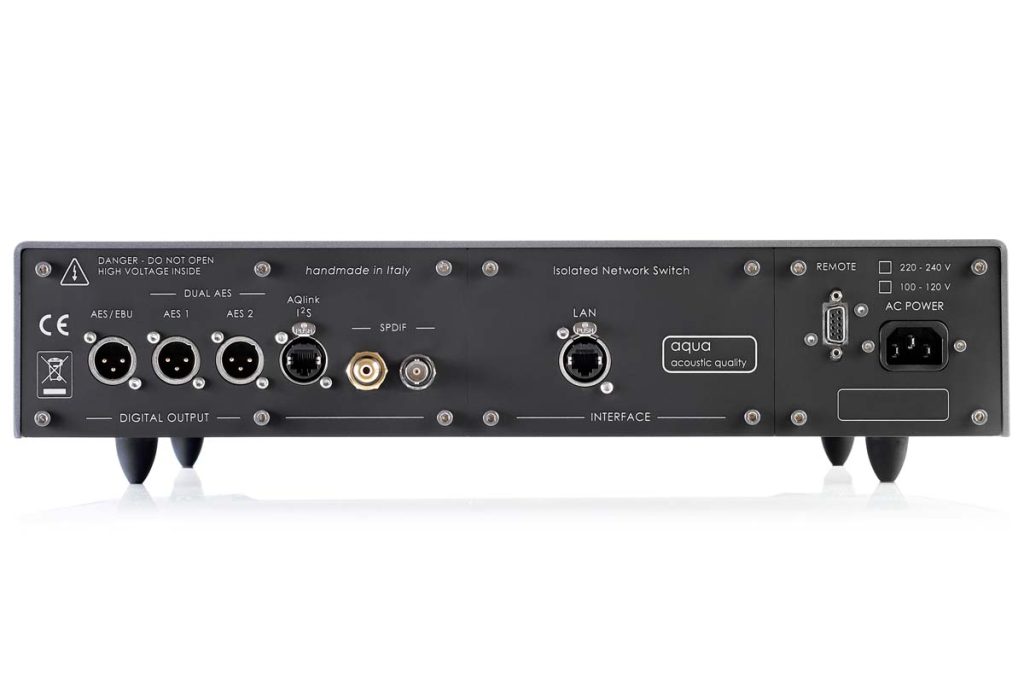 But is it even a streamer? The LinQ is officially described as a "network interface". The term "streamer" isn't used anywhere in the official product description. Aqua CEO Cristian Anel­li explained: "We use the term 'network inter­face' because the LinQ, with an architecture designed to ensure longevity, is fully modular and hence ready for whatever the future might throw at it. This is why it isn't just a streamer." The fact is, the LinQ is the only — yes, I'll say it — streamer that I've ever encountered that can deal with and be involved in all of the technical software and hardware advances you could imagine.
The LinQ's hardware is founded on a linear power supply unit with two transformers. One is reserved for all network matters, the other is used for internal signal processing. A large motherboard features five slots, each with its own separate power supply. One slot is for the network interface, and four are for plug-in cards featuring numerous streaming functionalities. Aqua developed its own network interface.
Therefore, no pre-fabricated solutions are present — a rarity these days. Cristian Anelli actually refers to the interface as a "switch", but doesn't reveal any technical details. Apparently, this built-in switch is responsible for the LinQ's sound quality and performance. The only tech­nical feature Anelli singles out is the network's galvanic isolation from the outside world.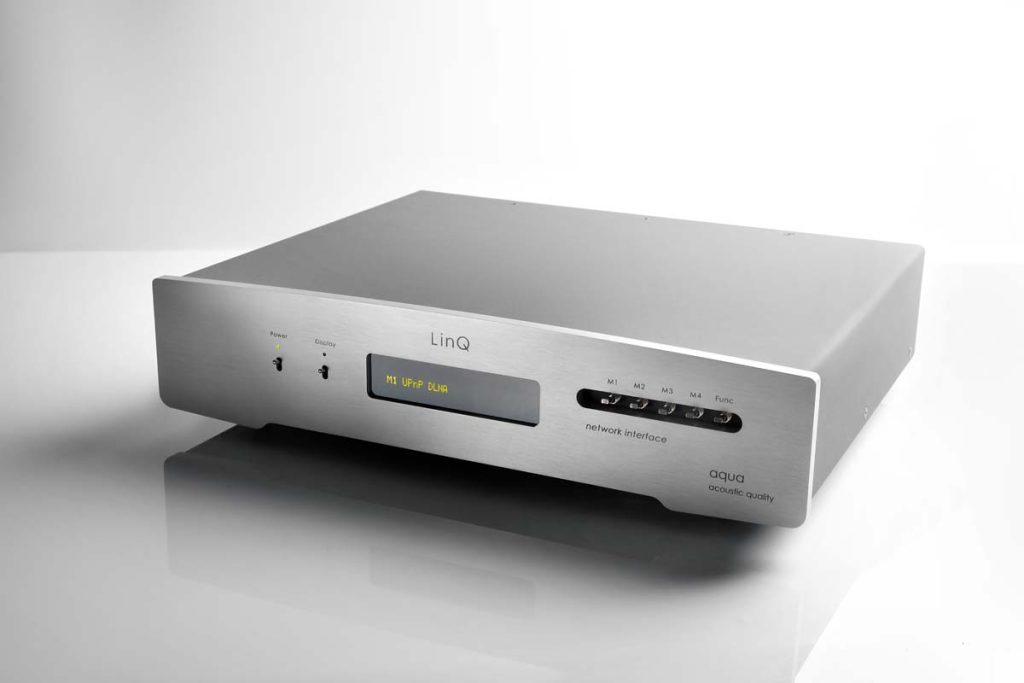 When I conducted the test, three player plug-in cards were available while a fourth is in devel­opment. In true Aqua fashion, even the data lines are galvanically isolated. A UNIX/Linux operating system, free from all unnecessary functions, runs on a powerful ARM processor and forms the software basis. The LinQ can be connected to the DAC via S/PDIF (one BNC and one RCA connector), balanced via AES (as a single output and as a dual pair of AES connectors for better jitter values) or in the po­tentially jitter-free I2S format, which Aqua calls "AQlink". All Aqua DACs come with a prein­stalled corresponding AQlink connector. There is no USB. Anelli believes that the popular computer interface is inferior to other formats when it comes to sound quality. He's not the first digital audio specialist to say so.
Aqua does not (currently) offer its own app for operating the LinQ. This is a shame, but not the end of the world, as suitable solutions are available for every popular protocol. The Squeezelite module, currently in the pipeline, will enable communication with popular Logitech media servers. Ordering the streamer with the UPnP-DLNA module definitely offers the broadest range of control options. Aqua recommends the mconnect Player HD app. Roon subscribers are also in luck – though the LinQ doesn't feature the "Roon Ready" seal. The Italians have wrestled with the Roon certification process for a long time, but they've finally found a cunning method for utilizing the unbeatably easy-to-operate user interface even without Roon's blessing. They detour via the extremely powerful HQPlayer software, which is configured here for a Roon zone. Users won't notice any of the overwhelming upsam­pling and filter options that HQPlayer offers. But they can operate Roon exactly the same as usual – the only differences are that Roon will be limited to the control functions, and the rendering will occur in HQPlayer.
Back at my place, the Aqua LinQ sat on the rack level directly underneath its little DAC sibling, the La Voce S3. The streamer's design mirrors that of the converter — it has the same curved aluminum front, soft decoupling feet, and sheet housing covered with a damping NEXTEL coating. An easy-to-read two-line matrix display states the streaming module in use. Selections are made via the toggle switches to the right of the display. There are no digital output options as the signal is continuously ready at all of them.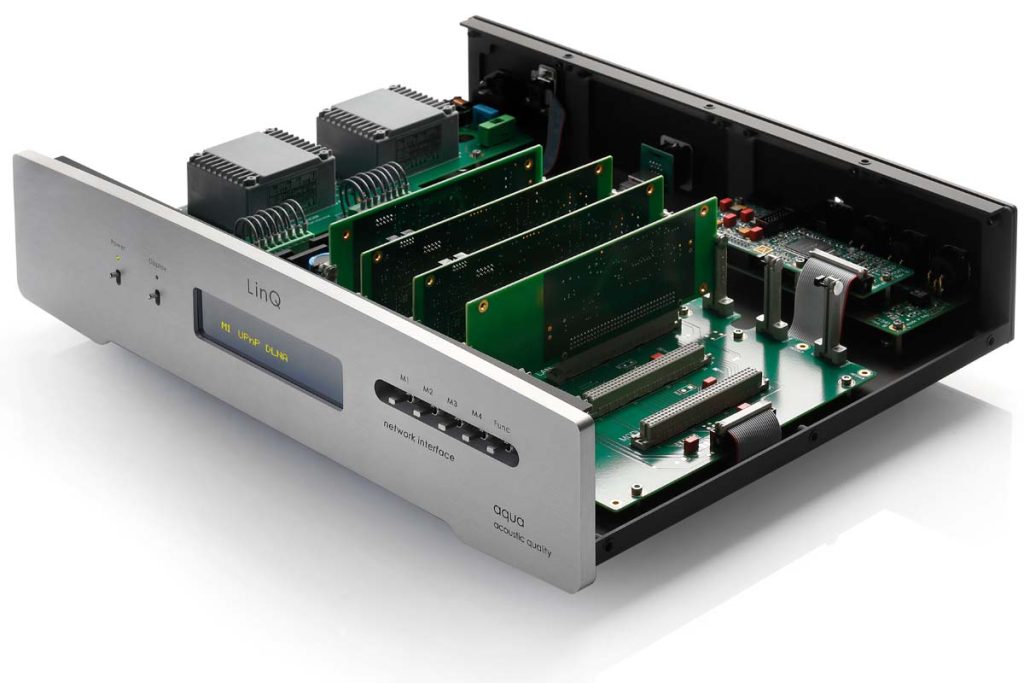 Aqua promises plug & play without the tedious configuring, and the LinQ doesn't disappoint. I wanted to integrate the streamer into the Roon system wherein my Innuos Zenith Mk III is the Roon core. So, I switched on the LinQ, selected the corresponding module, and entered the IP address shown in the display in the relevant Roon settings section. Suddenly, HQPlayer appeared in the zone choices. I tapped it with my finger, and off we went.
I didn't have high expectations from a sound quality perspective — perhaps an audible but by no means mind-blowing difference when compared to the direct connection between the already high-quality Innuos and the DAC. But I did assume that the impressive technical prowess beneath the LinQ's cover would ultimately reveal itself. How wrong I was: the Italian network interface literally blew me away. With the LinQ connecting the media server and the DAC, the sound was astonishingly more open, clear and high-resolution than if a USB cable had directly connected the Ze­nith Mk III with the Aqua DAC. I didn't even need to conduct a comparison. It had easily been a week since I'd listened to any music and, after setting up the LinQ, I played some Buena Vista Social Club. The sun-drenched concert hall suddenly appeared right before me. My wife, whom I had called in to witness all this and for whom I selected Beethoven's Cello So­natas with Pieter Wispelwey and Dejan Lazic, initially expected a lighter, brighter sound profile. But in no time at all her finely tuned ear was recalibrated and completely taken by the purity and openness of the LinQ.
Never have I reached a conclusion for a review so quickly: the signal quality that the LinQ provides guarantees that any connected DAC achieves peak performance levels. When hooked up to the LinQ, my La Voce S3 set new records of spatial reproduction (Horowitz in Moscow!), broad and precision dynamics (Steve Gadd Band, 70 Strong!), and tonal quality (Yo-Yo Ma Plays Ennio Morricone!). For immediate comparison, the directly connected Innuos server sounded limp and lacking in definition.
A second realization, or rather an inevitable conclusion, was that the LinQ renders the accompanying server quality of little conse­quence. However, a separate proper test set-up would be required to discover this, but that's a story for another day. Rest assured: I will get to the bottom of that down the line. They are definitely doing something right at Aqua. It's hard to explain, but even even the DACs I've come across from the Italian firm sound honest and genuine. The LinQ allows these converters (and of course any other DAC) to reach incredible heights. This streamer, which can do nothing other than channel a digital signal from a wired network to DAC-compatible interfaces, is not cheap. However, its incredible effect is a must-have for anyone keen to explore their streaming chain's full potential.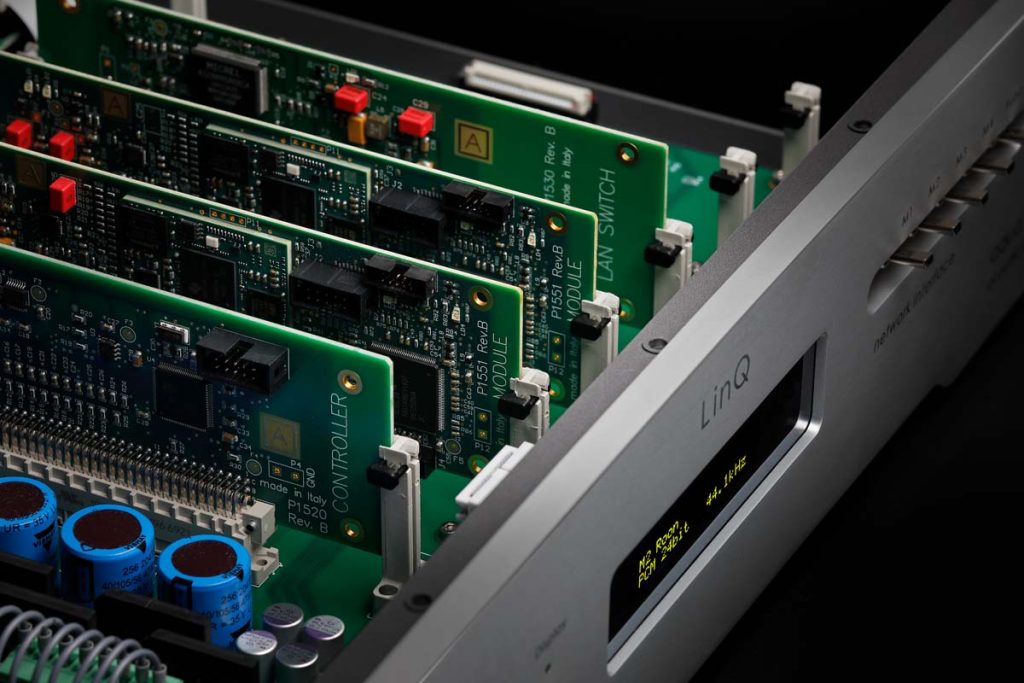 Accompanying equipment
Turntable: Bauer Audio dps 3 | Tonearm: Bauer Audio Tonarm | Cartridge: Lyra Kleos | Phono preamplifiers: Bauer Audio Phono, Falcon DuRIAA | MC transformer: Consolidated Audio Silver/Nano | CD player: Electrocompaniet EMC 1 UP | Music server: Innuos Zenith Mk III | DAC: Aqua La Voce S3 | Preamplifier: Silvercore linestage two | Power amplifier: Rowland Model 2 | Power conditioning: AudioQuest Niaga­ra 3000 | Loudspeakers: Ayon Seagull/c | Cables: Fadel Art, Ansuz, Sun Audio, AudioQuest, Solidcore | Accessories: DIY rack, granite bases
Network interface
Aqua LinQ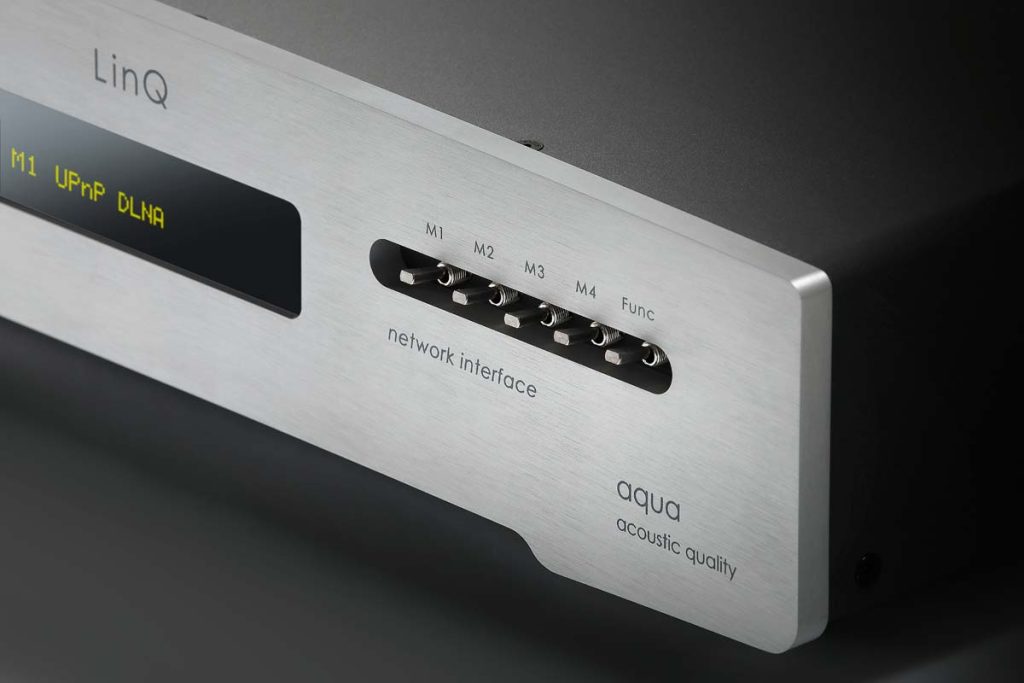 Concept: streamer with HQPlayer DSP and Roon endpoint function, DLNA and UPnP | Digital inputs: 1 x Ethernet (RJ45) | Digital outputs: 1 x AES/EBU (XLR), 1 x dual AES (XLR), 1 x S/PDIF (RCA), 1 x S/PDIF (BNC), 1 x AQlink I2S (RJ45) | Supported streaming protocols (plug-in cards): HQPlayer Core + NAA as Roon endpoint, HQPlayer NAA as renderer, UPnP DLNA renderer | Finish: aluminum/NEXTEL | Dimensions (W/H/D): 45/10/37 cm | Weight: 6.6 kg | Warranty period: 2 years | Price: from €6,980
Audio Offensive
Münchener Straße 5
14612 Falkensee
Germany
Phone +49 3322 2131655
The stated retail price of the reviewed device is valid as of the time of the review and is subject to change.