Mark Levinson's Latest Model
The man who quite possibly invented high end audio wants to do it again. Mark Levinson has come out of creative retirement and is designing exciting audio systems again.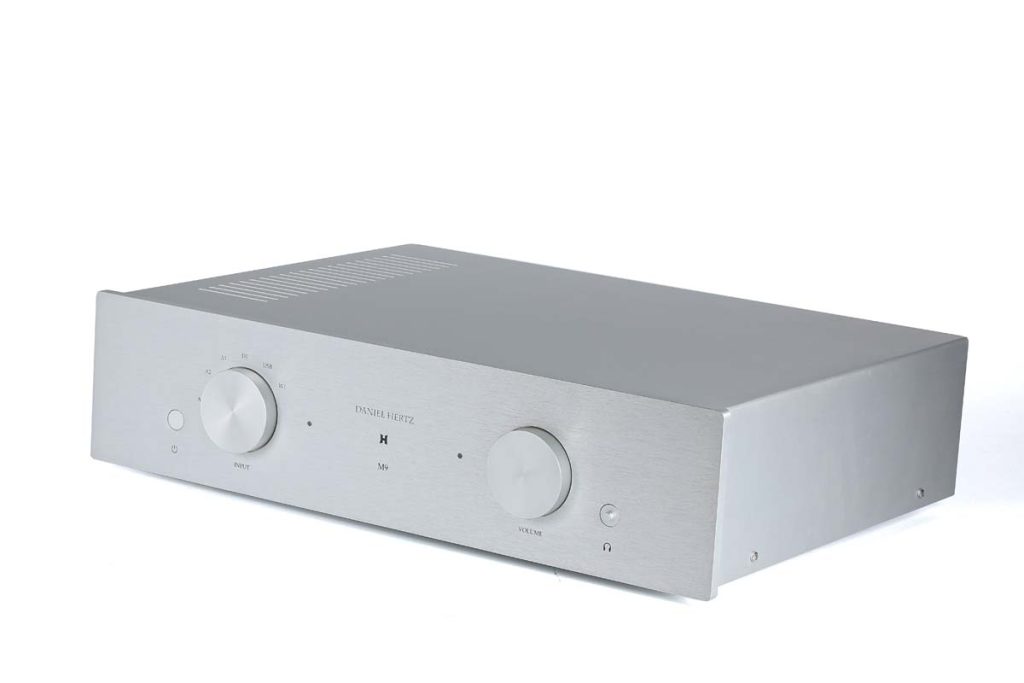 In 1974, $4,000 was a lot of money. Not enough to get you a new Mercedes W114 Series, but enough to get you an American stereo preamplifier: the LNP-2 from MLAS. A preamp that was significantly more expensive than everything else in its category, it made a huge impact. It also launched the career of the then 28-year-old trumpeter and double bass player Mark Levinson (MLAS stands for Mark Levinson Audio Systems). It may well have also signaled the start of high-end audio as we currently know it.
Some 40+ years later, California-born Levinson can look back on a life packed with so much experience and so many stories it could fill several biographies. After all, the founding of MLAS in 1972 was just the beginning. Mark Levinson Audio Systems was the spark that ignited the Mark Levinson brand, which today still continues to operate very successfully (independently of Levinson since the 1980s). He founded his second company in 1984: Cello. He chose the name in honor of his mother, who played the cello. Once again, Levinson managed to surround himself with some of the greatest developers of their time. This resulted in devices that achieved legendary status, most notably the Cello Audio Palette designed by Tom Colangelo, who came up with a unique equalizer preamplifier for use in studios.
In the late 1990s, Levinson launched Red Rose Music, a more affordable electronics label. He founded his latest company in 2007 in Switzerland. As was the case with Cello, the choice of name was once again very personal: Levinson combined his father's first name with his mother's maiden name to come up with Daniel Hertz.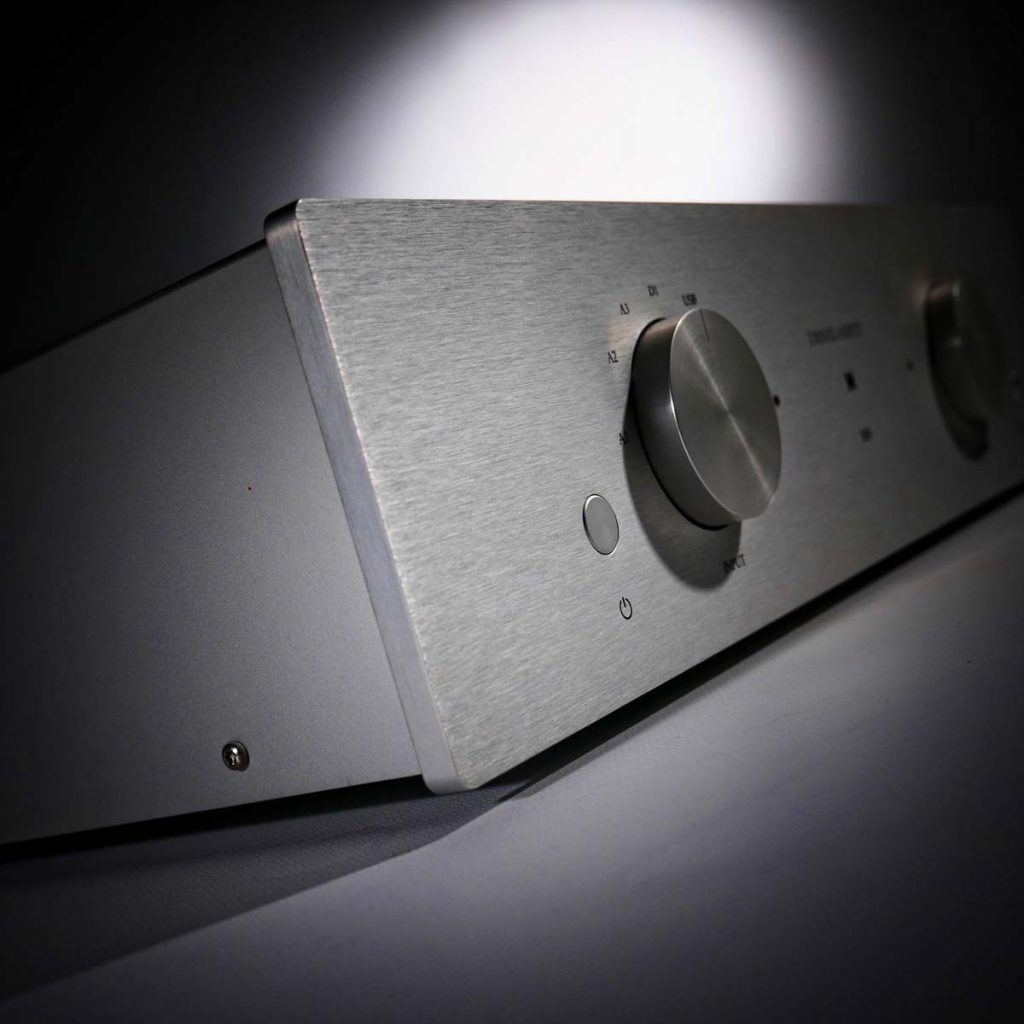 Around this time, Levinson was also in demand as a consultant, advising such clients as South Korean electronics giant LG and audio chip manufacturer Intersil. Many fruits of that labor have found their way into Daniel Hertz (DH) products, for example the M9 integrated amplifier that we are considering today. Just an integrated amplifier? In our lengthy, in-depth phone conversation, Levinson vehemently begs to differ. No, the M9 is more than the obvious sum of its inputs and outputs. The smallest DH amplifier is designed to teleport listeners into a world of pure music enjoyment that supersedes everyday high-end concerns about cable directions and device upgrades. This particular characteristic of the Daniel Hertz M9 is not all that obvious at first sight. The lightweight housing is made of brushed aluminum and the walls are not particularly thick. The user interface consists of an input source selection knob, an unmarked volume control knob with infinite rotation, and the on/ off switch. Remote control? No chance!
Inside the belly of the beast are four circuit boards. The largest, which takes up almost half the available space, is the M9 Main DSP Board. There are inputs in S/PDIF and USB formats and the option for a Bluetooth connection. Up to 24 bits and 192 kilohertz are accepted (in the Bluetooth transmission path, a maximum of 48 kilohertz). Whatever enters through one of the three analog high-level inputs with RCA jacks is digitalized.
Responsibility for signal processing falls to the Intersil D2-71083 Intelligent Digital Amplifier and Sound Processor. That's right: the chip manufacturer Intersil, the company Levinson worked at as a consultant. The result of this collaboration is Mark Levinson Mighty-Cat Audio Enhancement, one of the many features this chip boasts.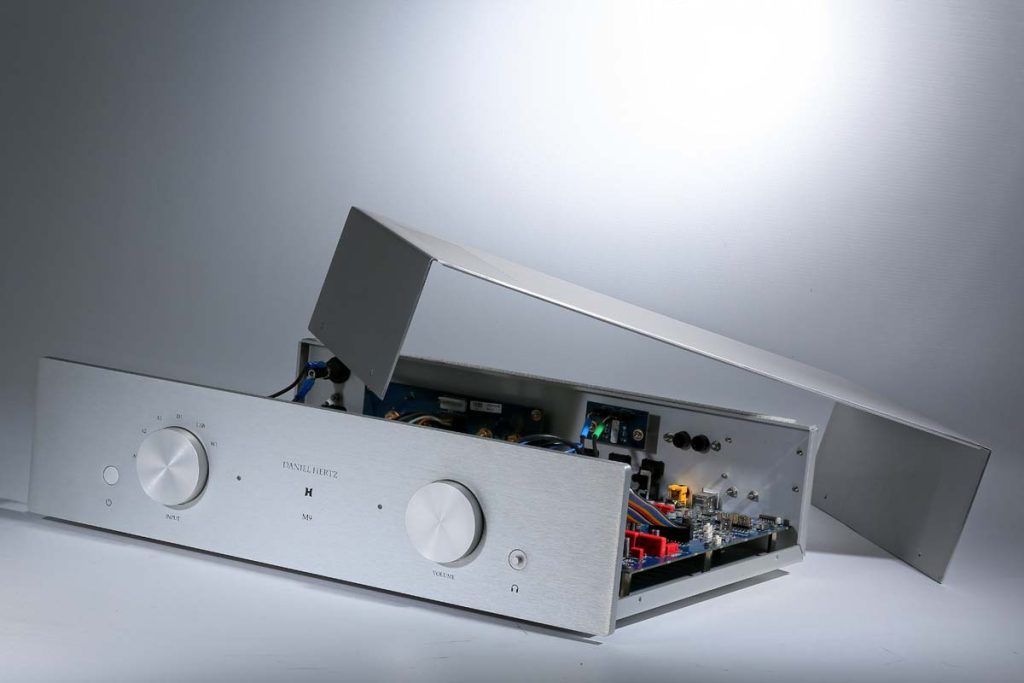 On top of that, the Intersil all-rounder also houses an all-digital class-D amplifier controller. It's no wonder then that in the M9 it controls power amplifiers using PWM (pulse width modulation) technology. These aren't Daniel Hertz developments, but instead were developed by Hypex. Two impressive power amplifier modules with 400 watts at four ohms along with the corresponding power supply don't raise even the slightest theoretical power-related concerns. Quality concerns are not raised either: On the contrary, the Dutch switching-amplifier specialist has for many years enjoyed an excellent reputation as a high-end giant killer.
An interesting package is available for use in conjunction with the M9: The company's own M10 bookshelf speaker and the Daniel Hertz Master Class playback and equalizer software written for the Apple platform can be combined with the M9 to form the Baby Daniel Reference System. With its two-way speaker design, the M10 is an attractive little thing. The piano-black housing is, like all Daniel Hertz loudspeaker housings, produced by the Czech piano manufacturer Petrof. However, it's the Master Class software that's more interesting from a technical point of view. First off, it's a pure playback program with no accessories. Rather inconveniently, any tracks you want to listen to need to be manually added to a playlist as the software doesn't provide access to music libraries. A sound-improving algorithm called A+ is activated by checking a box. According to Levinson, it is technically akin to MightyCat from the Intersil processor and is designed to create a more analog-like listening experience from all PCM digital audio formats, even "improve on it" if possible. How does it do it? Sorry — I'm afraid no further technical details are available.
Checking a second box activates a six-band equalizer. With the exception of the lowest and the highest, the frequency bands correspond to those of the Cello Audio Palette. However, the app considerably broadens the possibilities. Tracks can be rendered from Master Class together with all equalizer settings and are then permanently available almost like private remastered versions. Alternatively, the equalizer settings can be saved individually and be specifically assigned to individual Master Class users.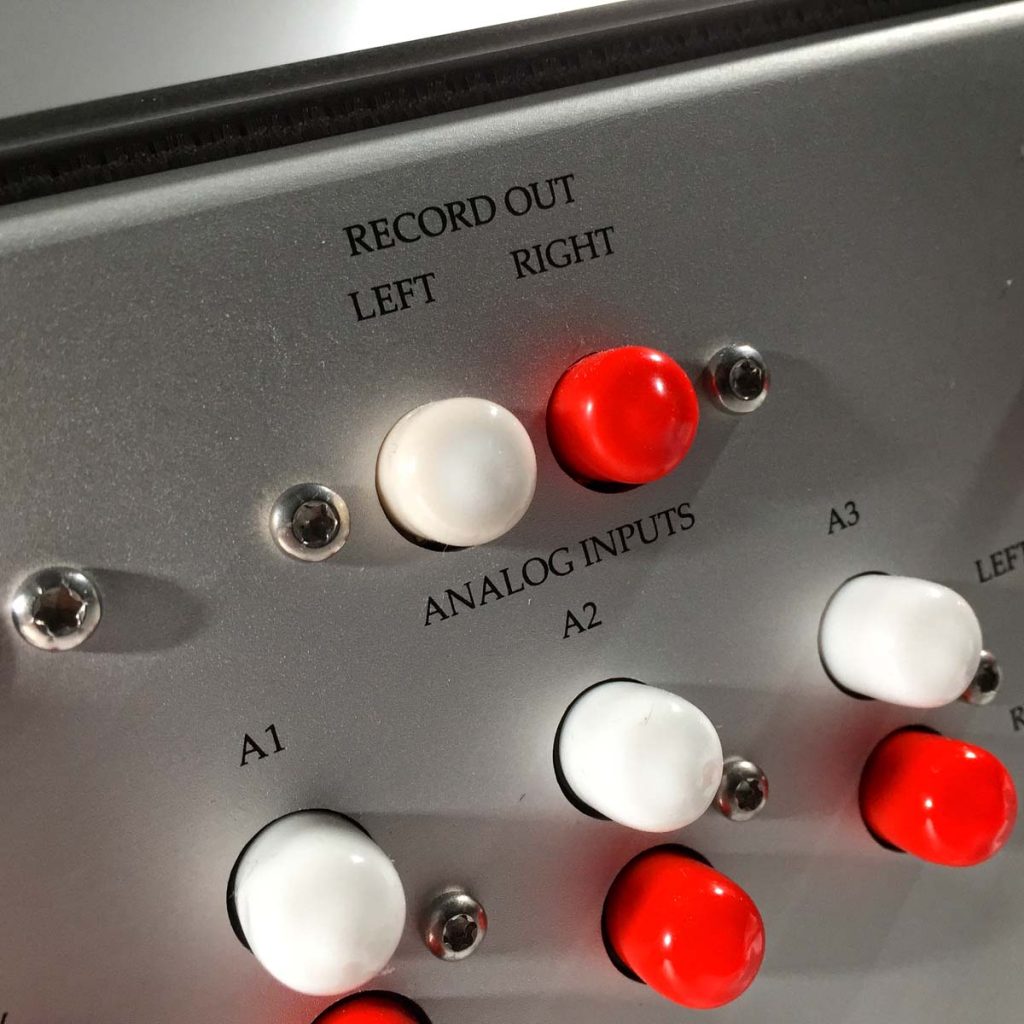 Nevertheless, the Daniel Hertz M9 is technically anything but exotic and also sounds good with loudspeakers from other companies and without Master Class feed. Really good in fact! It can reproduce complex music at high volumes like no other. Credit for that surely belongs to the Hypex power section, which, however, wouldn't be anything if it didn't have adequate signal processing. The M9's DSP board must be doing something right in that regard. But Levinson is also keeping his lips tightly sealed about exactly what that might be, which is why the M9 is a little like a black box: A signal goes in, a signal comes out, and somewhere in between something magical happens. My first encounter with the M9 is with Johnny Cash, American Recordings IV: Cash's voice is articulated with crystal clarity and razor-sharp definition one meter behind the level of the loudspeaker. What the M9 exhibits is an authoritative monitor-like awareness and understanding of the recording. If I were more studio tech savvy, I would definitely be able to pick out every vocal or instrumental track together with the microphone type and compressor setting used. Fascinating.
Various classical and jazz vinyls later and the sound quite wonderfully breaks free from the loudspeakers. This is particularly the case with the ongoing captivating sense that the stage is right in front of you. A new setup for my loudspeakers, with a rear wall distance of 1.5 meters (following George Cardas's precept of the Golden Rectangle), results in beguiling spatial illusions. The Daniel Hertz has clearly more authoritative perceptions of the dimensions of the recording rooms than my tried-and-tested Naim electronics.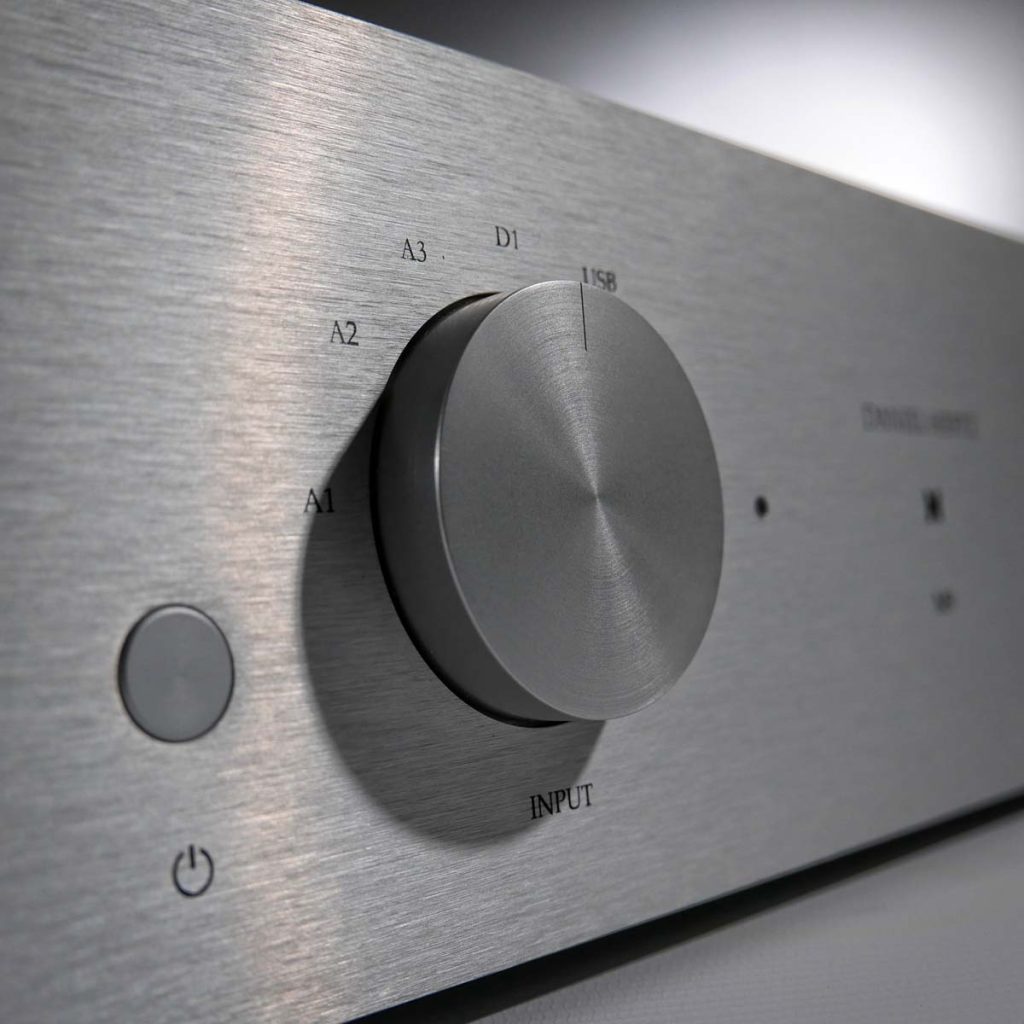 Large orchestral pieces, such as the symphonic suite Scheherazade by Nikolai Rimsky-Korsakov or a violin concerto by Philip Glass, are delightfully and deftly deconstructed then heaved into the listening room at just the right moments with a matter-of-fact vehemence. The M9 is exemplary when it comes to delimiting sound events. Above all, "clarity" is the predominant sound quality you continuously note. The tonal balance is impeccable. That must be the much cited linear stroke as frequency response diagram. The amplifier does not embellish with extra splendor or warmth to overtone-rich classical instruments. A concert grand piano thunders with exquisite precision; percussion instruments smoothly open fire into the room. The M9 is seriously fun!
Did I already mention that the puristic amp has a headphone output? What I've written so far fully applies to this too in terms of performance. I connect my Grado SR80 as well as the rare, large PS1 Pro that belongs to my colleague Cai Brockmann — and experience true headphone monitoring. For the acid test, I opt for "The Unspeakable Chilly Gonzales." Rap accompanied by an orchestra: The music beautifully arranged and very, very funny. Gonzales's crazy lyrics are lifted from the orchestra as crystal-clear intelligible speech. More so than any loudspeaker playback, the headphones let you distinctly recognize that the accompanying music, no matter how superb it sounds, is composed of sample libraries.
I test the effect of A+ with an iMac feed. This unspecified global sound optimization system actually makes the untreated signal more angular and somehow more ascetic. A+ brings a dash of warmth into play, and the stage seems to expand a little. Levinson talks of "destressing" — yep, that pretty much hits the nail on the head. I can imagine continuously using A+ over the long term. The results are consistently appealing, regardless of the music, and almost seductive.
What about the equalizer? For deliberate manipulation — whether for room-acoustic adjustment or actually super subtle adjusting of tone control — the software version of the Cello Audio Palette is invaluable. The six virtual controllers make you feel rather like a sound engineer.
The Daniel Hertz M9 and the Master Class software can be purchased separately. They do seem to be made for each other. With its euphony and equalization functions, the Mac app is the logical addition for the puristic digital integrated amplifier. I'm happy to make a case for the M9 Master Class at the attractive package price but would take this opportunity to suggest adding a balance function and a level indicator. Maybe for version 2.0.
On its own, the Daniel Hertz M9 is a fine piece of audio equipment. It has brains as well as brawn. Its inner qualities are well concealed, which is why potential purchasers are advised to take their time with it and not be troubled by its reserved appearance. Once it's put to work, the M9 digital powerhouse does reveal its true qualities, which are then all the more lasting.
The man, whom friends, such as the renowned amplifier developer and MLAS colleague since the beginning John Curl, call a "true visionary" has done it once again. Mark Levinson is nothing short of a living legend.

Accompanying Equipment
Turntable: Bauer Audio dps 3 | Tonearm: Bauer Audio Tonarm | Cartridge: Lyra Kleos | Phono preamplifier: Bauer Audio Phono | CD player: Electrocompaniet EMC 1 UP | Preamplifier: Naim Audio NAC 202 with NAPSC | Power amplifier: Naim Audio NAP 200 | Integrated amplifier: Silbatone JI300 Mk III | Loudspeakers: Ayon Seagull/c | Cables: Naim, Fadel, Chord | Power supply: Music Line Powerigel | Accessories: Bauer Audio rack, Acoustic System loudspeaker feet
Integrated amplifier
Daniel Hertz M9
Power output (8/4 Ω): 2 x 200/400 W | Inputs: 3 x line unsymmetrical (cinch), 3 x digital (S/PDIF, USB, Bluetooth) | Outputs: each 1 x loudspeaker (screw terminals), headphones (6.3 mm jack), record out (cinch) | Special features: optional equalizer app (€600) prepared for announced phono option, no remote control | Finish: Brushed aluminum | Dimensions (W/H/D): 43/11/33 cm | Weight: 5 kg | Warranty period: five years | Price: €5,950
Daniel Hertz S.A.
8, Rue du Nant
1207 Geneva
Switzerland
The stated retail price of the reviewed device is valid as of the time of the review and is subject to change.