New Swing
Do we also listen with our eyes? The Gato Audio DIA-250S might make you think so, with its bold, sweeping Danish design that stands as a stunning contribution to an otherwise increasingly dreary world.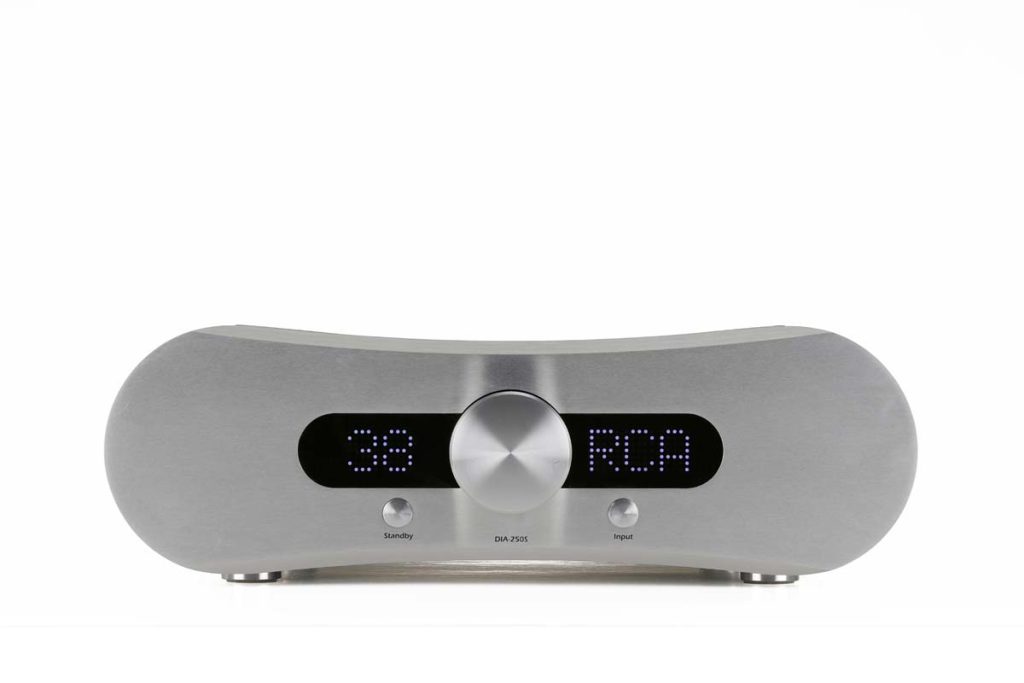 "Digital is better," sang a band from Hamburg once. Of course they weren't suggesting an optimistic outlook on the future. Rather, the members of Tocotronic — donning retro sports jackets — were being cryptically ironic. Since then, and many years after the dawn of the digital age, one question has remained unanswered: is the digital world actually fun? The Internet and smartphones may very well be practical for buying train tickets and the like, but when it comes to things as innately human as sensuality, we tend to think more of romantic candlelit dates and cruising around in a classic Porsche 911 than surfing Tinder or taking an Uber home.
In the world of music playback, it's no different. We have yet to see any concrete proof that new technology is not only innovative, space-saving, and conveniently free of wires, but also capable of actually delivering an emotionally engaging musical experience. However, the Danish firm Gato Audio has provided an indication that digital signal processing doesn't have to be so dry and anemic. A video on the company's website shows drivers putting pedal to the metal in a couple of Porsches, but each time the camera cuts to their interiors the speedometer needles have been replaced by the displays of Gato Audio playback components.
Although many audiophiles have come to terms with the fact that some parts of the chain are now and will always remain digital, quite a few still have serious reservations regarding amplifiers that contain a high proportion of digital technology: they are accused of being too cold, too slow, quickly overstretched by complex high-density sound profiles, and lacking in projection capacity. Can a class-D amplifier really have a soul? It's unlikely.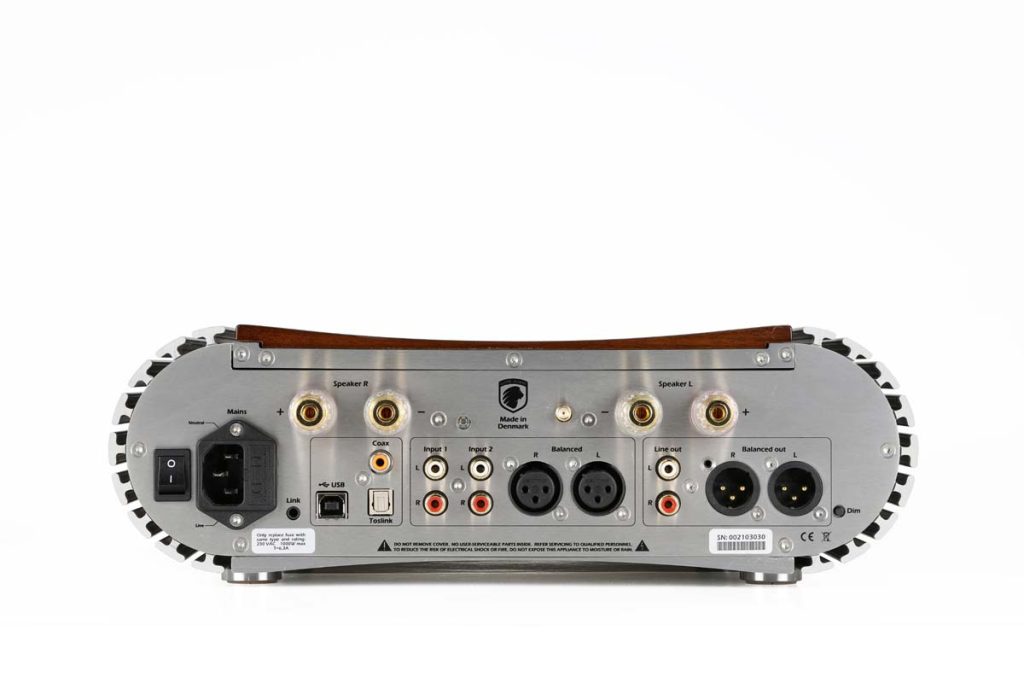 Yet the Gato Audio DIA-250S immediately gives you the impression that this is something special: weighing just 10 kilos, the lightweight device doesn't lead you to believe that it's actually a powerful heavyweight amplifier. And, like its predecessor, the DIA-250, which didn't feature an aptX Bluetooth interface, the new S model cuts a very fine figure. This is a futuristically curved object, deeper than it is wide, with a brushed aluminum front plate, side extrusions, and a veneer cover available in either black, white, or (as in the case of the test model) walnut. The front is convex on the left and right edges and concave on its top and bottom. There are only two buttons: Standby and Input. However, a real eye-catcher is the generously sized infinite shuttle wheel in the center. Yet even this is upstaged by the opulent dot-matrix display for volume, sampling rate, source, and — where applicable — warning messages (in the event of overheating, for example). The bluish-white lights match beautifully with the matte metal faceplate, though the sheer size of the display may take some getting used to. Though anyone who loves listening to their favorite tunes in pitch-black darkness will enjoy the dimming function, which can be accessed via the remote control, supplied as standard.
The design is unusual and perhaps even polarizing — words you might use to describe a component of the Bugatti Veyron's engine, but not necessarily a device designed to serve music in all its glory. Skeptics should rest assured, though. With the Gato Audio DIA-250S, what you see is what you get: a strong and well-rounded personality.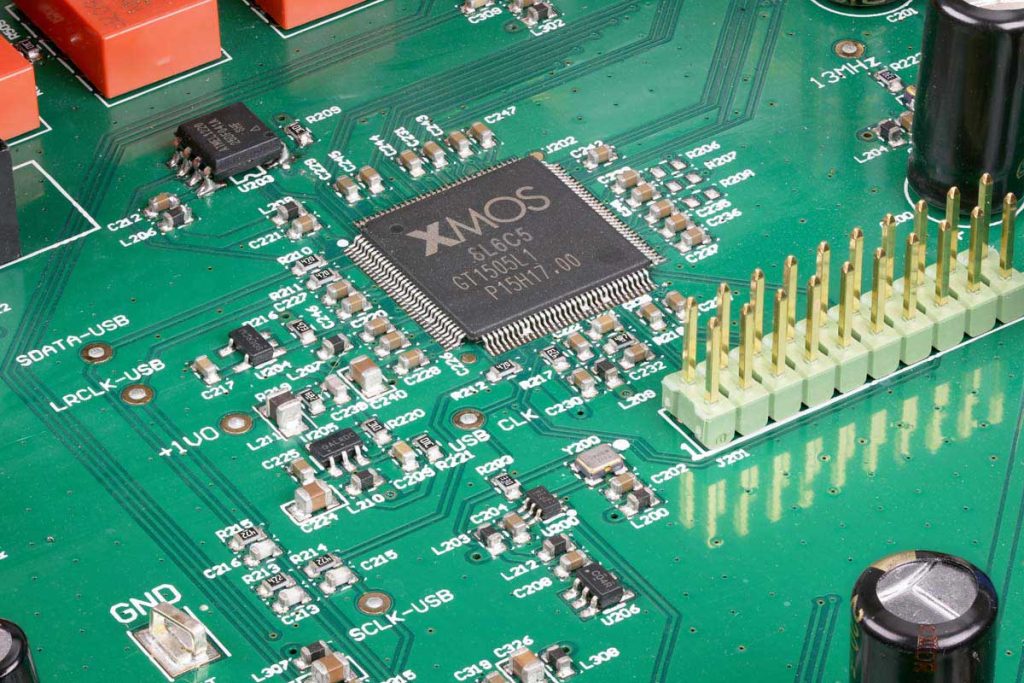 The rear panel hosts a wealth of connection options: USB and S/PDIF optical and coaxial for digital sources, two pairs of RCA connectors, and an XLR input for analog all sit opposite to balanced and unbalanced outputs. Along with the Bluetooth antenna, it has everything that the control center for a modern fleet of devices could need. Loudspeakers are connected via banana plugs or clamped via bare-braid wires or cable lugs. Another aspect that is rather pleasing (and rare) is the delightfully concise and super-easy-to-understand user manual, which describes the set-up process with delightful British understatement and ends on a clear recommendation: "Enjoy!"
When Gato Audio first appeared on the scene a few years ago, it wasn't just the company's designs that attracted the attention of the international trade press (and the Danes know a thing or two about design). In the case of amplifiers like their top model, the AMP 150 — which at just under EUR 7,000 is positioned only a short distance from the entry-level model being tested here — it was the circuitry that caught everyone's eye, based on a specific pairing of the MOSFETs. You see, unfortunately, even transistors with identical designs do not fundamentally behave in the same way, but in fact are subject to a certain amount of fluctuation. This becomes audible in minimal distortion, which is reflected by a sound profile that feels very strenuous after a while.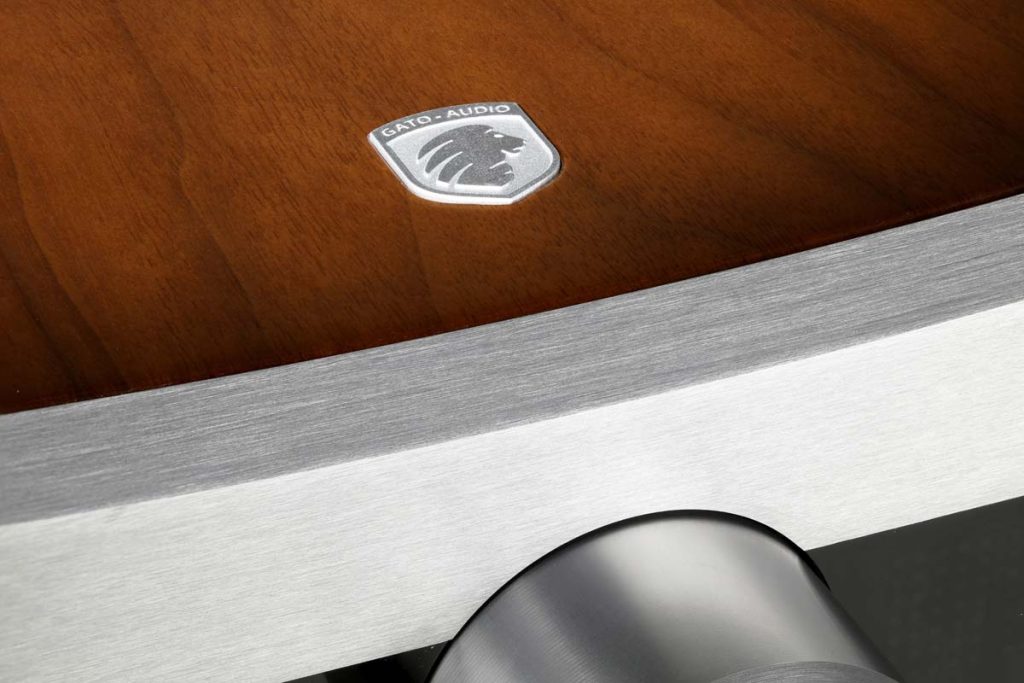 The Gato Audio DIA-250S also follows this principle, working with a pair of faster and lower-loss MOSFETs per channel in the output stage. Gato Audio uses components made by International Rectifier, a long-established American company specializing in circuitry, which is now part of the Infineon Group. And perhaps we're getting closer to the truth here, because "digital" is not always digital — class-D is a sequence of on-and­off switching states that cannot be expressed as bits and bytes. Contrary to the language commonly used, class-D is actually not digital at all: it is so-called pulse width modulation (PWM), which already existed before the digital revolution.
However, the DIA-250S is hardly an analog box from the supposed good-old-times. After all, it contains an integrated D/A converter based on a PCM-1794 converter from Burr-Brown. Incoming digital signals (e.g. those from a smartphone) are upsampled to 24 bit and 192 kHz in order to compute the word length and frequency internally. Installing the USB driver on a computer is definitely recommended, as this enables a feed via asynchronous USB with native 24/196 without requiring the DIA-250S's calculation skills in advance or the computer even having to undertake the timing itself. All of this aside, the fact that the driver software is supplied on CD-ROM does have a somewhat retro feel to it.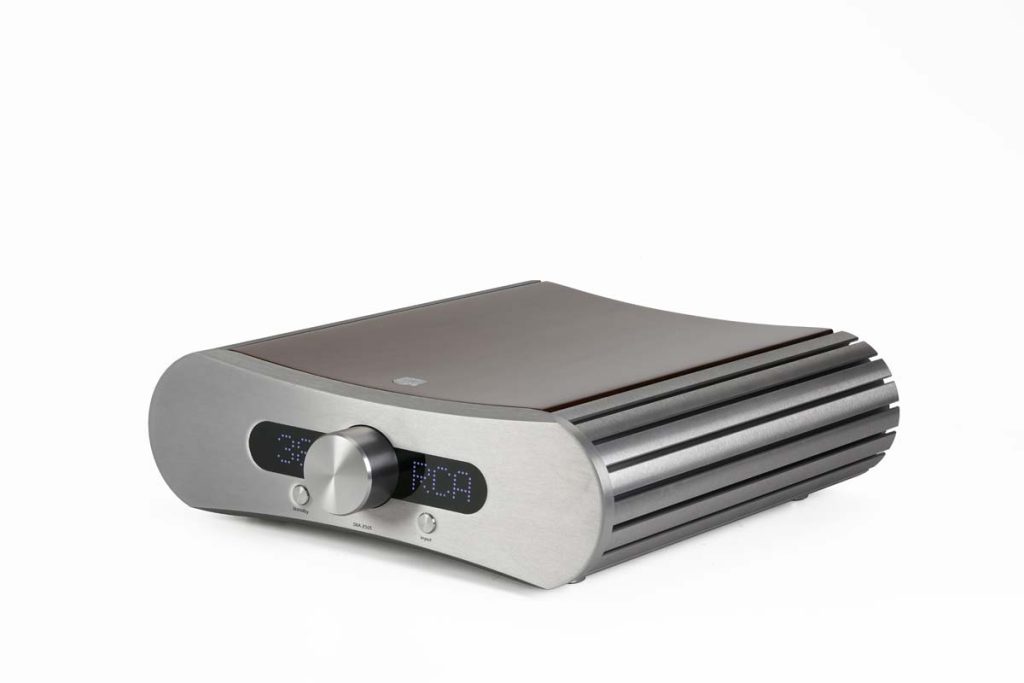 So what exactly happens when you power up the DIA-250S? In short, it's pretty astounding. Picking up the remote control, edged in black metal, and turning it on is of course where the story begins. Naturally, you want to find out how quickly it will take for your neighbor to come knocking once you've started hitting the volume + button. First, upping the volume changes the numbers on the dot display and gives the impression that they are gracefully floating and rotating. Yet while the numbers continue to climb, at some point the tens digit on the display changes, and your astonishment quickly turns to disbelief: why isn't it getting louder? In fact, rather than getting louder, you get the impression that the music is acquiring more presence and a greater sense of urgency (all rather impressively, I might add!). But mysteriously you don't feel like the level is increasing: the sound profile remains clear, its proportions retain their definition, and no components of the sound unduly overwhelm the ear. The bass doesn't rumble and grumble, nor is the treble intrusive. Again, the music doesn't seem "louder," there simply seems to be "more" of it.
But let's leave this initial show of force for a moment and take a more detailed tour through the DIA-250S. In "Quasimodo," the opening track of the album, One More Angel, John Patitucci begins with a truly spirited and furious intro, which seems almost impossible to contain even when you swiftly reduce the volume. However, Paul Motian's lively playing of the ride cymbal comes through nice and clean, whether at room volume or slightly higher, entailing a precise identification of the sound of the cymbal in the background while it is under attack from his sticks. And this is no mean feat, as the cymbal is naturally very dry, but still Motian crashes it repeatedly, whereupon the attack recedes and gives way to an intense white noise. The listening experience created by the DIA-250S here delivers everything you could desire in terms of transparency and spatial arrangement.
Actually, following the recent and sad passing of Mark E. Smith, no other music can be played at the moment than that of The Fall. The 3CD box set entitled A-Sides 1978–2016 provides a cursory overview of the late great front man's broad range of work. A well-known playback issue with Mark E. Smith's singing is actually understanding the lyrics, as he used a pronounced Manchester dialect (Mancunian) with a lot of (sometimes drunken) mumbling thrown in. At the same time, the lexical requirements asked of non-mother-tongue speakers are huge. The integrated amplifier is put to work in conjunction with the Neat Momentum floorstanding speakers, which provide decent bass and excellent treble, but have some shortcomings when reproducing the human voice. However, the DIA-250S proves to be an essential component here, as it feels like Mark E. Smith is sitting on the next barstool over, which for a fan is both an unsettling and exhilarating experience.
It goes without saying that this Gato Audio amplifier is enormously fun when you're listening to riotous and raucous music. Whether it's Queens of the Stone Age, Karajan, John Zorn, or System of a Down, the DIA­250S remains exceptionally unobtrusive and neutral, as you would expect from an amplifier. However, it truly has soul: it's a breath of fresh air compared to the seemingly infinite range of available amplifiers, which may be based on different concepts and boast different features but seem to sound more and more alike every day. The DIA-250S doesn't alter the color of the tones or paint its own pictures, yet thoroughly maintains its own distinct shade and personality. It is clearly set apart from the mainstream and, for under €4,000, creates an impressive listening experience that sounds considerably more expensive.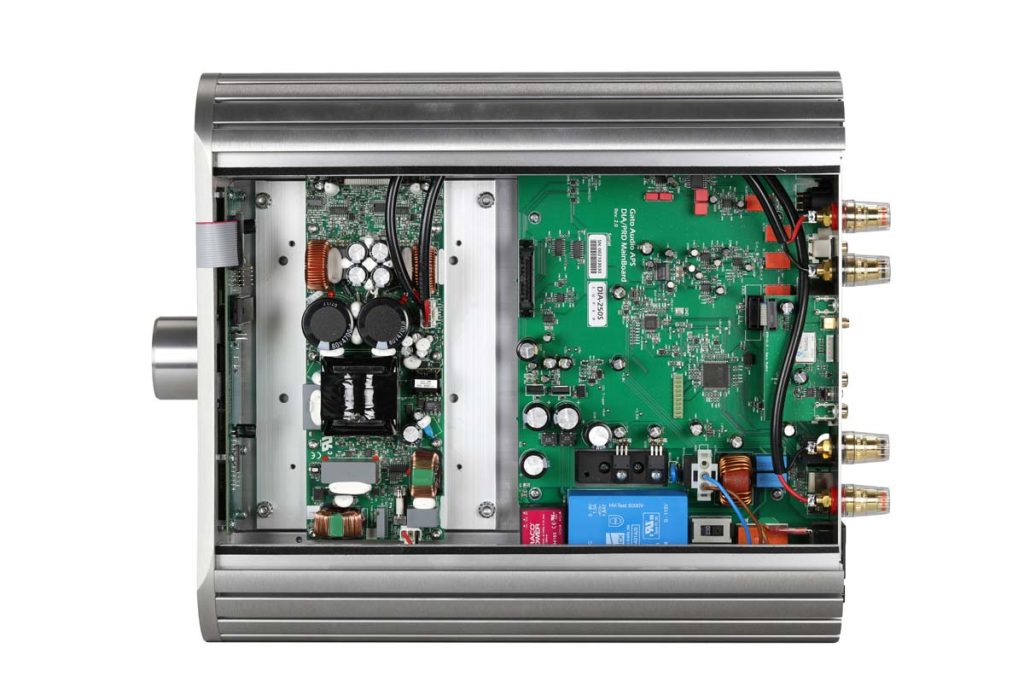 ---
NEW: NETWORK PLAYER MODULE (NPM)
Gato Audio now offers the Network Player Module (NPM) as an upgrade for various models. The NPM works as a Roon endpoint, but also supports Tidal, Qobuz, Deezer, and UPnP/DLNA as an app-controlled standalone device. For example, it can be integrated into the PRD-3S pre-amplifier (see FIDELITY Magazine № 34), as well as the Gato Audio DIA-250S integrated amplifier (our test candidate) and the DIA-400S integrated amplifier. With the integrated network player, the DIA-250S presented here would, as a result, be referred to as a DIA-250S NPM and cost EUR 4,740. Subsequently upgrading an existing integrated amplifier or pre-amplifier with the NPM will set you back EUR 1,000. Gato Audio also emphasizes the fact that older models can be updated with the latest developments.
---

Accompanying equipment
CD player: Creek Evo 2 | Amplifier: Creek Evo IA | Loudspeakers: Neat Momentum 4i, Bryston Mini A
Integrated amplifier with DAC
Gato Audio DIA-250S
Functional principle: Class-D integrated amplifier | Power output (8/4 Ω): 2 x 250 W/2 x 500 W | Analog inputs: Line balanced (XLR), 2 x line unbalanced (RCA) | Digital inputs: USB, 2 x S/PDIF (Toslink, RCA), aptX Bluetooth 4.0 | Outputs: Balanced (XLR), unbalanced (RCA) | Finishes: Brushed aluminum with veneer available in black, white, or walnut | Dimensions (W/H/D): 32.5/10.5/42 cm | Weight: 10 kg | Warranty period: 2 years | Price: €3,790
Phonar Akustik GmbH
Industriestraße 8–10
24963 Tarp
Germany
Phone +49 (0)4638 89240
The stated retail price of the reviewed device is valid as of the time of the review and is subject to change.