Gryphon Audio Designs, creator of ultra-luxe High Fidelity Systems, proudly announces Commander and Apex.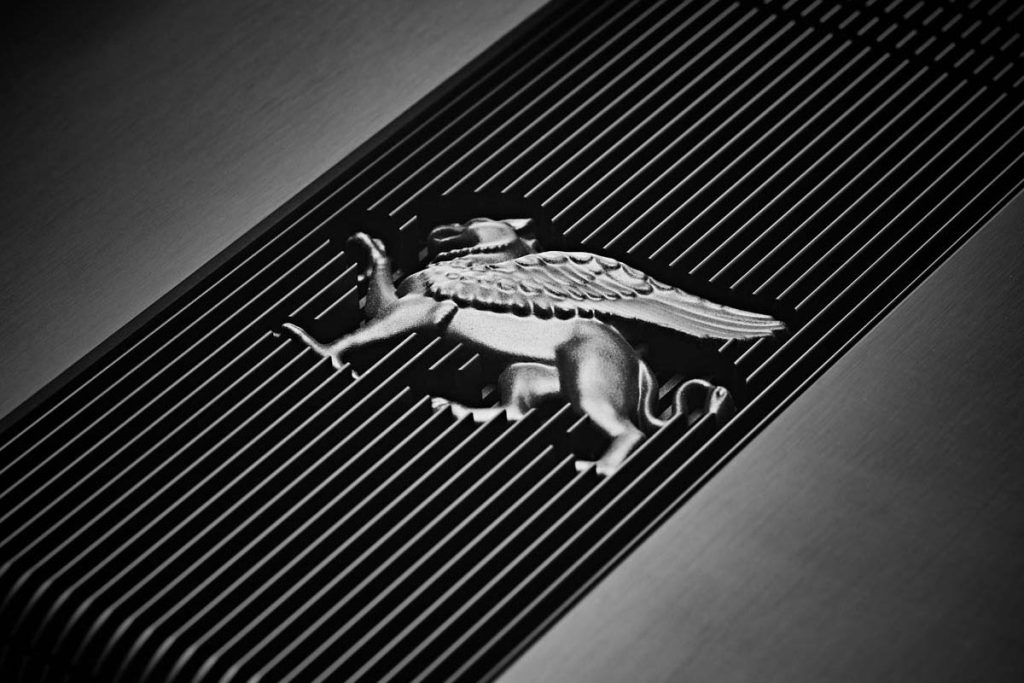 Since Gryphon's founding nearly 40 years ago, the company philosophy has remained constant: the relentless pursuit of sonic perfection without commercial compromises in design, construction or cost. All Gryphon products have been conceived in this same perfectionist spirit: uncompromising engineering in the service of music, impeccable build quality complemented by the original, "Nordic Noir" aesthetic sensibility and simplicity of use.
Gryphon Commander: the world's most advanced preamplifier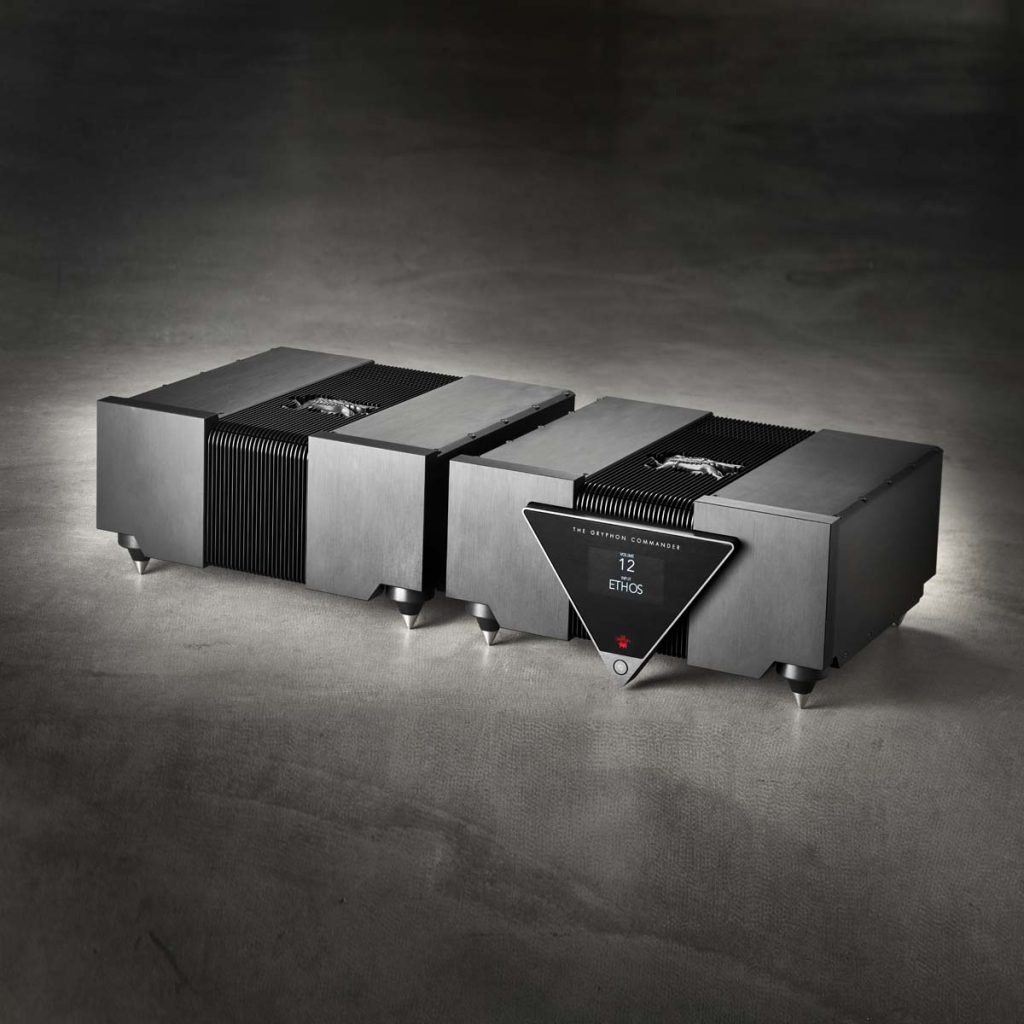 Launch point for the Gryphon Commander was the extraordinary Pandora, widely regarded as one of the world's best preamplifiers. Commander shares Pandora's Dual-Mono layout with separate chassis for signal and power supply circuitry. Gryphon has retained Pandora's single-ended Class A input buffer, as it offers the advantage of passing the signal through the smallest possible number of electrical components – two transistors and a single resistor. The result is a sound that is exceptionally transparent, fast, natural and open. Both preamplifiers employ zero global negative feedback.
Commander embodies major advances in many sonically-critical areas. These include a high-precision, extremely low noise voltage reference in connection with the analogue series regulators which supply the amplifier stages. The Commander's voltage reference has approximately 50 times lower noise than the already-excellent reference used in Pandora. A pair of fully discrete, linear power supplies feed each channel's analog circuit, while a third is dedicated to the digital control circuitry. This ensures absolute mechanical separation and electrical isolation between digital and analog sections.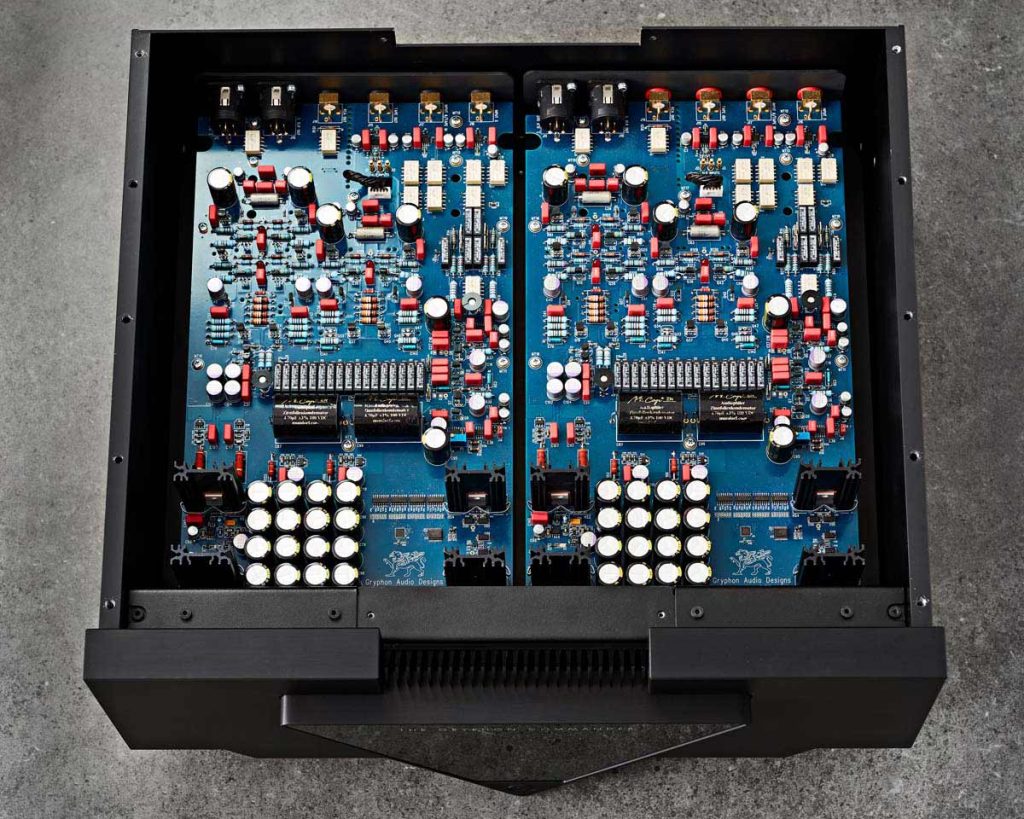 The distinctive finish of the Gryphon Commander suggests the authority and vitality of its music reproduction. It sets new standards in timing, bass control, dynamic expansion, and transparency. Housed in two massive chassis, Commander's power supply includes four custom-made toroidal transformers — two per channel — engineered for minimal noise. Two of these (one per channel) power the dual-mono preamplifier circuits. The second pair are reserved for upcoming Gryphon source components, thereby ensuring a future-proof upgrade path.
Rock-solid chassis for minimum resonance
Extensive use of aluminum chassis components yields a highly stable, non-resonant enclosure that minimizes both mechanical and electrical degradation. Thus, it provides optimal working conditions for Commander's circuitry. Unique to Commander, a constrained-layer-damped bottom plate — a "Sandwich" of three individual layers of Kerrock®, bitumen and stainless steel — reduces resonances to an absolute minimum. All amplifier and analogue power supply circuit boards float above these bottom plates on specially-designed isolators. This provides a pristine, virtually vibration-free environment for Commander's sensitive circuitry.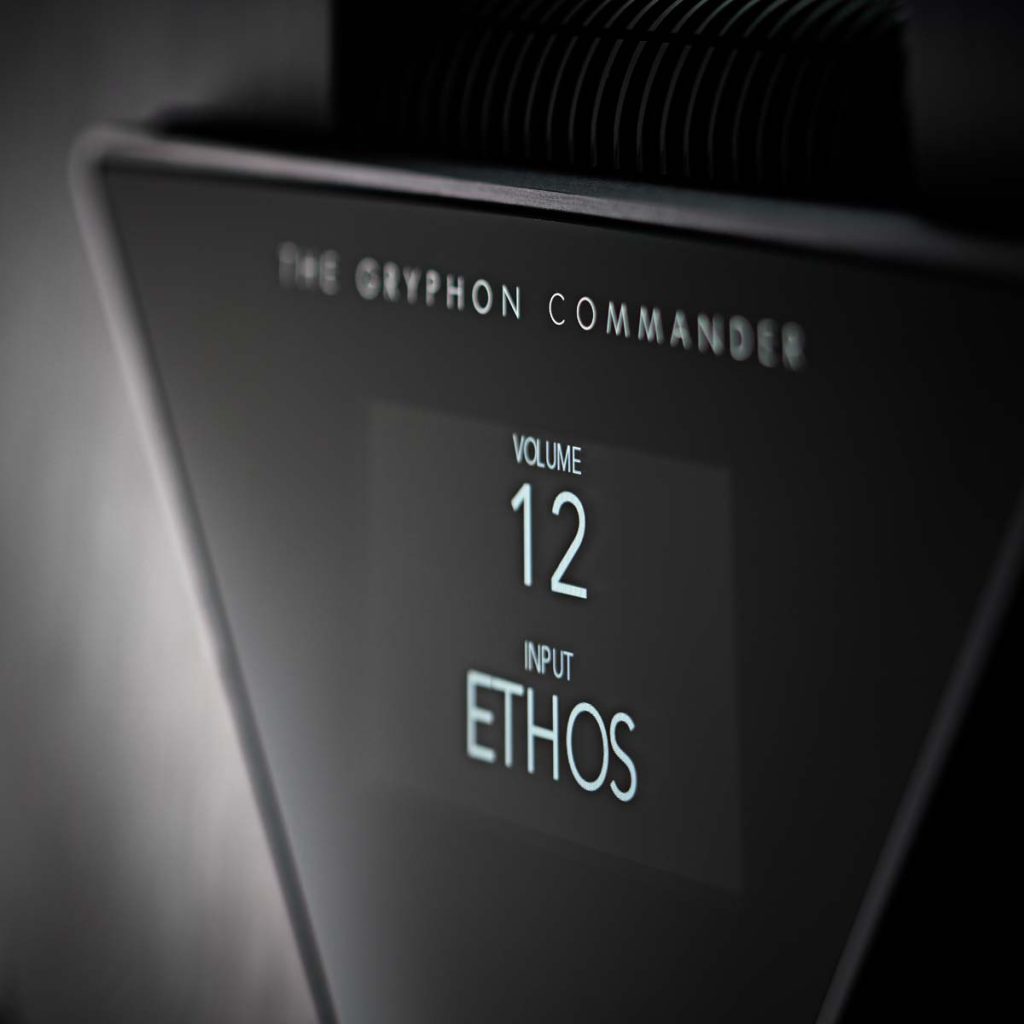 An extra-thick, 4mm glass window presents Commander's 4.3" TFT capacitive touch display, designed to ensure an utterly intuitive user interface. Customized system set-up is facilitated by extensive Commander menu control. It comprises such functions as start-up level, left/right channel balance, maximum volume level, source level matching, input naming, display brightness (including Auto Dim On/Off), dedicated AV-throughput for integration with Home Theater systems, output level and Green Bias adjustment for use with Gryphon power amplifiers. In a unique design flourish, Commander's display changes with the listener's distance from the system; in this way, Volume and other settings remain uniformly readable regardless of the listening position.
Gryphon Apex: the pinnacle of amplifier performance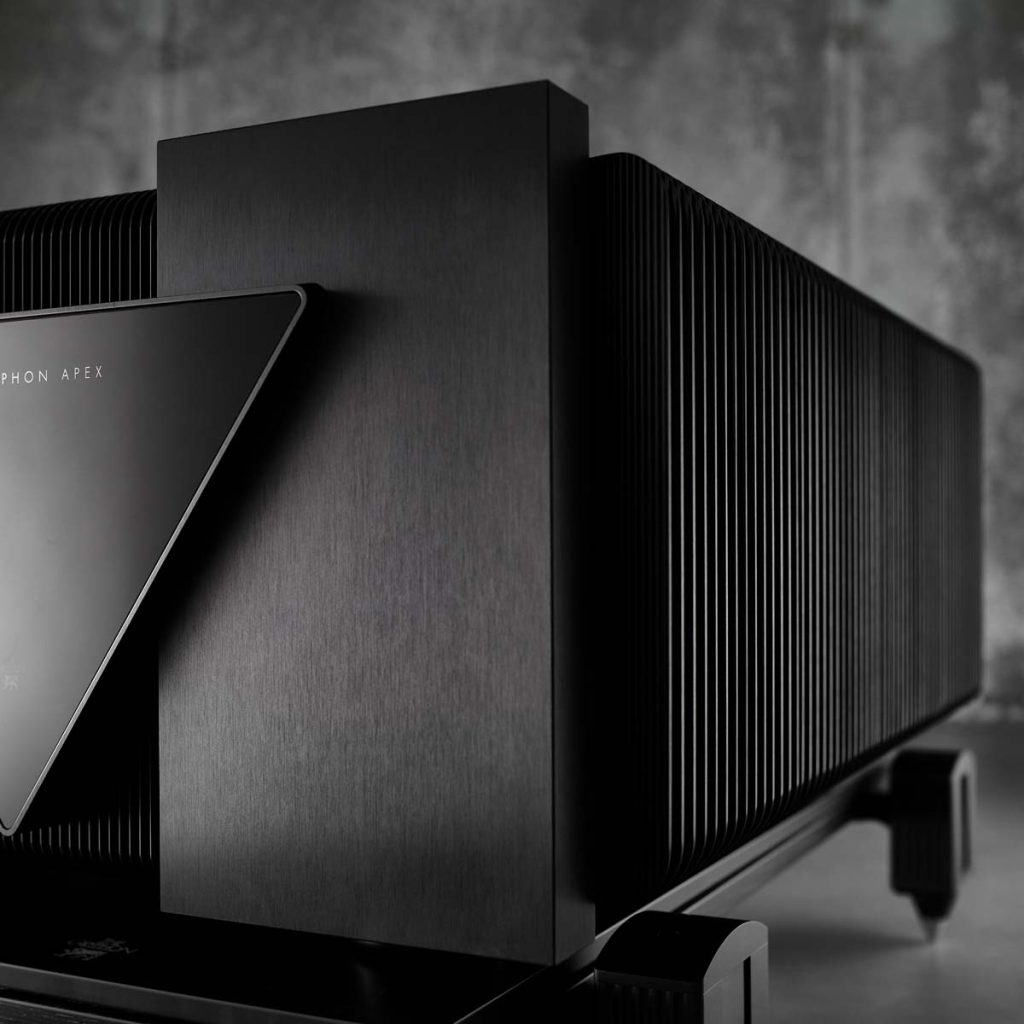 It has always been Gryphon's mission to achieve the highest possible sound quality, regardless of cost. With Apex Mono and Stereo, Gryphon Audio Designs elevates pure Class A power amplification beyond what was previously considered possible. Years of experience developing Antileon EVO and Mephisto amplifiers, as well as ongoing research in the fields of circuit topology, component quality and reliability have culminated in Apex: the new flagship of the Gryphon Audio Designs brand.
The material specifications of Apex illustrate its cost-no-object design: Apex Mono features a staggering complement of 128 very high-current bipolar output transistors (64 per chassis), 2,080,000 μF (>2 Farad) capacitor banks (>1 Farad per chassis), four separate custom-made 2,000 VA toroidal transformers (two per chassis), all housed in a magnificently crafted, constrained-layer-damped chassis. Apex Stereo tips the scales at nearly 450 pounds, while a pair of Apex Mono weigh-in at 900 pounds.
Power Is Everything: with nearly 1800 RMS Watts into one Ohm (Mono), Gryphon Apex masters even the most challenging speaker loads. Given the massive power reserves available at all times, Gryphon Apex amplifiers do not "see" the loudspeaker; in other words, Apex' virtually limitless reservoir of power and current renders it immune to loudspeaker characteristics. Apex always delivers its ultimate sound quality, regardless of loudspeaker choice. What's more, unlike other high-power amplifiers, Gryphon's no-compromise, pure Class A topology combines this prodigious power with ultimate refinement and delicacy in musical presentation.
Only true Class A is true Class A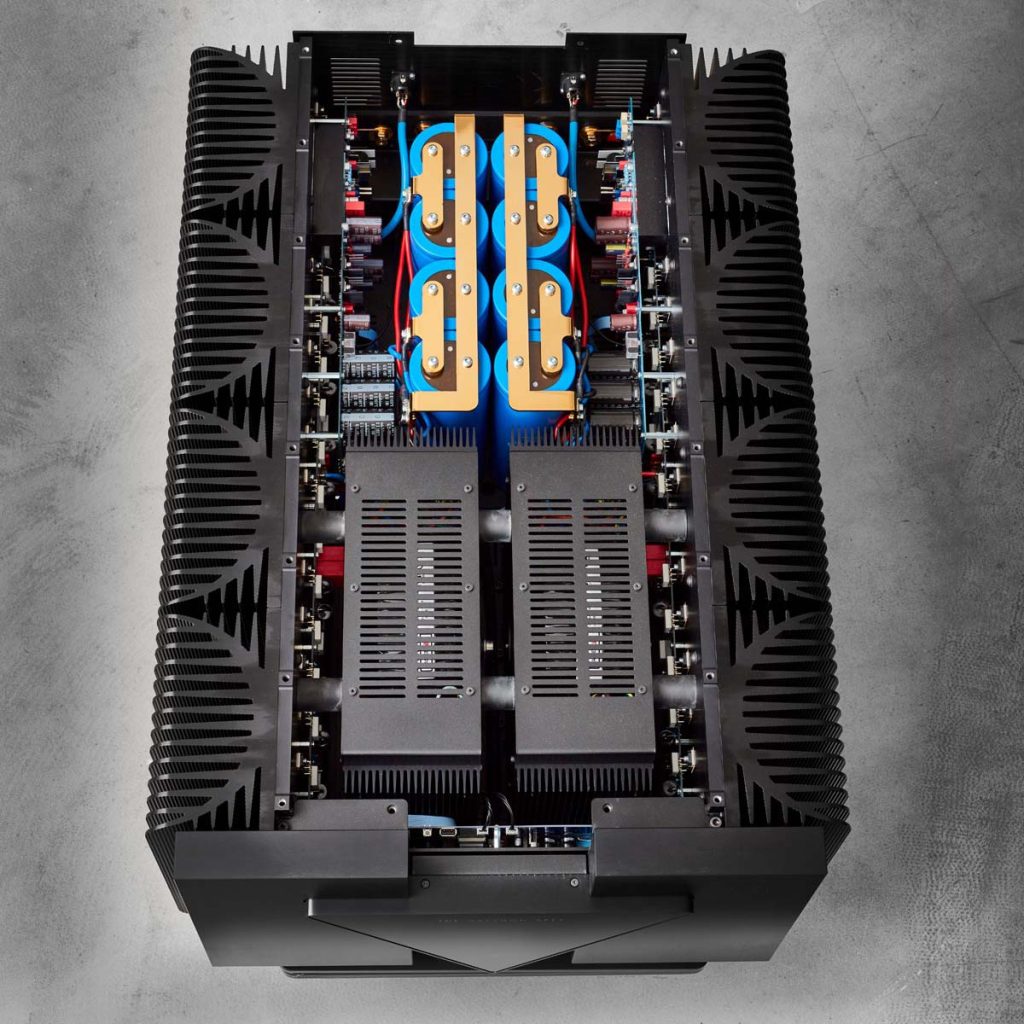 Ever since Gryphon Audio introduced the legendary DM100 in 1991, pure Class A operation has always been a Gryphon hallmark. No other circuit topology approaches its sonic perfection. There are a growing number of "New Class A" topologies based on automatic biasing. Supposedly, they allow the amplifier to sense when the bias should increase to ensure constant Class A performance. Put bluntly, however, you can't cheat physics. Gryphon has conducted research into obtaining Class A performance from class A/B topologies. The result was the realization that there is no substitute for the musical magic of pure Class A. However, based on thorough analysis of typical listening situations, the manufacturer invented "Green Bias" ("Green" for reduced environmental impact). This technology delivers TRUE, PURE CLASS A with considerably lower power consumption than traditional solutions.
Green bias in the new Gryphon Apex allows the user to select the amount of Class A required to drive speakers in pure Class A at any given time. considering such factors as speaker sensitivity, room size, musical dynamics, and overall volume level. Green bias gives Gryphon system owners the option of letting the preamplifier automatically control amplifier bias.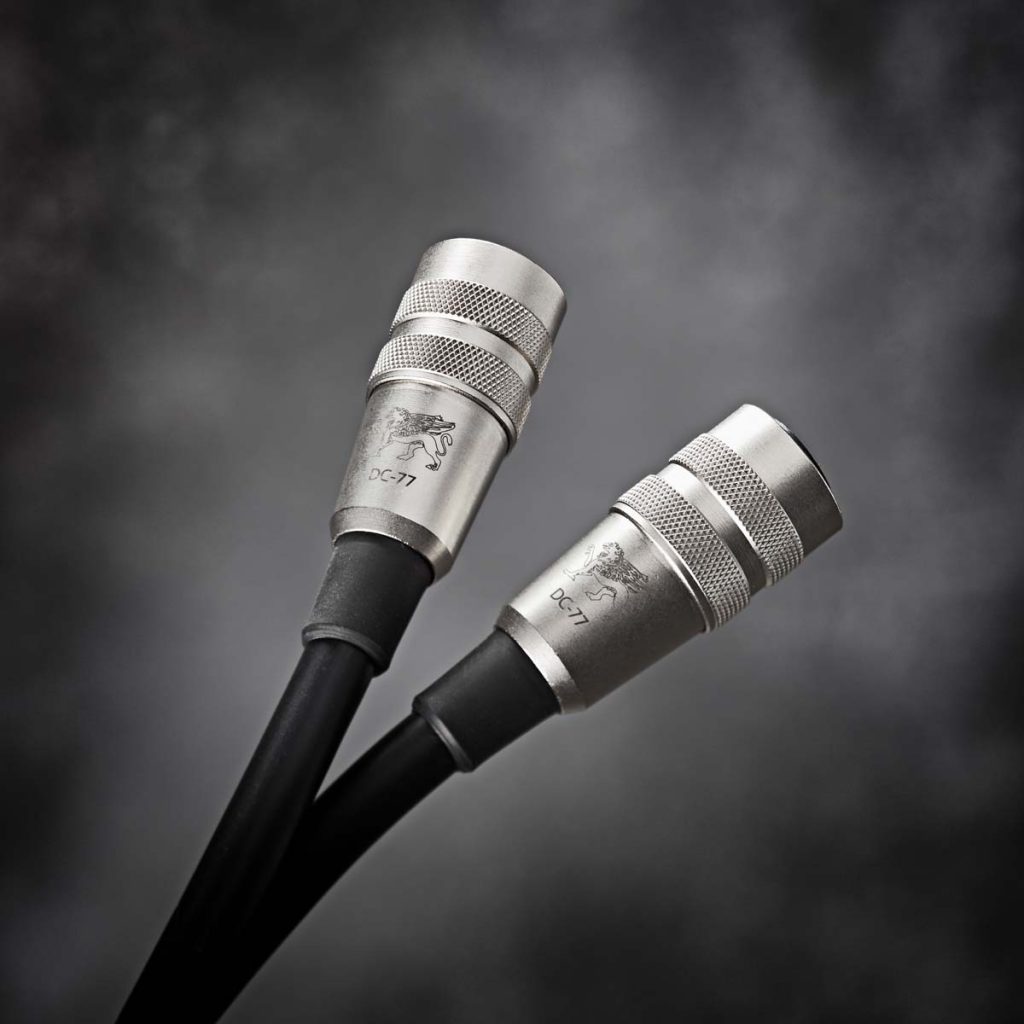 Unique even in this price range, Gryphon Apex utilizes a completely independent transformer and linear power supply for display and control circuits, preventing digital noise generated by these circuits from contaminating the amplifier circuits. The new and proprietary Gryphon speaker terminals accept bare wire, spade lugs, banana connectors or any combination thereof. Apex' gorgeous, "Nordic Noir" chassis incorporates advanced constrained-layer-damping technologies to optimize resonance, while the specification of non-magnetic materials virtually eliminates electrical interference.
In every design and construction aspect, Apex is designed to be an amplifier whose performance is unlikely to be surpassed. Ever.
Availability and pricing
The Gryphon Commander preamp, Gryphon Apex stereo and mono power amps and the StandArt amp stand are available now. Suggested retail price is 63,000 USD for the Commander, 99,000 USD for the Apex stereo power amp, 198,000 USD for a pair of Apex monoblocks and 8,000 USD for the StandArt amp stand.
The stated retail price of the reviewed device is valid as of the time of the review and is subject to change.