Covering normally refers to songs being performed by other artists, but actual album covers attract their share of impersonators, too. The covered cover: Is it a witty reference, respectful homage or parody? Or is there a deeper meaning behind it?
At last some rest. Finally relaxation. Led Zeppelin had been on tour for months, in the United Kingdom, in the USA, on the European continent. For months they had proven their reputation of being the world's leading rock band, playing hard rock concert after hard rock concert – after all, they were considered the inventors of this style. But now it was finally time for a break. The band wanted silence – beside the music and in the music. They wanted a change, a different sound – their ears desperately needed a rest. It is said that all four musicians enjoyed quiet sounds at that time, fingerstyle guitarists and folk sounds.
This other, this quiet side of Led Zeppelin – it was there from the beginning: acoustic pieces with a touch of British folk and American country blues. On the first two albums these pieces seemed more like little interludes to emphasize the volume of the hard rock numbers. But now the quiet, folky side demanded its right. Jimmy Page, the hard-rock guitarist, and Robert Plant, the hard-rock tube, retreated to the quiet countryside, to an old, brick cottage in the middle of idyllic Wales. There was neither running water nor electricity. Page plucked the acoustic, Plant invented lyrics to it. Later they met the rest of the band at another country estate in East Hampshire in England's south. There they worked out the tunes and made the first recordings – using the Rolling Stones' mobile studio. Further recordings were made in London, New York and Memphis.
In the end, ten tracks made it onto the new album, half of which are dominated by acoustic guitars. "Gallows Pole" and "Hats Off To (Roy) Harper" are cover versions, some other pieces at least inspired by folk models. Sometimes a mandolin sounds to it, sometimes a banjo, sometimes a pedal steel guitar. Also there are hand drums, spoons, acoustic double bass. The funniest of these "acoustic" pieces is called "Bron-Y-Aur Stomp", named after the lonely cottage in Wales – it's about Spider, Jimmy Page's dog ("You're the finest dog I knew"). The most elaborate of the "acoustic" pieces is "Friends," with contrasting acoustic guitars and an Oriental-Indian-sounding string accompaniment ("Looking for what I knew"). Of the more "electric" tracks, the hard-rocking "Immigrant Song" became the most famous ("We come from the land of the ice and snow") – Plant opens it with a sort of Viking war cry. The longest song on the album (7:24) is "Since I've Been Loving You" – a slow electric guitar blues of the sort popularized by Peter Green at the time.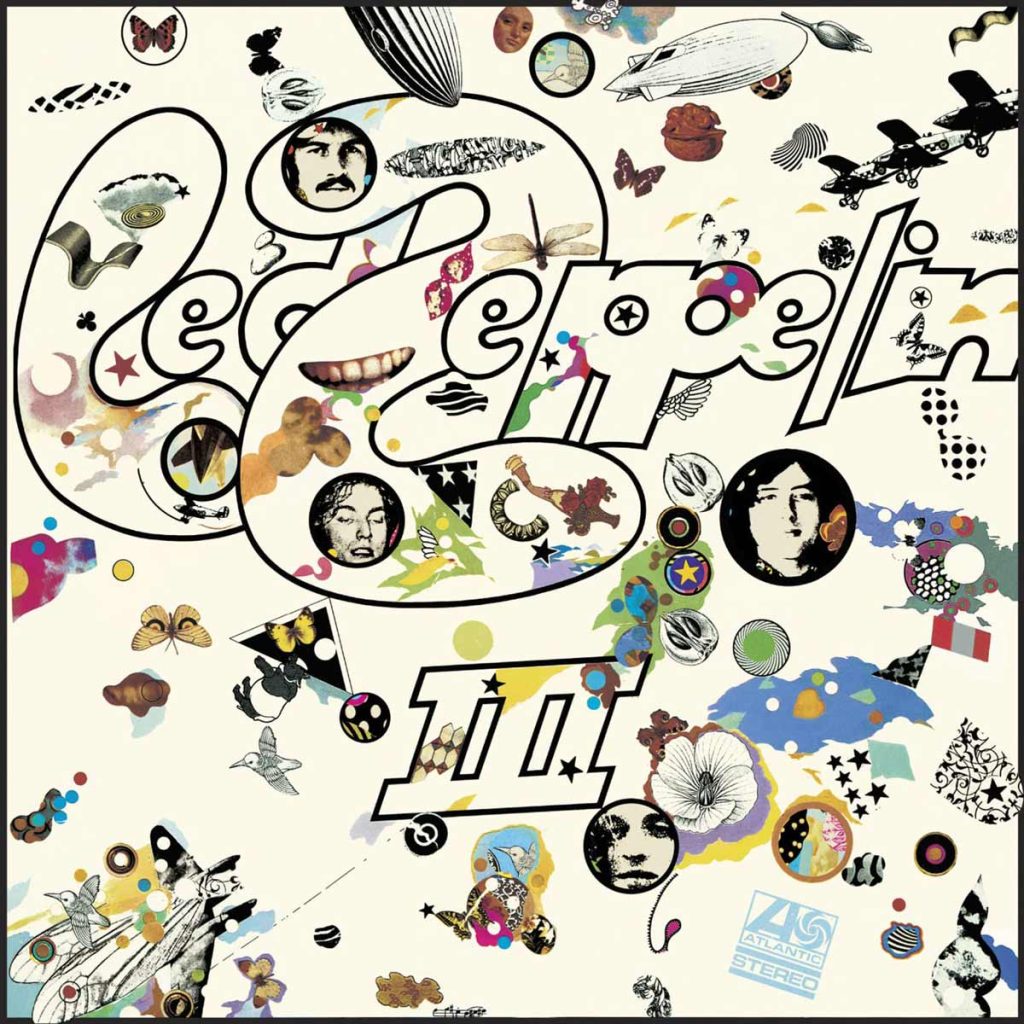 For the hard rock community, this rather mellow Led Zeppelin III album was a bit of a shock, and the press was also divided in its reaction. Jimmy Page was quite pissed off by the bad reviews. He then refused to give interviews for over a year. By the way, the cover of the controversial record was designed by a certain Richard Drew (1943-2012), who called himself "Zacron". Page knew him from the art academy – rock musicians at that time often started with art studies (e.g. Roger Waters, Eric Clapton). For Led Zeppelin, Drew put small flying objects on a white background. As a special gag, the cover had "peepholes" in which various motifs could appear thanks to an inserted turntable, including portraits of the band musicians. (The entire turntable was graphically designed, but the peepholes made only tiny sections of it visible). Incidentally, this small commissioned work remained Zacron's most famous work.
The album cover for "Close To Heaven" plays – liberally and in a completely different style – with this graphic idea of flying objects. The French ONJ (= Orchestre National de Jazz) takes a similarly permissive approach to Led Zeppelin's music. Eight pieces from five Zeppelin albums were chosen for the "tribute" – funnily enough, not a single piece from album III. For Franck Tortiller, the band leader (a jazz vibraphonist), Led Zeppelin's music is "part of our collective memory." His 10-piece jazz band – only four horns, but a six-piece rhythm section – interprets the songs in a special way, but also tries to adapt parts of the Zeppelin sound world – with electronics, sound experiments, hard rhythm. "We don't have a guitar or a singer, but maybe a nostalgic touch will still result." The vocal parts are taken by horns, with jazzy liberties. Some of the melodies are re-rhythmed, translated into big band and jazz ballad feel.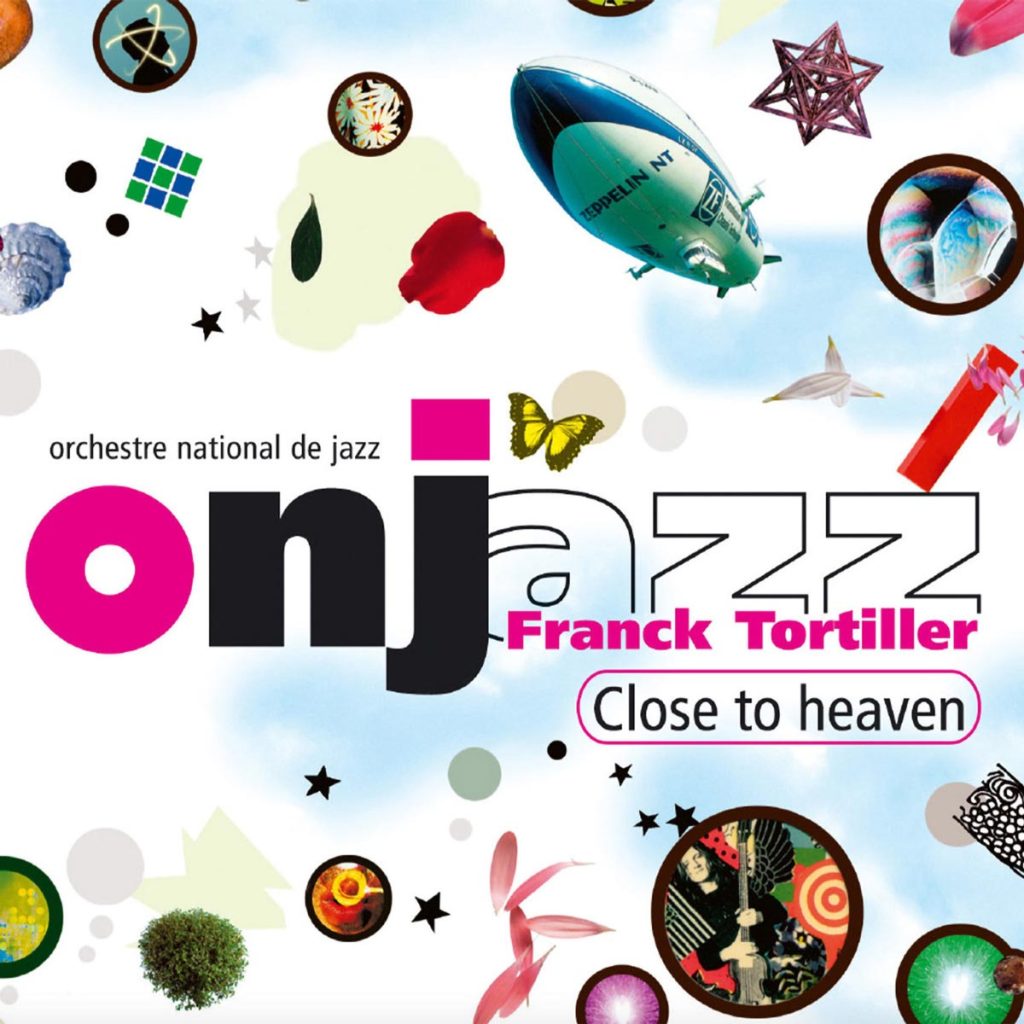 One step further than the eight song adaptations are six additional "fantasy miniatures" about Led Zeppelin. In the miniature "Beware The Black Dog" Patrice Héral evokes the sound world of the song "Black Dog" only with his voice. The huge hit "Stairway To Heaven" also appears as a vibraphone solo miniature and as a kind of wind chorale ("Close To Heaven", Part 1 + 2). "Moby And Moby," obviously inspired by Led Zeppelin's "Moby Dick," is a strong, confident rock jazz number. If cover versions, then please like this: independent, imaginative, original. We need nothing less than a bad imitation.
Led Zeppelin: III (Atlantic)
ONJ/Franck Tortiller: Close To Heaven (Le Chant du Monde)
The stated retail price of the reviewed device is valid as of the time of the review and is subject to change.