Audio and video are two different worlds, and the TV and hi-fi chain domains are incompatible – Nonsense! If there's one thing that Lumin's sensational P1 demonstrates, it's that you can reach compromises without having to make compromises. Sounds confusing? Wait and see…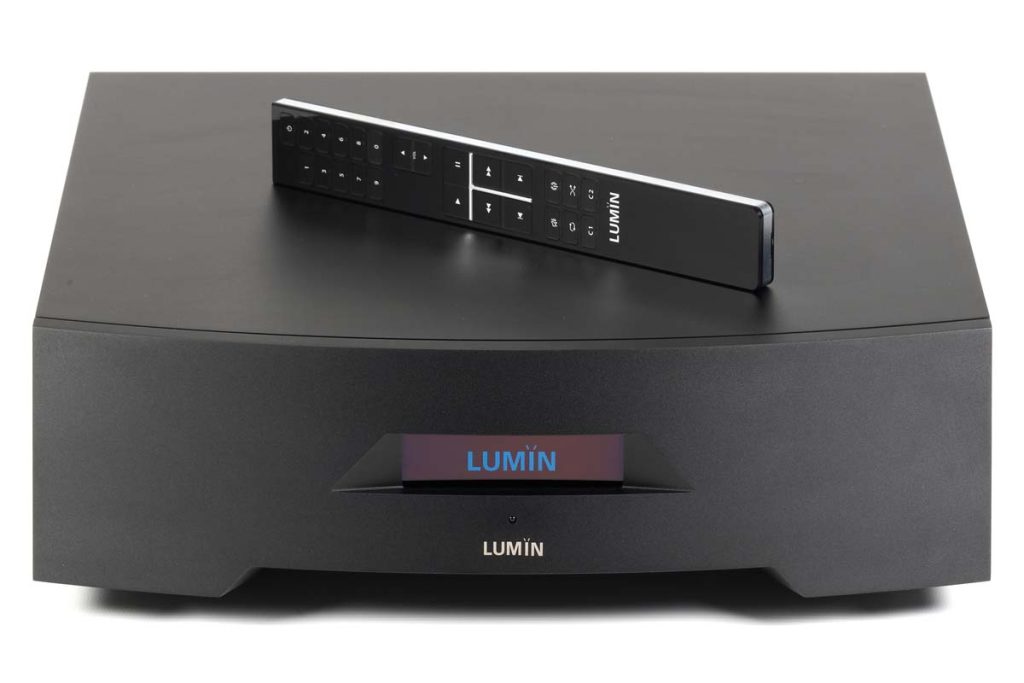 Compromises are often considered a positive thing – and quite often, they also are. Instead of arguing, people should enjoy an ice cream together and find common ground. But everything has its limits. For example, if you're planning on shelling out a small fortune for your dream hi-fi device, let's say a EUR 9,990 Lumin P1 for argument's sake, there's no way you'll accept even the slightest inconsistencies. Admittedly, manufacturers can't please everyone. Analog purists focus on the sound quality and don't mind if it's at the expense of a couple features. On the other hand, tricky customers who prefer digital equipment want (and need) to combine applications and sources, and sometimes these fall through the hi-fi cracks.
I must admit that, for space reasons, I'm one of those tricky customers when it comes to my home set-up. Most often, my home entertainment system is focused on the chain's musical qualities. The adjustable active speakers stream music directly from the web or the HDD server. However, every once in a while they're utilised in conjunction with an analog source. In particular in the evening, the TV and its two partners in crime take over (a PlayStation as an excellent Blue-ray Disc player, and Apple TV for Netflix). To date, I have always had to switch between different preamplifiers and DACs and, depending on the application in question, even reach behind the system to plug in the necessary S/PDIF cable. To be honest, I hate doing it so much that it has ruined many a movie night. Of course, all-in-one solutions are available (i.e., AV preamps), but none of them have ever really impressed me. But when the Lumin P1 turned up on my doorstep a few months ago, it revealed itself as the first truly successful all-rounder I've ever encountered. Subsequently, it has also created some existential problems for me. I'm still going to use it right up until the minute that they take it away, so I think I've only got two options left: I can either dig deep and pay the eye-watering price for one of my own, or do a disappearing act with the test device. While I wrestle with this dilemma, why don't I tell you what it is that makes this glorious aluminum heavyweight so distinctly desirable.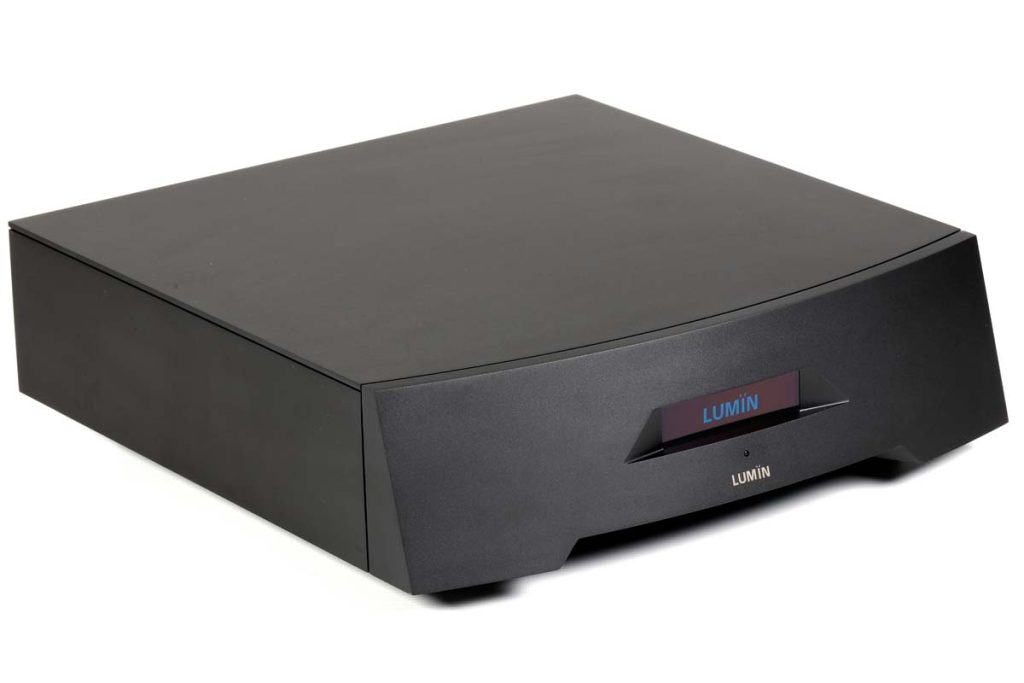 As you may already know, Lumin is the ambitious sidekick of Hong Kong-based manufacturer Pixel Magic, a real benchmark-setting brand on the high-end TV and SAT receiver market in Asia. Just under a decade ago, the audiophile chip designers and programmers were getting sick of the inconsistencies with the available streamers. As an MIT graduate side project, they created a platform (an operating system) which they could live with and listen to: Lumin OS. It continues to set new standards regarding detail, stability and compatibility to this day. In particular, it processes all audio formats, including DSD and MQA, understands Tidal, Qobuz and Roon and streams Internet radio, multi-room audio and much more.
In 2017, the crowning glory of their creation was the exceptional X1 network player. However, due to its operating principle, the X1 does have one flaw: as it's designed to be used as a pure source, its egomaniacal DACs (ES9038PROs) don't accept any external signals. This is where the P1 comes in. On its face, it's also a network player, but if you turn it around, in addition to the analog XLR output and a gold-plated RCA output, you'll discover two analog (XLR/RCA) inputs and a total of seven digital inputs.
It doesn't have a "physical" volume control. All signals are converted directly after the inputs and controlled via Leedh processing using an algorithm. This is why we've agreed to classify this device as a "controlled streaming DAC". Lumin didn't let us delve too deep into the secrets of its volume-related formulas. However, we did discover that Leedh was invented by the French developer Gilles Millot and, thanks to extreme bit depths, it minimizes inevitable rounding errors in digital signal processing or reduces them by several decimal places to render them irrelevant. The manufacturer emphasizes that the transformation from line levels (full scale) to the quietest listening volumes causes no discernible resolution loss. I can confirm this insofar as the P1 still sounded three-dimensional, vivid and musical even when used for the subtlest background music. Many digital preamps and controlled DACs tend to noticeably drift into two-dimensional realms at certain volume levels.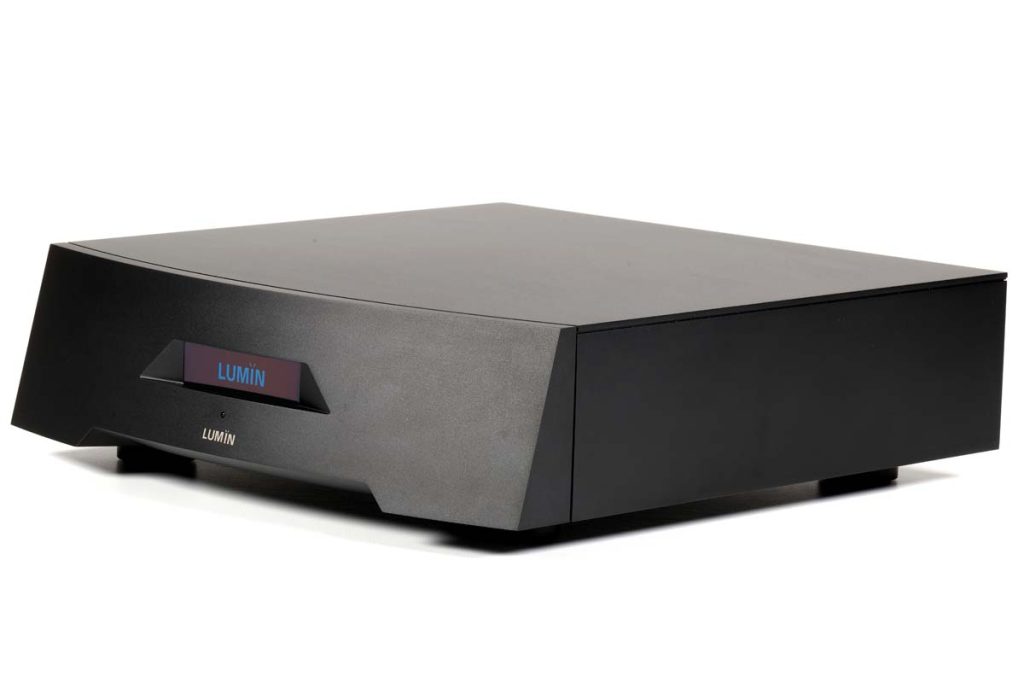 However, I should clarify one thing here. The P1 is not an X1 with DAC inputs – it's a standalone device. The preamplifier is based on the large network player, uses the same outstanding streaming engine and benefits from the top-of-the-range model's sound-quality-enhancing trickery. However, the team at Lumin has slimmed down some circuits and features at decisive points. For example, the dual-toroidal power supply unit, which had its own separate housing in the X1, has been integrated into the chassis. The aluminum chassis for the housing is taller, has thinner walls and is made from several pieces. It isn't milled from an aluminum block like the X1. That may sound like a list of cutbacks, but this actually all works out in its favor. As it turns out, despite boasting more features and options, the new "P", with its intrinsic and impressive sound quality, is EUR 3,000 cheaper than the X1.
In theory, even its discrete Sabre ES9028PROs put the P1 one level down. But this doesn't make a difference on the data sheet. The ES9028PROs have proven their class in countless high-quality DACs and streamers. They process native DSD512, as well as S/PDIF, up to 384 kilohertz. As for sound quality, the P1 left nothing to be desired. We had an X1 for a few days and the P1 sounded slightly crisper and clearer than the incomparably silky smooth top model. However, we're nitpicking nuances here that you can only notice during direct comparisons.
The same Femto Clock that is in charge of the X1's tempo ensures rock-steady timing and infectious grooves, whereby all incoming digital signals are collected in a buffer memory and reconstructed based on their timing. This further ensures fluidity and suppleness, as well as helps the P1 eliminate any chain errors and dropouts (NAS, router, Internet, cables etc.). The optimally shortened signal path after the reclocker (the P1's circuit boards are slightly more compact than those of the X1) prevents any chance of jitter in the device.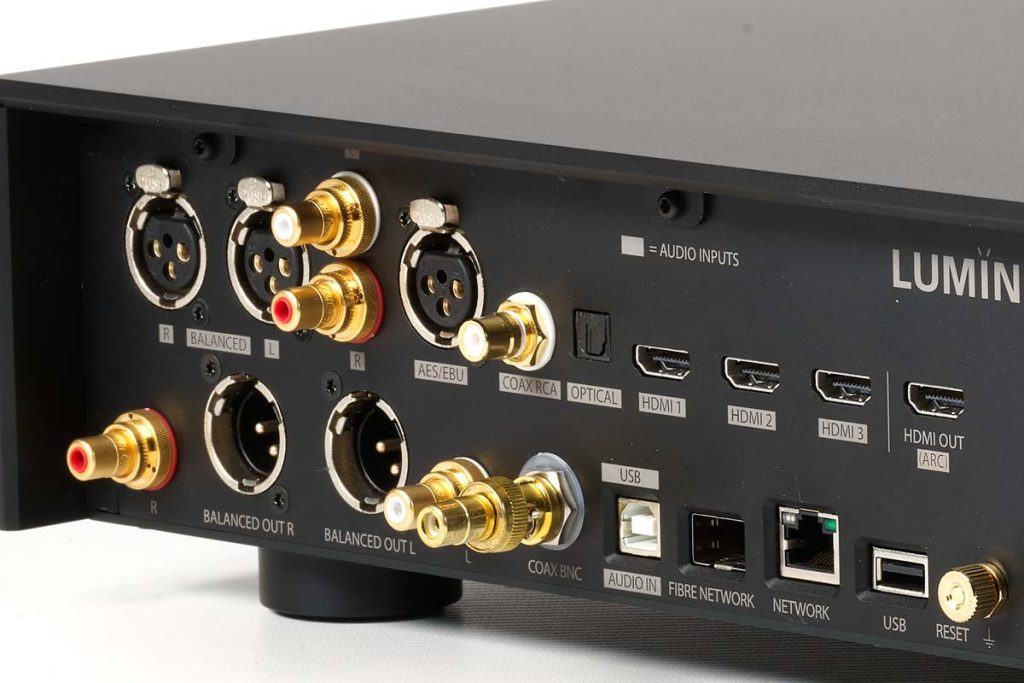 But it's not just the impressively equipped and balanced output stages that are arranged in two clearly separate strands. Each of the two channel strips also has a separate and clearly recognizable signal processor where the discreet volume control occurs. The input circuit board is spatially isolated from processing and conversion, and it's connected to the motherboard only via a ribbon cable. The USB input and the two LAN ports – one in the conventional RJ45 format and the other designed for fiber optic network cables – are exceptions. Yet we must look closer at the latter. You need a special network distributor or an optical converter after the router for this type of connection, but the cable does prevent any electrical interaction with other network components. It truly doesn't get better than that! These ports are located on the signal circuit board because the passively cooled central processing unit – the actual media player where the streaming magic happens – is also housed here.
I won't go into any more detail on that here. Let's just say that, when controlled via Roon, the P1 simply sounds magically velvet and musical, and the company's own app responds with unparalleled speed and fluidity. The P1 understands all formats immediately, and neither of the two apps that we used crashed, disconnected or experienced any similar issues. Welcome to 2022!
If you enjoy experimenting and trying new things out, then there's another awesome feature you'll love. The manufacturer has equipped its system software, which is controllable via smartphone or tablet, with a versatile format converter. Therefore, prior to the digital-to-analog conversion, DSD can be converted into PCM and, conversely, PCM can be converted into DoP (DSD over PCM) or up-scaled versions of itself. Admittedly, the input converters of the DAC chips can also do this. However, depending on the source and the signal chain, combinations can be achieved that cope better with finer nuances than the ES9028PRO auto-converters. When I was playing around with it, I actually got the impression that converting PCM signals to DoP resulted in slightly more fluid and supple playback. The Lumin team has truly streamlined the menus when compared to previous versions. However, if you still find them too complex and confusing, then you'll be pleased to know that the fussy cross converters are deactivated in the default factory settings.
Going further, the control software is sophisticated in other ways, aside from its remarkably subtle sound shaping. The informative front-panel display and the network LEDs can be dimmed or deactivated. The analog output phase can be inverted, and, if desired, any unnecessary modules such as Roon, Tidal Connect etc. can be switched off in the set-up. Moreover, the digital volume control can be limited to a maximum value or completely bypassed. Therefore, the P1 mutates into a pure streamer and/or line signal switch for two analog and seven digital sources.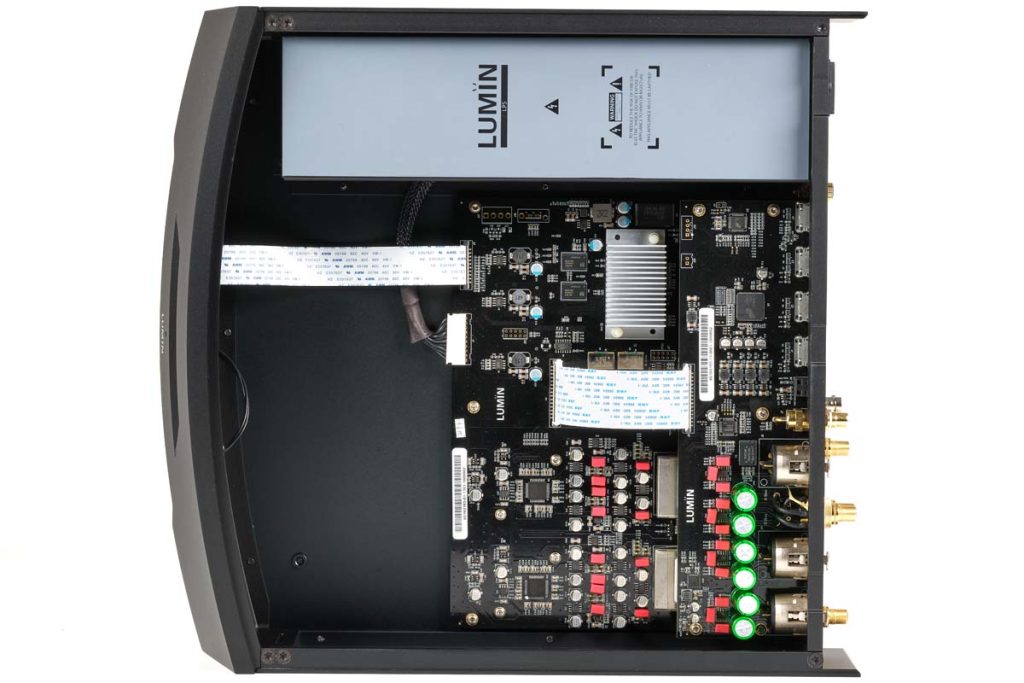 And that brings us neatly into the final and brilliant equipment feature: three of these seven binary ports are HDMI inputs. Now is probably when we'll lose any remaining audiophile purists who have managed to stay with us up until this point. However, in my opinion, these interfaces are a pure joy, and not just because they solve so many of my connection problems. I'm going to stick up for HDMI here – its enormous bandwidth makes it an exceptional audio interface, yet it's unfairly sidelined when it comes to hi-fi components. As the P1 features hi-res 4K video signal passthrough to the TV, while conducting the test I not only experienced just how wonderfully vivid and tangible the controlled DAC made the instruments and voices in my listening room, but also enjoyed the amazing breathy and wheezing sounds of Darth Vader's voice, the celestial soundtrack to Interstellar and the sophisticated dialog of Breaking Bad.
As the HDMI passthrough point is designed as an Audio Return Channel (ARC), sorting out the cabling for my PlayStation and Apple TV was a breeze. Two HDMI cables led from the components to the P1, and another led to the TV – that was it. The TV transmitted its sound via the return channel to the P1, and no annoying optical cable was needed. In addition to audio, remote signals also reach the P1. For everyday TV watching, the flat screen's sensor easily controls the DAC's volume.
Those are all of the main ingredients of the astonishingly flexible P1. Essentially, the device can be anything and everything that you want it to be: a superb DAC or streamer, a controlled signals switch for audiophile two-channel movie fans, an analog/digital preamp or even a flexible signal converter for the USB-connected HDD server. As far as sound quality, it's more than up to any of these tasks as it reaches the lofty heights achieved by its role model, the X1 – but it has a much more attractive price tag.
Accompanying equipment
Sources: Lumin X1, Audio Note CD 5.1x, Silent Angel Munich M1, Audiodata MusikServer MS II, Genuin Audio Tars | Preamplifier: Gryphon Essence Pre | Loudspeakers: Genuin Audio Neo, Lyravox Karlsson | Cables, accessories: AudioQuest, Aavik, Creaktiv, Finite Elemente
Preamplifier/streamer/DAC
Lumin P1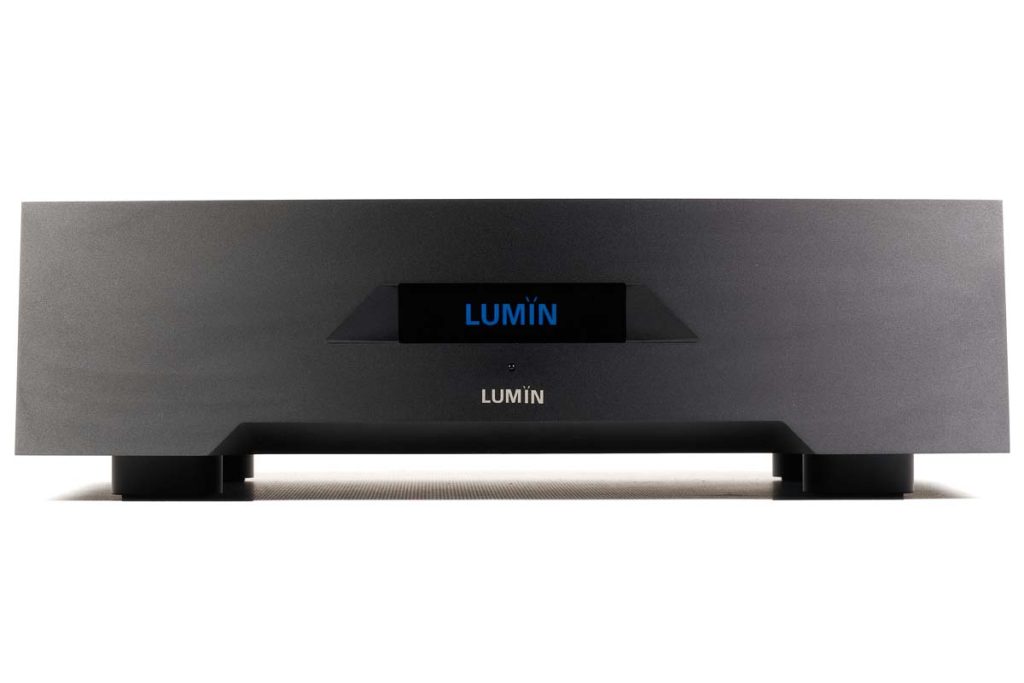 Concept: digitally controlled streaming DAC | Analog inputs: RCA (unbalanced, gold-plated), XLR (balanced) | Digital inputs: AES/EBU (XLR), S/PDIF (RCA gold-plated), optical, USB, 3 x HDMI | Analog outputs: RCA (unbalanced, gold-plated), XLR (balanced) | Digital outputs: S/PDIF (BNC), HDMI (ARC) | Network: LAN (RJ45), Fibre Network (optical) | DAC: 2 x Sabre ES9028PRO in Mono mode | Formats: PCM up to 24/192 (AES, coaxial, optical), 32/384 (USB), DSD512 | HDMI interface: 2.0, loops 4K Video, Dolby Atmos, Dolby Vision and DTS Passthrough | Special features: analog dual-mono set-up, Femto Clock, Lumin app (Android/iOS) provides access to set-up and controls the (multi-room) streaming functions, compatible with MQA, Roon, Spotify (incl. Connect), Tidal (incl. Connect), Qobuz, AirPlay, TuneIn radio | Finishes: black or silver aluminum | Dimensions (W/H/D): 35/11/38 cm | Weight: 12 kg | Warranty period: 2 years (3 years upon registration) | Price: approx. €9,990
IAD GmbH
Johann-Georg-Halske-Straße 11
41352 Korschenbroich, Germany
Phone +49 2161 61178313
service@iad.gmbh.de
The stated retail price of the reviewed device is valid as of the time of the review and is subject to change.