Flying on the Wings of Music
Introducing the SoReal Audio Seismograph II: A double-decker that is ridiculously heavy, but can still soar to dizzying heights.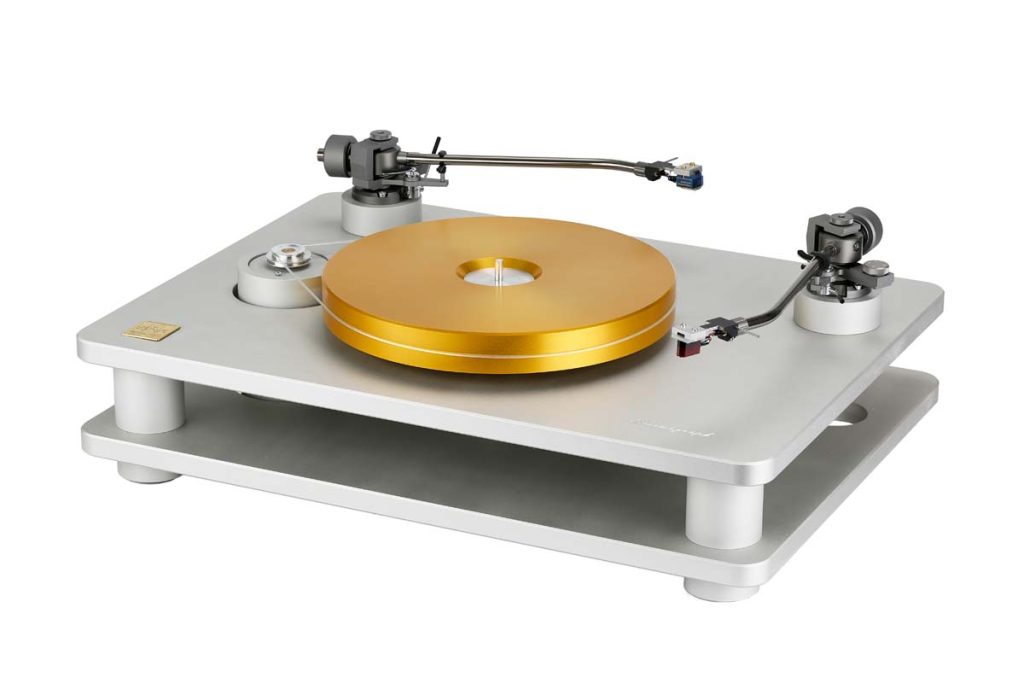 "Aircraft-grade aluminum" yes — but make it the durable kind: Everything about the SoReal Audio Seismograph II is so stable that it gives new meaning to the expression "built to last." Austrian developer Othmar Spitaler wants his turntable to be "as solid as a rock," as he puts it. He's managed to achieve just that by applying the principles of classic nonsuspended turntable construction: This machine, which costs €22,000, is essentially made from two 21-millimeter thick anodized aluminum plates milled from solid material into the XL dimensions of 63 centimeters by 46 centimeters. The two plates are immovably interconnected with solid cylinders. The top level includes the ultraprecise platter bearing (with self-lubricating bronze bushing) and the tonearm bases. The cylindrical drive unit with motor and pulley rests on its own feet, protrudes upward through corresponding cut-outs in the double-decker, and has no direct mechanical contact with the Seismo­graph's load-bearing surfaces. Incidentally, the "II" in the model name indicates the FIDELITY test device can accommodate two 12-inch tonearms. It's best to go ahead and place the order at the same time for the version of the tonearm base that fits with the types of tonearms you already have at home. In terms of equipment, SoReal Audio boss Danyel Rondthaler opts for the high-class workmanship of Jelco paired with the refined MC system Etsuro Urushi — a combination that sounded marvelously grandiose, rather "matter of fact", and, in line with the visual appearance of the heavyweight, quite grounded in the FIDELITY listening room.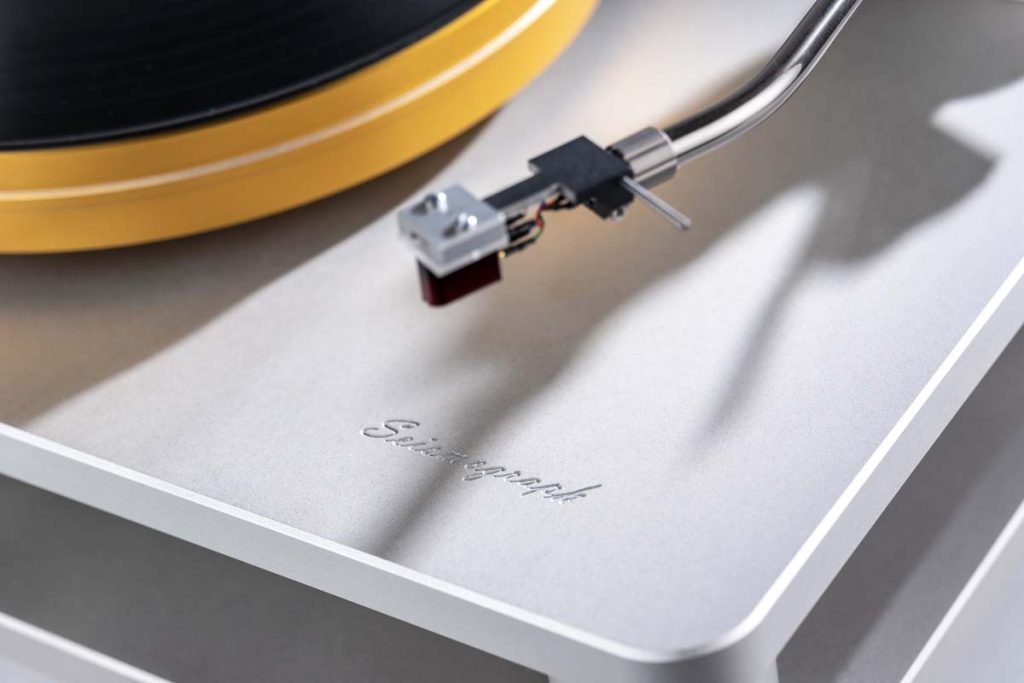 Othmar Spitaler clearly didn't pluck the name "Seismograph" out of thin air: Rondthaler sees his handmade turntable as a kind of measuring device that isn't allowed to lead a life of its own and fully refrains from interfering in musical performances — and therefore is able to not only cope with just about any vinyl but also provide the ideal playground for exploring the sound characteristics of various tonearms and cartridges. And to ensure this happens, the mounting surface should also be as good as it possibly can be. This was also a valuable factor during our audio tests, particularly combined with the fact that the Jelco tonearms, which are supplied as standard equipment, feature the SME mounting for headshells — still incredibly practical, even decades after its invention: All you have to do is unscrew the coupling nut, fully remove the mounted cartridge, install another one, and adjust the tracking force — job done! And because the editorial team always has access to various mint-condition legendary cartridges, the fine-tracing Etsuro Urushi, light and airy in the treble and precise in the bass, was swapped for an Ortofon SPU #1 in just a few quick and easy steps that seriously highlighted the turntable's merits but also completely changed the signature sound of the SRA Seismograph II. If the Urushi erred more toward a pastel palette, the comparably inexpensive SPU countered with an explosion of bright colors. It would be like holding up a Monet next to a Van Gogh. It did wonders for Madeleine Peyroux's voice on the brilliantly mixed MFSL version of Careless Love, one of the best albums of the century, whereby the focus was now more clearly on authority, luminosity, and emotional energy without losing any of the Billie Holiday-like fragility.
The SoReal Audio Seismograph II came across as a fully relaxed architect of large, precisely measured spaces where every sound has its own place.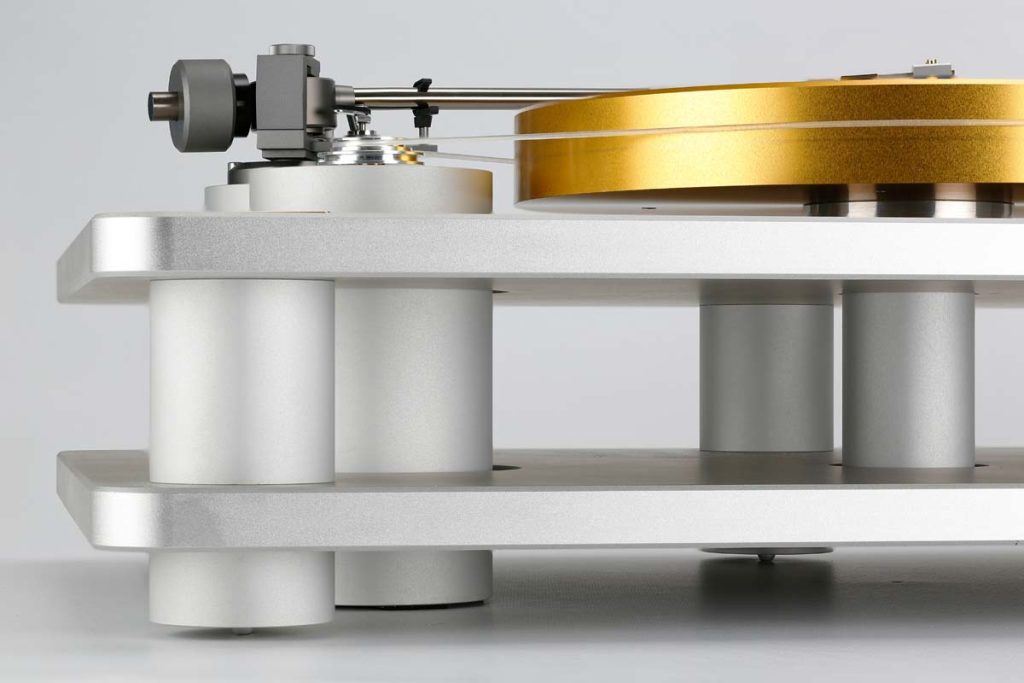 And it did this with great enthusiasm, which is definitely not par for the course for large nonsuspended turntables — there wasn't even the slightest trace of fatigue or sluggishness. This becomes particularly apparent when you stick with the same musical genre but switch from upbeat chamber jazz to bold big-band sounds: Large-scale bands aren't just about having the proper arrangement, they also have proper potential to get your fingers snapping and your toes tapping. Spitaler is, by his own admission, a fan of classical music and jazz, and he always prefers "acoustic" vinyl productions over any other kind of electronic experiment. However, we couldn't resist the temptation to feed the German-Austrian turntable creation with some of the "harder" stuff and stuck a few typical DJ vinyls on the eight-kilo platter, which, by the way, is also lathed and/or milled from solid material like the rest of the turntable.
Incidentally, Spitaler's construction uses a conventional — of course, intentionally selected — synchronous motor without any elaborate electronic control: "The weight of the platter is enough to ensure that even the slightest fluctuations in the power supply do not audibly impact the turntable's speed," the developer states with conviction, selecting the last recital by Vladimir Horowitz, which the highly gifted Ukrainian piano virtuoso recorded shortly before passing away in 1989, as evidence and placing it on the turntable. Anyone who knows a thing or two about piano music and vinyls will know how precarious and touchy playback of slow passages can be if the turntable's synchronization isn't 100% on the money. As expected, the SoReal Audio Seismograph II continues to display a sense of stoic calm, portraying fading chords just as organically and fluently as it replicates Horowitz's überprecise attention to rhythm.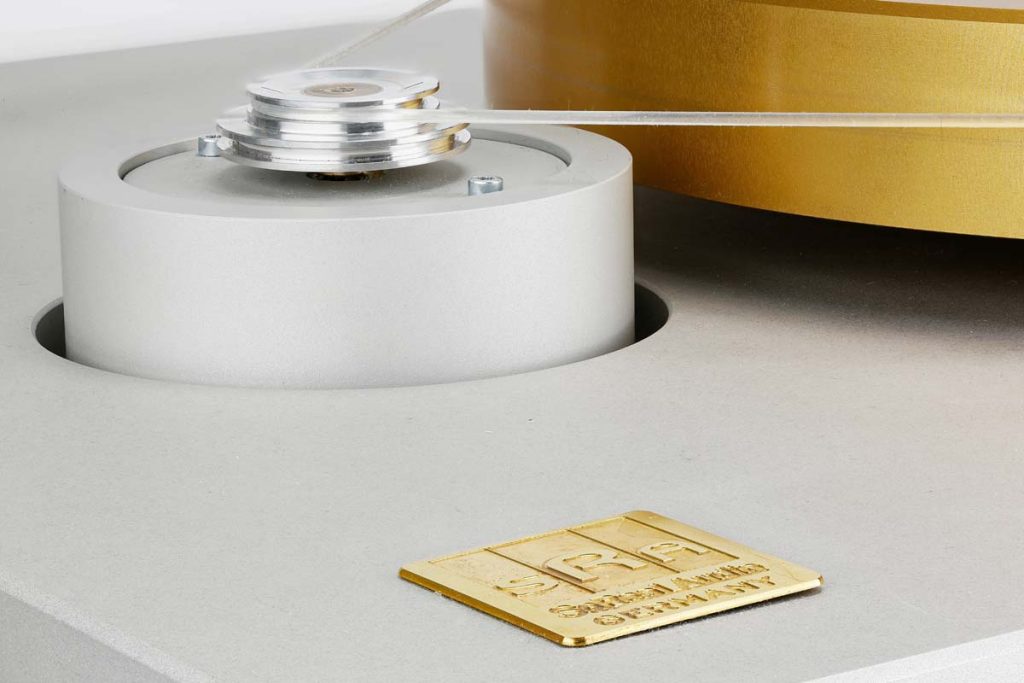 The more-than-obvious claim that a drive's design accounts for the lion's share of a turntable's sound quality was fully confirmed. When we changed the tonearms and cartridges as part of our extensive test runs (the Seismograph got on famously well with the large SME V; we screwed in MCs and MMs from EMT to Koetsu and from Grado to Clearaudio), the character could be changed very delicately and at times excitingly in line with personal preferences, but the Seismograph always retained a real sense of composure and authority. Also contributing to this is the fact that distortion and interference, which can never really be fully avoided with analog playback, appears to be so far in the background with the SoReal Audio Seismograph that playback seems almost digital — and I really mean that as a compliment here. It's important to Spitaler that his drive "sounds great with quite normally recorded vinyls," a point he keenly stresses. After all, music lovers and vinyl collectors don't usually limit their music to just "audiophile stuff". No, their shelves typically hold collections that reflect musical spectrums spanning whole lifetimes. It's been sometimes very surprising to see what this drive has been capable of extracting from the grooves of heavily played vinyls and how gracefully it deals with the acoustic traces of decades of use. While there's no denying the scratches and clicks, these — like all other types of interference — never push into the foreground. And because the SoReal Audio Seismograph has been designed with extreme stability in mind, it even manages to read battered vinyls with nonchalance. The only real challenge you'll have is in adjusting the super-low-resonance mounting surface so it's meticulously horizontal when you set up the anodized drive, which is available standard in black, silver, or gold. But this is something that just purely and simply needs to be done for all serious turntables. What we determined, once again, was that a base from Subbase Audio provided the perfect foundation for achieving optimum sound quality.
You can change the speed of the Seismograph by manually repositioning the drive band on the motor pulley. Even a limit switch would have diluted SRA's deliberately puristic design. Seismograph owners will be happy to do without such a luxury, however, as they'll be rewarded with a richness of sound that simply could not be achieved with a lightweight full player. The musical Seismograph also lives up to its name by even delicately and neatly reproducing every little subtle sound difference that may exist — for example between different (and highly recommendable) turntable mats. At the end of one of the listening sessions, after my "obligatory" work for the day was done, I went to the shelf and pulled out my favorite pop vinyl, which still hasn't lost any of its freshness or charm even after 33 years: Paul Simon's Graceland. And with this premium-grade fuel on the platter, the splendid Seismograph double-decker took off and left the ground at lightning speed, reducing the gravitational force to zero, and started to fly — with us on board. Within a few split seconds, we found ourselves in a South African recording studio where the powerful voices of the all-male choral group Ladysmith Black Mambazo could be heard recording the extremely melancholic and emotionally powerful tribal hymn "Homeless" with Paul Simon. It's 1985 again and this glorious moment in world music history is playing out right now. Sublime!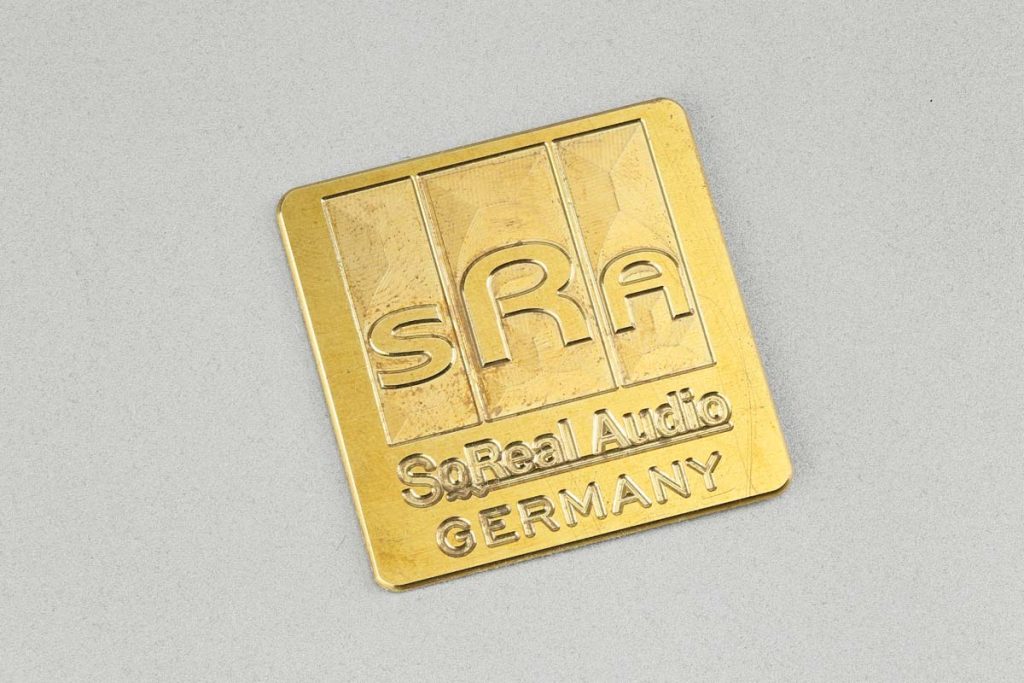 Accompanying equipment
Digital sources: Audio Note CDP-2.1x, CDT-3 + DAC-3, Marantz SA-10, Musical Fidelity M1 CLIC, Mark Levinson 390s | Tonearms: Jelco SA 750L, SME V | Pickups: Audio Technica AT33 Mono, Clearaudio DaVinci V2, EMT JSD S75, Etsuro Urushi, Grado Reference Master 2, Ortofon SPU #1 | Phono preamps: Audiospecials Phonolab 1.0, Clearaudio Absolute Phono, Esoteric E-02, Pass XP17 | Preamplifiers: Mark Levinson No. 38s, Musical Fidelity M1 CLIC, Pass XP-12 | Power amplifiers: Mark Levinson No. 27, Musical Fidelity M1 PWR, Pass XA25 | Integrated amplifiers: Hegel H360, Marantz PM-10 and HD-AMP1, NAD M32, Vincent SV-238 MK | Cables: Audio Note, AudioQuest, HMS, In-Akustik, Vovox | Accessories: Audio Replas, Subbase Audio
Turntable
SoReal Audio Seismograph II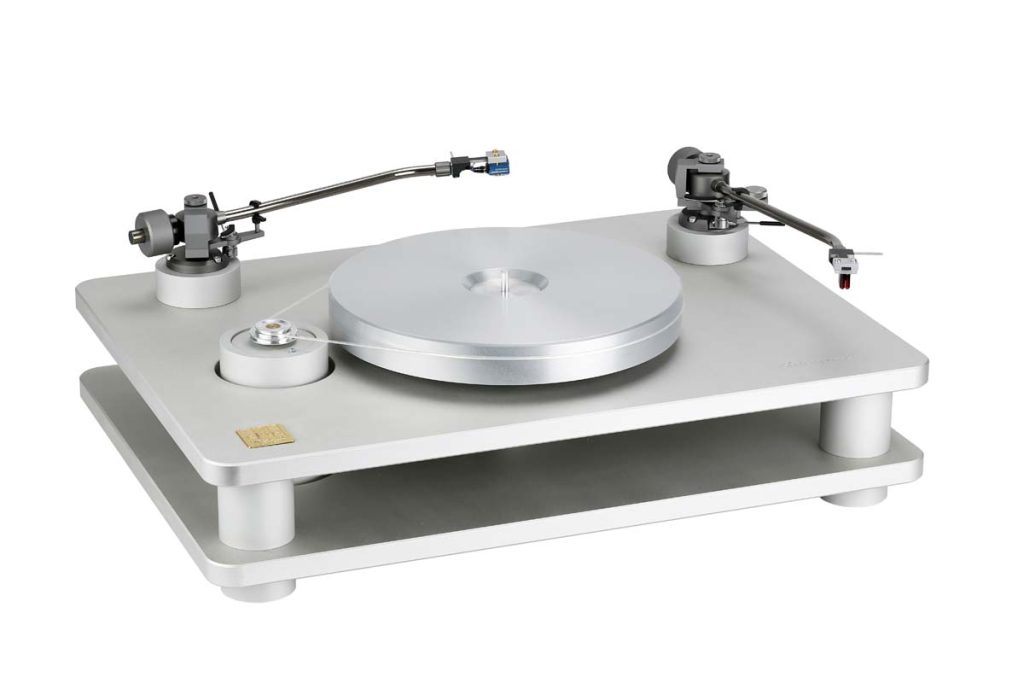 Functional principle: Nonsuspended turntable with belt drive | Special features: Manual speed selection, tonearm mounting bases per customer request | Finishes: Du­ralumin, anodized in black, silver, or gold, all two-tone combinations for base unit and platter possible; other finishes available for an additional fee | Dimensions (W/H/D): 63/21/46 cm | Weight: approximately 38 kg | Warranty period: 10 years | Price: €22,000
SoReal Audio Sales, Danyel Rondthaler
Aresinger Str, 36
86561 Unterweilenbach
Germany
Phone: +49 (0) 8445 2670030
The stated retail price of the reviewed device is valid as of the time of the review and is subject to change.