An uninviting back alley is home to one of the most exciting bars of the Irish capital – a mix of Jazz Kissa and and audiophile club: The Big Romance.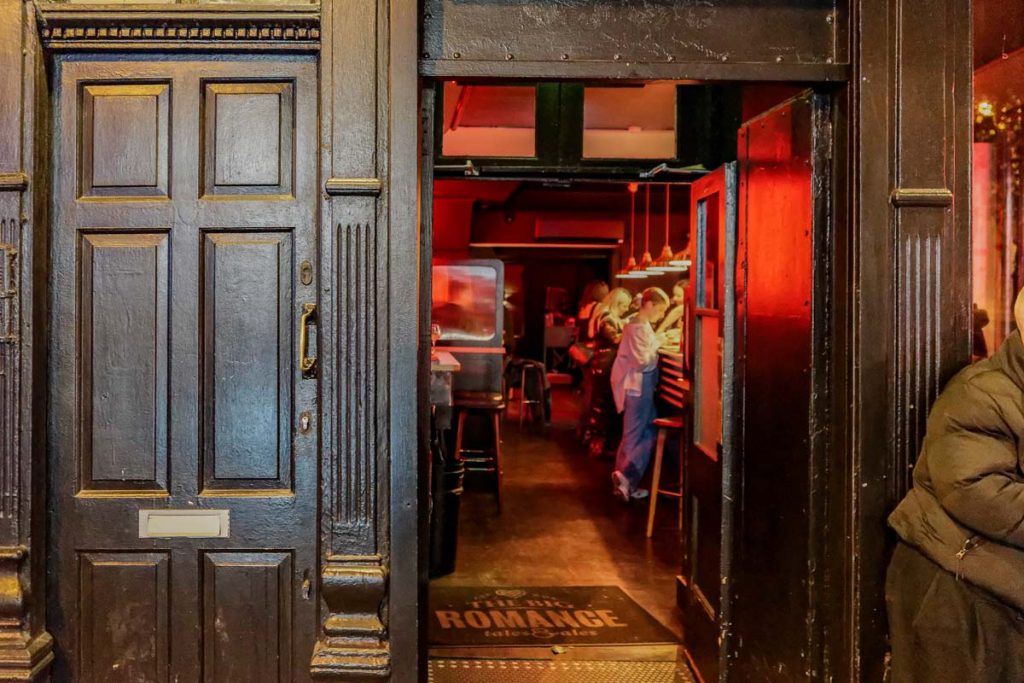 Dublin can be so much more than just Guinness and Irish Folk. That kind of touristy folklore can typically only be encountered around the Temple Bar, south of Liffey River, anyway. To the north of this stream, things quickly turn a lot less picturesque. While you're still surrounded by marvelling tourists at the upper end of the bustling O'Connell Street, it takes as little as an eastward turn into Parnell Street for the scenery to change completely. Just a few meters in, everything starts to look a bit rough, the clientele on the streets becomes noticeably younger and more multi-cultured, and the bars don't look anything like the irish pubs as seen in the tourist guides any more. What you'll find here instead, though, is "The Big Romance", Dublin's first and only audiophile kissa bar.
At a late hour, we have an appointment with Dave Parle, who, not without a hint of pride, recounts his bar's success story. When we announced our visit, he was a bit surprised at first, as he wasn't even sure if any tourists had ever set foot in The Big Romance; the bar is actually more of a refuge for many young locals keen on avoiding the inner city pubs. "I knew the neighbourhood here quite well and was aware the it was fairly undeveloped", Dave recalls. "I'm not sure if people were maybe a bit overly cautious about it or something. I always found this to be a particularly energetic place in this town, and I always felt that there's a place here to go and try something new."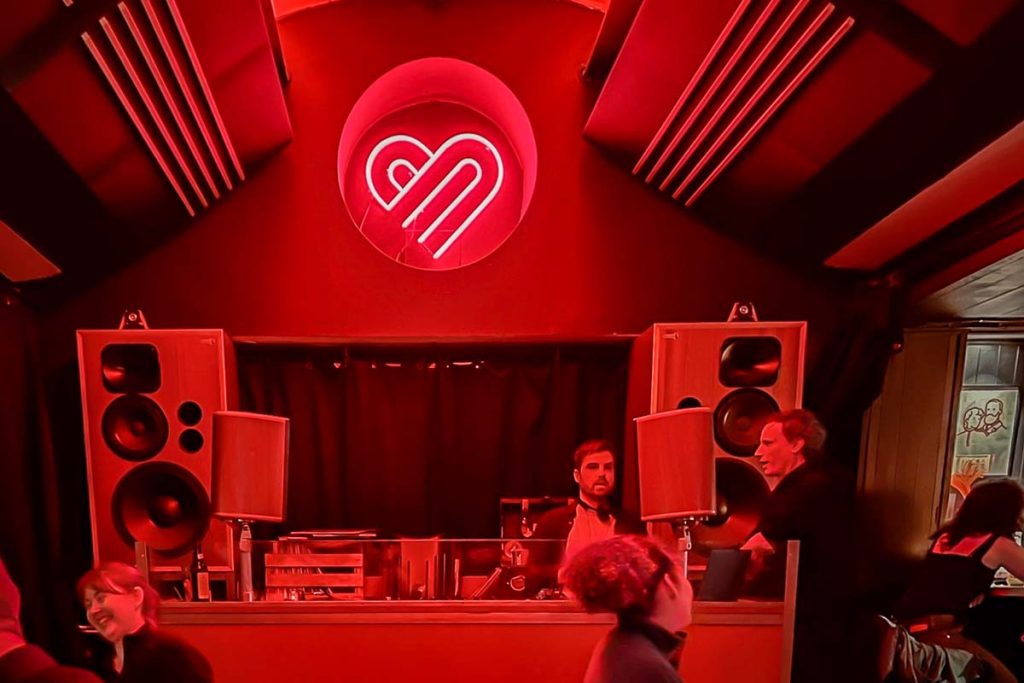 The inspiration for creating a bar that revolves entirely around records and an audiophile sound system stems from a trip to Japan that Dave once made. The kissas there got him hooked, and the desire was born to take up their concept and adapt it to his own sensibilities. For one, he and his fellow campaigners from Hidden Agenda, the premier irish concert agency for electronic music, decidedly opted against vintage equipment, as they deemed sound quality to be more important than a cult flair. After all, the back bar room was bigger than many japanese kissas, which is why they chose to go with a modern sound system. What they did take over from the kissas is the "Vinyl only" policy. The sound system consisting of speakers, monitors and amplifiers was developed by Toby Hatchett from Cork in southern Ireland especially for the company's own premises. Hatchett is currently considered an insider tip on the island for audiophile custom-made equipment that can also be tailored to larger rooms.
Dave explains to us in detail that he has striven to square the circle. On the one hand, visitors should be able to sit back and listen intently to the music, but on the other hand, the bar should remain a place for communication without having to yell at those around you. "We didn't want a bar with many different speakers that distribute the sound unevenly, and we didn't want a sterile club sound, but were interested in a hi-fi sound that would work in a space that's not a living room." A concept that we found convincing during our visit. On the one hand, the music was incredibly present, especially in the low frequency range, yet there was never had anything biting about the highs and the volume allowed for table conversation at any time, regardless of the songs being played.
This audiophile sound and a relaxed music program ranging from jazz to soul to hip-hop to electronica have made The Big Romance a hip place to end a weekday with drinks and good music. During our visit on a Wednesday night, almost every table in the back of the bar was occupied, and even at 10 p.m. there was still a lot of coming and going. The theme evenings are particularly popular, with a concept that is more reminiscent of classic Kissa bars. Here, the focus is on individual musicians or bands, and at times, entire LP sides are played back to back. To our surprise, a Kraftwerk evening was planned for the next day, which we unfortunately could not reconcile with our travel plans. In order to bring a little variety into the respective theme evenings, related music is also played; Dave also announced a lot of Can and Aphex Twin for the Kraftwerk evening. Jazz, on the other hand, is given its place at The Big Romance especially by way of live concerts. Jazz is still underrepresented in Ireland, but young musicians between 20 and 30 are currently rediscovering the music, and so they like to give innovative bands the space for a session on Sunday. These jazz evenings in Dublin have by now outgrown the status of an insider tip, so that seats tend to be booked up for weeks to come – chapeau!
So, on your next visit to Dublin, feel free to forgo an evening at the pub with Guinness and folk. Instead, head to Parnell Street for a craft beer or cocktail and immerse yourself in the jazzy and audiophile world of The Big Romance. You're in for a surprise!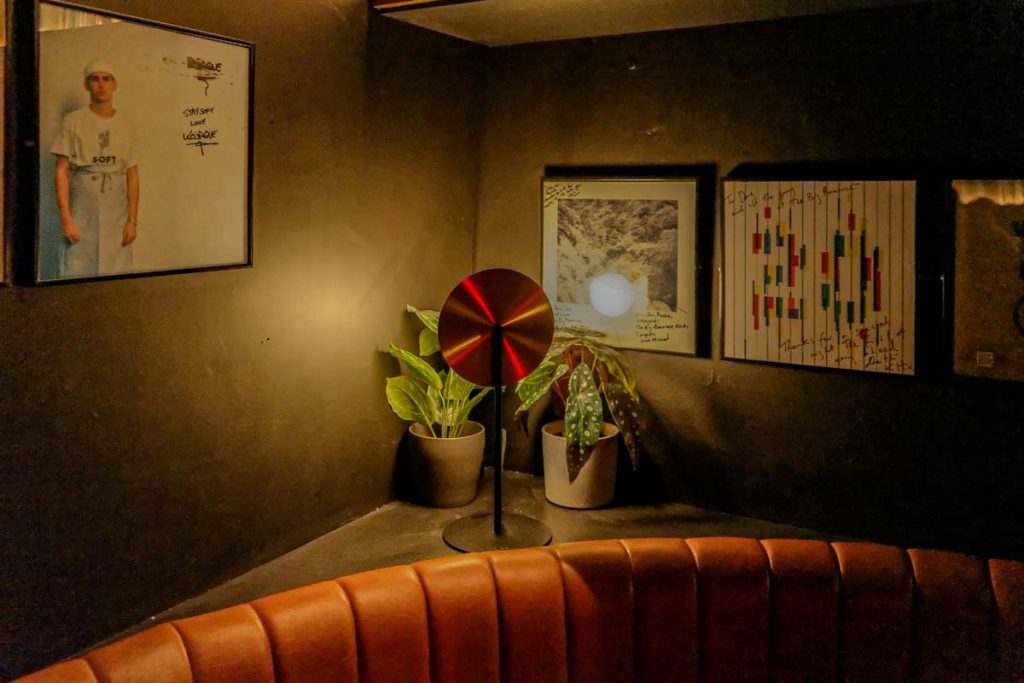 Opening hours
Monday through thursday: 4:00 p.m. to 11:30 p.m.
Friday and Saturday: 1:00 p.m. to 0:30 a.m.
Sunday: 1:00 p.m. to 11:30 p.m.
The Big Romance
98 Parnell St, Rotunda, Dublin
Phone: +353 1 5595997
www.thebigromance.ie
Hatchett Sound & Atmosphere
www.hatchett.ie
Visit Hatchett Sound & Atmosphere on Instagram
The stated retail price of the reviewed device is valid as of the time of the review and is subject to change.