Harmony of Music
The Xavian Concerto is a breath of fresh air in our offer, a new take on the established form of audiophile loudspeakers.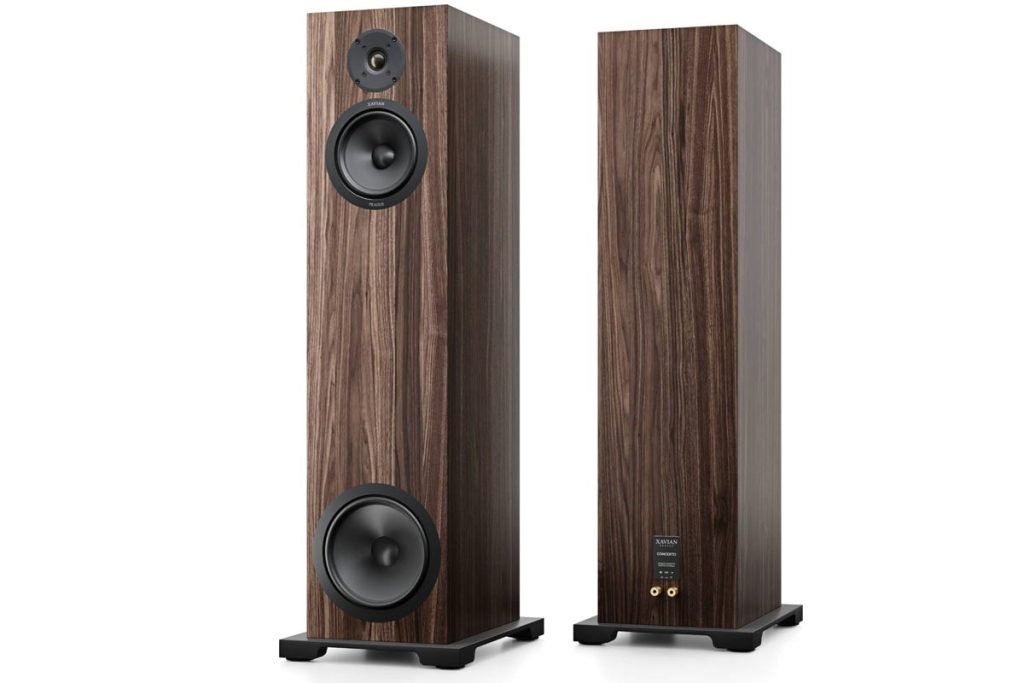 We combine the unmistakable charm of traditional wood and timeless, conservative shapes in a classically conceived sound system with a choice of luxurious real wood veneers as well as technologically innovative solutions, building on 25 years of experience.
Selected high quality custom drivers from Danish brand Scan-Speak with Kevlar diaphragms ensure perfect reliability, low distortion and neutral tonality. Combined with our sophisticated crossovers and innovative circuitry, defining a new era of Xavian sound, the listening experience remains supremely musical and non fatiguing over the long term. Exceptional sensitivity is also a strength, leading to unprecedented airiness, vibrancy and dynamic reproduction. As a result, the Concerto offers great performances in low and medium volumes.
This series is also manufactured entirely at our headquarters in Hostivice, by skilled carpenters and experienced electronics engineers, to ensure the flawless application of a complex internal damping system in a space with fixed struts at every critical point of the enclosure.
The design of the bottom bassreflex with arched vents in the plinth not only emphasises visual clarity, but also helps to flawlessly establish the bass component of the reproduction, which can ideally spread in any space. In addition, the bottom outlet has the smallest footprint in a typical living room. A clever system of levelers allows for a perfectly horizontal position, as well as easy removal if you would rather use the feet or spikes of your choice.
Xavian Concerto: Harmonious Solutions
technologically innovative and original design
high sensitivity and vividness of reproduction
suitable for use with tube amplifiers
rigid enclosure with internal struts in addition to composite bitumen damping
seven luxurious finishes for any interior
cover grille with hidden magnet attachment (extra charge)
select custom Scan-Speak drivers
driver matching within +/- 1 dB
advanced frequency crossover solution with impedance compensation and frequency response modelling
"Mirror Bass" bass-reflex system with vents for optimum omnidirectional bass propagation
easy to achieve a perfectly horizontal position on any surface with the leveler system
easy installation of spikes or feet with M8 thread if required
Availability and Pricing
The Xavian Concerto is available in Zebrano, Rosewood, Cherry, Walnut, Oak as well as High-Gloss Black or High-Gloss White finishes. Recommended worldwide retail price is 7 490 EUR / pair incl. 21% VAT.
The stated retail price of the reviewed device is valid as of the time of the review and is subject to change.